3D Touch on Android: here's how Quick Shortcuts work on Android 7.1 Nougat
22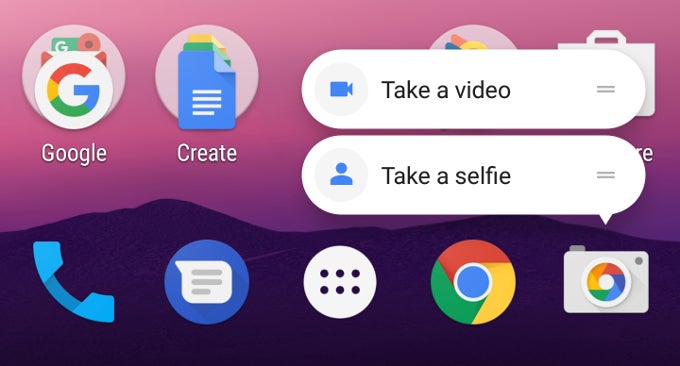 You've probably heard by now that one of the n
ew features of Android 7.1 Nougat
are the so-called "Quick Shortcuts". Tapping and holding on an icon pops up a list of menu items, which allow you to quick-launch a certain function within an app. For example, you can quick-launch the Camera app in selfie mode for those "emergency selfies", or you can open up Chrome with a new tab immediately opened.
There are a couple of requirements that need to be met for you to be able to use Quick Shortcuts. One, obviously, you need to be running Android 7.1. And secondly, the app you are using needs to have Quick Shortcuts enabled by the developer — and aside from Android's stock apps, there are very few
3rd party apps that support
it just yet.
Chances are you still don't have Android's latest build installed — not unless you are using a Nexus or a Pixel phone. So, you may have a couple of questions about how exactly they work. For example "Can I still move my app icon around, now that tap-and-hold triggers Quick Shortcuts?". So, here's a quick rundown on how they work.
You tap and hold the desired app's icon. In just a little while, the Quick Shortcuts pop up and your phone vibrates to give you the appropriate feedback. At this point, you can tap on one of the menu items to launch it, or you can tap and hold on it and place this new function as a separate shortcut on your homescreen.
Let's say you want to move an icon instead of use its Quick Shortcuts. You tap and hold, the menu pops up, the phone vibrates. At this point, you can drag the icon away. A second vibration will tell you that you are now out of Quick Shortcuts mode and the menu will close, letting you move the app icon around as before.
It feels very natural and intuitive and if you are worried that it may hamper the phone's usage or drag workflow down — rest assured that nothing has changed. We are interested to see how this feature evolves, especially if Android phones start getting pressure sensitive screens.
Check out the video below for a quick demo of everything we talked about here.