Android 7.1 Nougat changelog: what to expect if you don't own a Pixel phone?
35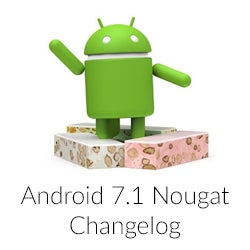 Yesterday, Google unveiled its first in-house developed smartphones, dubbed the Google Pixel and Pixel XL, which will also be the first to run the Android 7.1 Nougat maintenance update out of the box. What's interesting about this update, apart from all the new stuff that it's going to bring, is the fact that, well, some of that new stuff will be exclusive to the two Pixel phones. We already knew that the Pixel Launcher would be exclusive to the new phones, and figured the same would hold true for the unlimited storage deal and electronic image stabilization (EIS), but we were a bit surprised to find out that Google Assistant, the solid navbar icons, and the dynamically changing calendar icon, among other features, will be available only on the Pixels (or so it seems from this leaked changelog). We can't think of any good reason for Google to hold back on its new Assistant so hard, unless it is trying to push it as one of the main differentiators between its new smartphones and the rest of the Android world. Let's have a look a the full changelog:
Pixel product-specific
Pixel Launcher - swipe up for all apps, new Search Box, date/weather header on home
Google Assistant
Unlimited original quality photo/video backup to Google Photos
Smart Storage - when storage is full, automatically removes old backed up photos/videos
Phone/Chat support (new support tab in settings), screen-share functionality
Quick switch adapter for wired setup from Android or iPhone
Pixel Camera:
Electronic Image Stabilization ("video stabilization") 2.0
Pro Features:
White Balance Presets

Exposure Compensation

AE/AF Locking

Viewfinder grid modes
HW-accelerated (on Qualcomm Hexagon coprocessor) HDR+ image processing
Smartburst



Sensor Hub processor with tightly integrated sensors (accel, gyro, mag) + connectivity (Wi-Fi, Cell, GPS)
Cosmetic:
Solid navbar icons with home affordance for Assistant
SysUI accent color theming
Wallpaper picker with new wallpapers and sounds
New setup look and feel
Dynamic calendar date icon


Android Nougat 7.1
Night Light
Touch/display performance improvements
Moves (Fingerprint swipe down gesture - opt-in)
Seamless A/B system updates
Daydream VR mode
Developer features:
App shortcuts / shortcut manager APIs
Circular app icons support
Keyboard image insertion
Fingerprint sensor gesture to open/close notification shade
Manual storage manager Intent for apps
Improved VR thread scheduling
Enhanced wallpaper metadata
Multi-endpoint call support
Support for various MNO requirements
PCDMA voice privacy property

Source type support for Visual Voicemail
Carrier config options for managing video telephony



Manual storage manager - identifies apps and files and apps using storage
Note: Please, keep in mind that this list of changes cannot be found on the official Android Developers website. It was provided by Android Police, and allegedly comes from "a source from Google."
The good news is, that all devices to be treated to Android 7.1 will receive the cool fingerprint sensor swipe down gesture with mappable actions, as well as a blue light filter option, dubbed "Night Light". The latter will either dim your display by applying a dark, translucent filter over everything, and/or decrease the color temperature of the screen — thus making colors warmer — in order to kill the so-called "blue light" that might negatively affect your sleep after prolonged exposure.
source:
Android Police