Apple hits 38 million paying subscribers to Apple Music; update on the "Race to $1 trillion"
17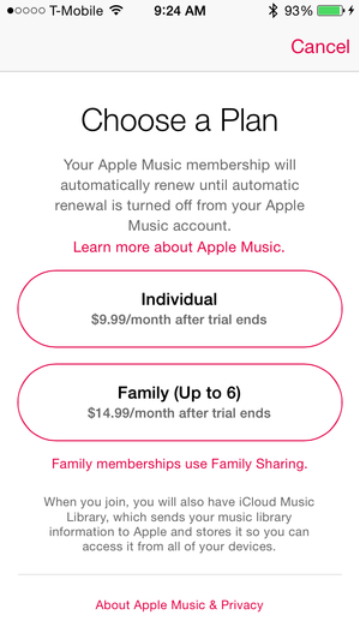 Pricing for Apple Music
Apple announced today that it now has 38 million paying subscribers for its streaming music app, Apple Music. That is a pick up of 2 million new subscribers, or 5.6%, since February. The leading streaming music provider remains Spotify, which has 71 million paid customers for its premium service. Apple's senior vice president of internet software and services, Eddy Cue, passed along the latest stats at the annual SXSW in Austin, Texas. Apple Music launched on June 30, 2015. Spotify had a huge head start as it debuted October 7th, 2008.
Unlike Spotify, Apple offers a three-month free trial before subscribers are hit with a $9.99 monthly subscription fee. Families with up to 6 users can subscribe for $14.99 per month. Spotify offers a free tier of service that is supported by ads. The premium version of Spotify gives users unlimited skips, and allows them to listen to music while off-line. Like Apple Music, Spotify's premium service is also priced at $9.99 per month.
Spotify recently announced that it will soon go public
as it has filed for an IPO under the stock symbol SPOT. Speaking of the stock market, the other day we told you that Apple and Amazon are in a race to be the first company valued at $1 trillion. Apple had a pretty large margin over the Alexa creator, but based on recent trends,
Amazon would actually be first to hit the mark
in August with Apple joining the club a week later.

Here is a quick update on the "Race to One Trillion." Apple set an all-time high today with a 1% gain to $181.72. The company is the first to achieve a valuation over $900 billion. According to Yahoo Finance, Apple is now worth $922 billion, leaving it $78 billion, or 8.5% shy of $1 trillion. Apple needs another push of $15.44 to $197.16 to make more history. While Google parent Alphabet is actually the second largest company in the U.S. with a market cap (shares outstanding multiplied by stock price) of $810 billion, its rise has been slower than Amazon's which is why analysts have not included Alphabet in this race. Amazon is currently valued at $774 billion. Microsoft is next at $745 billion.

source: Reuters