32GB Nokia Lumia 1520 now available at Expansys USA, but lacks some LTE bands
14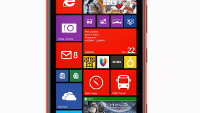 Nokia's most powerful smartphone, the Nokia Lumia 1520, has been available with AT&T since November 15th, but it comes with only 16GB of internal memory unlike the international version of the phone, which has 32GB of storage space on board. Despite the fact that the Lumia 1520 has a microSD slot and the AT&T Locker will give you 50GB of cloud-based storage, some users aren't thrilled with AT&T's offer. One of the reasons is that if you want to install a lot of apps on your device, the 16 gigabytes of on-board repository will simply do you no good.If you are one of those customers, Expansys USA might have a deal for you. They are currently listing an unlocked version of the Lumia 1520which is somewhat identical to the international version of the device and comes with 32GB of internal storage space, as well as wireless Qi charging built-in.
Unfortunately, this being similar to the international model, the LTE bands it supports are 1, 3, 7, 8, 20 (800, 900, 1800, 2100, 2600Mhz). This means that if you get this version of the phone, you might experience some problems with AT&T's LTE network, which currently runs on bands 2, 4, 5, 7, 17 (700, 850, 1700, 1900, 2600MHz), meaning that you might lose LTE coverage in some areas. The same applies to T-Mobile, because they use the 1700MHz and 2100MHz bands for their LTE and HSPA+ networks, and this version of the device supports only the 2100MHz band. Apart from these issues this Lumia 1520 variation, featured at Expansys USA, still sports a gorgeous 1080p 6-inch IPS LCD display, 20MP back snapper and the Snapdragon 800 SoC.
Expansys USA are currently selling the unlocked version of the Lumia 1520 for $799.99. It looks like they only have the device in yellow. Still, if you want to lay your hands on Nokia's most powerful phablet and the lack of several LTE bands is not a dealbreaker for you, be sure to check the retailer's website at the source.
source:
ExpansysUSA
via
WMPoweruser