2023 – time to buy a Galaxy Z Fold? You're right! Here's what you can do with a folding phone
44
This article may contain personal views and opinion from the author.
We may earn a commission if you make a purchase from the links on this page.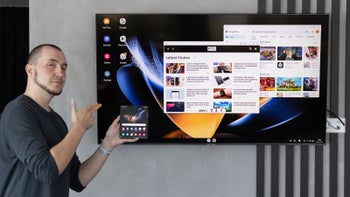 The Samsung
Galaxy Z Fold 4
,
Oppo Find N2
,
Huawei Mate Xs 2
– just some of the awesome, big folding phones we have to choose from right now. Or, okay, if you live in the west, it's pretty much just the Z Fold 4 for you.
But hey, even though we could argue which foldable has the best design, it's hard to deny Samsung's option has the best software experience of them all, so that's not a bad thing at all.
The question is – has the time come to buy a folding phone? They're still pretty expensive in 2023, and the upcoming
Galaxy Z Fold 5
isn't likely to drop in price just yet, as the technology remains fairly new and niche.
Well, I'm here as a diehard folding phone user to show you why you should finally buy a folding phone in 2023, all the great things that it can do for you, and I'll let you know how to get one in an affordable way!
And since you're reading this, I'll assume you're interested in foldables, so let's get going! Naturally, we'll focus on what the Z Fold 4 can do for you, but a lot of what we'll cover applies to the other folding phone options out there too – so you make your choice however you want.
It's a phone – a slightly thicker and heavier one, but a phone nonetheless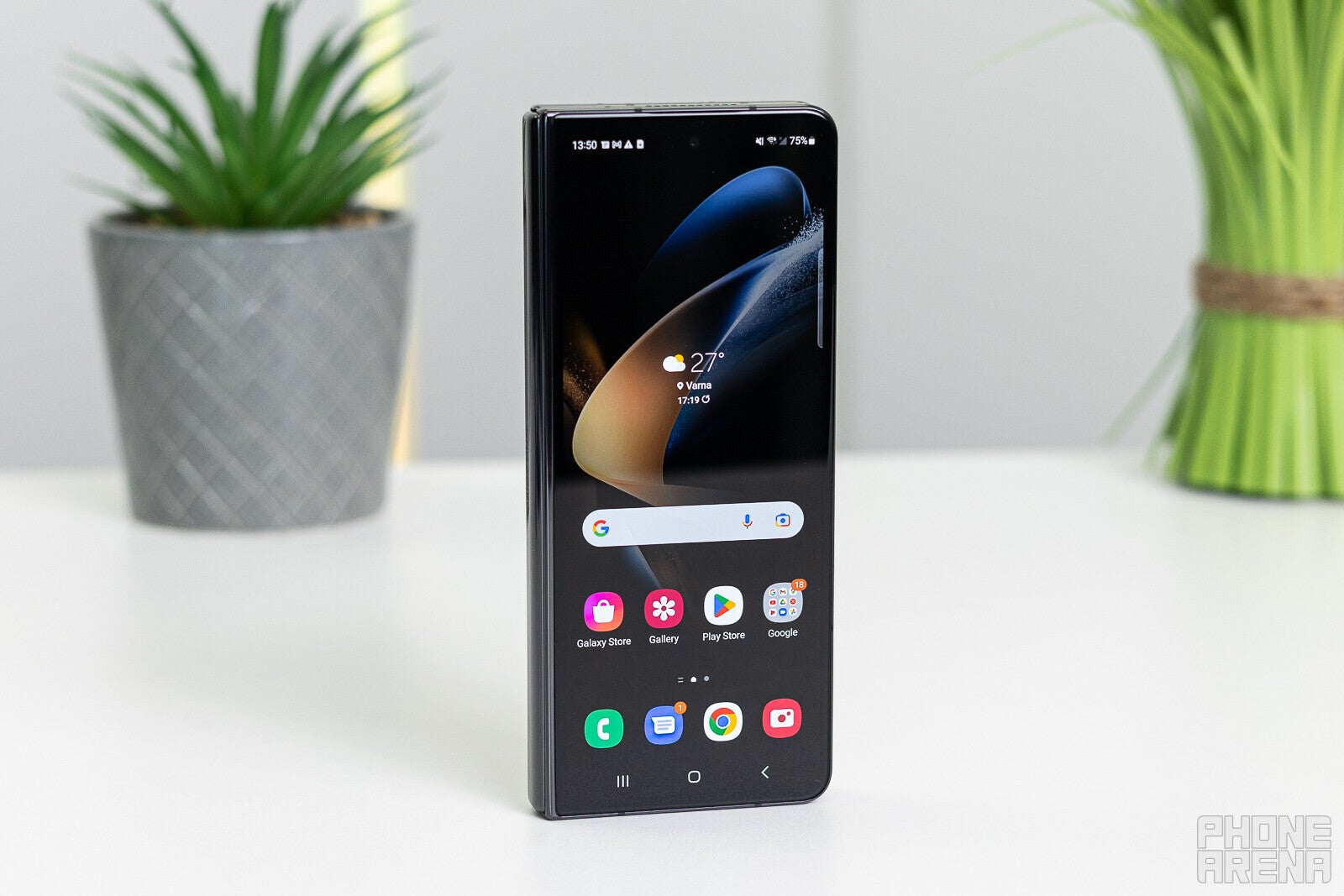 In an otherwise exciting device, this is the boring part – say you want to pull up a phone out of your pocket and quickly check your notifications, answer a phone call or reply to a text? Well, your folding phone is obviously running Android and behaving like your average smartphone when folded, so you can!
One thing to keep in mind is that some modern foldable phones, most notably the Galaxy Z Fold 4, have a tall and narrow outer display, so I wouldn't call the experience ideal. However, new competitors, like the Oppo Find N2 have gotten both wider and thinner overall. Here's hoping Samsung copies that idea with its upcoming Z Fold 5!
Another caveat is that folding phones are still pretty thick right now, and feel like two phones sandwiched together, so you'll feel like holding a thick candybar, more so than a traditional slab. But it's a small price to pay (besides the literal big price) for the convenience of what follows next…
It's a tablet – and a great one at that, with great stereo speakers for immersive movie watching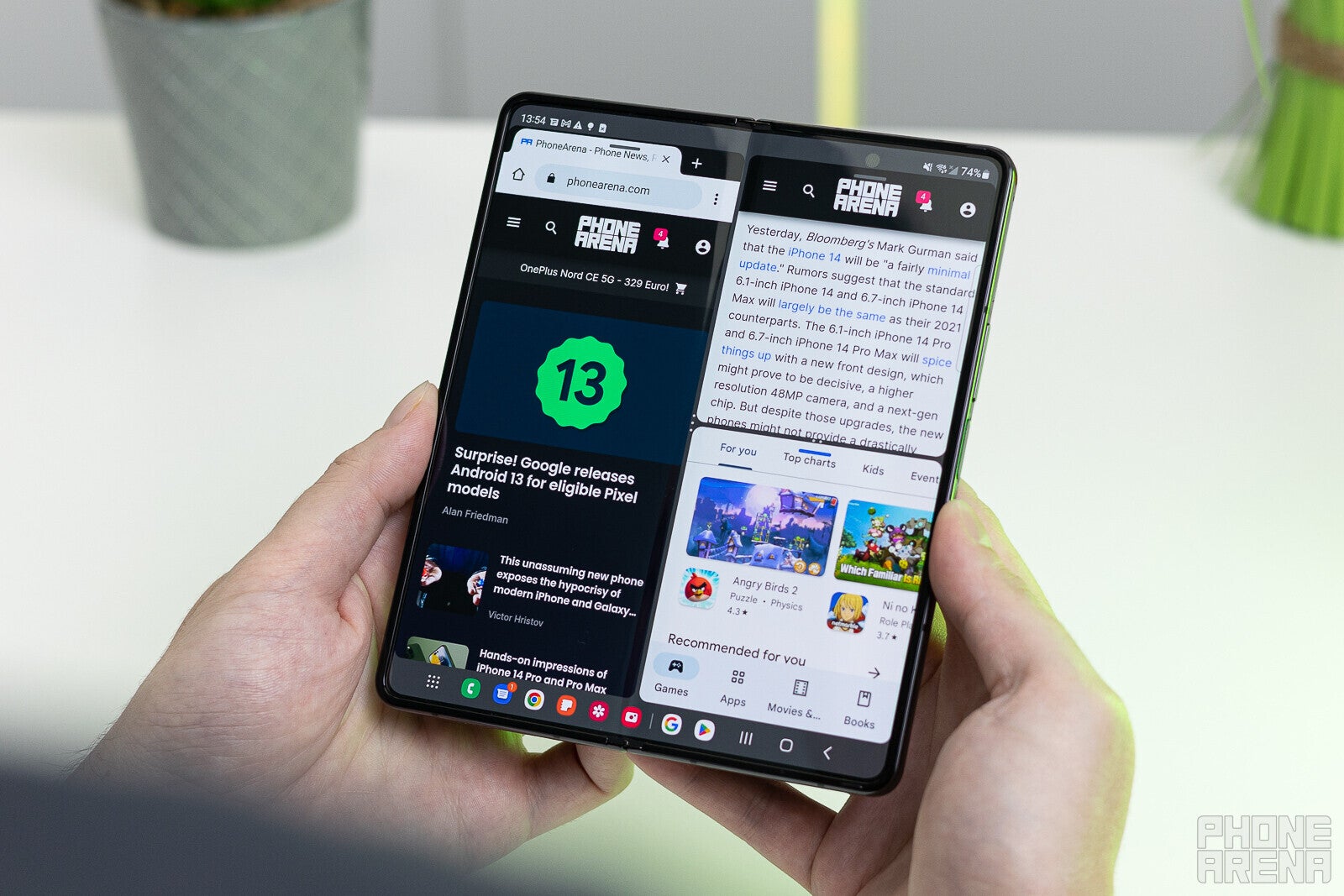 Once upon a time I'd make the following argument: "Why not buy a normal phone and a normal tablet, and spend much less, instead of buying a folding phone that'll deliver a subpar experience on both ends?"
But hey, we live and grow as people. After using Samsung's Z Fold series for quite a few years now, I'm convinced that they actually deliver the best tablet experience overall. Sure, videos usually don't fit the screen, so you have to crop them or you'll get black bars, but to me, an unfolded Z Fold 4 feels vastly more comfortable to hold with either one or two hands, than any traditional tablet.
It's much more comfortable to use for web browsing, scrolling through social media feeds, and gaming, especially, because again – you get a big display, your hands won't get as tired because the device is not as wide or heavy as a tablet – and oh… My favorite part – you get awesome dual stereo speakers, too!
It's a PC – with Samsung DeX, you can make the best of your expensive smart device and work on the go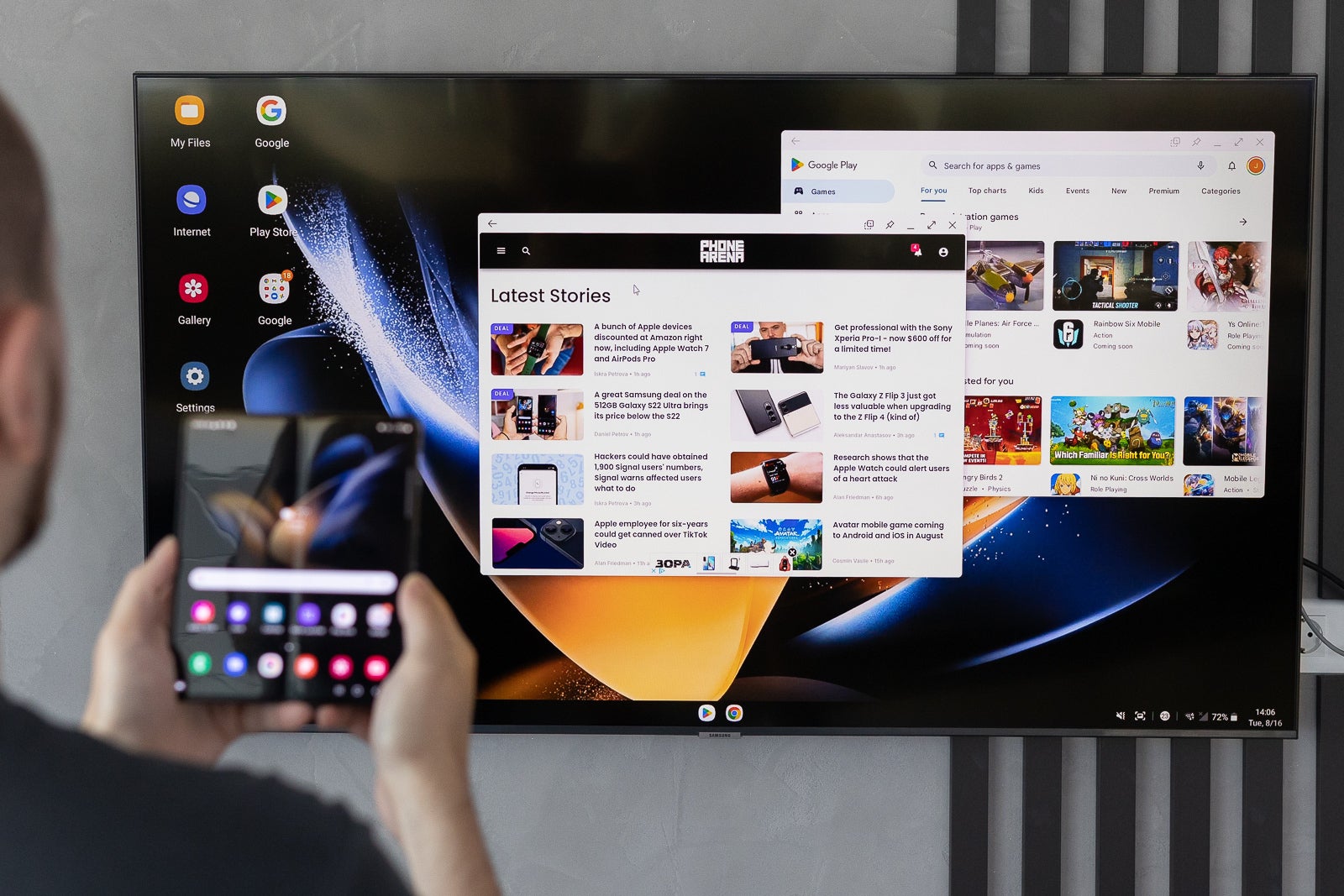 Samsung Dex is obviously exclusive to the Samsung Galaxy Z Fold series, but other brands, such as Huawei, do have similar desktop mode features on their foldables.
But I consider Samsung's desktop mode the most polished one you can get, because DeX transforms your folding phone into something near a full-blown Windows PC. Just connect your Z Fold to a smart TV or a display, and viola – while your phone remains a phone, it will project a desktop with a taskbar, desktop icons, resizable and snap-able windowed apps, a mouse cursor; all that jazz.
And it's truly amazing to me how good DeX is, but in fairness, it does suffer due to the simple fact that it's still Android that powers it underneath the hood. And what I mean by that is – you don't even get a desktop version of the Chrome browser yet, for whatever reason, so even on a big screen, your browser will open websites in their mobile mode, and constantly suggest you download their apps instead. This is obviously Google's doing, and it's pretty infuriating when you look at its competition in the face of Apple – iPads actually do get a desktop Safari web browser. It makes perfect sense, since we have a big display to work with. But Google is still stubborn against it, and Samsung's desktop experience suffers because of it.
Still, if you love ChromeOS, Samsung DeX basically transforms your phone into that whenever you may need it, and it's awesome.
It's a gaming console – with plenty of awesome Android games and console ports, and (often) full gamepad support; not to mention emulation, or the streaming option
With a kickstand and a gamepad (such as an Xbox Wireless controller) your foldable phone turns into the thinnest, most portable gaming console you've ever owned.
And since it's running Android, we have tons of great games to buy and download from the Google Play Store, including console hits like Grand Theft Auto: San Andreas!
Besides all the great mobile games and ports you can enjoy, Android also has an insanely big and dedicated retro gamer user base for good reason – it's full of free and paid emulators you can get. Emulation is a bit iffy on the legal side, so we won't be getting into it, but it's there, and it means you can enjoy countless games from countless console generations of the past, with full gamepad support, on the go.
In addition, let's talk about streaming. I don't usually consider it, because whatever you're playing isn't actually running on your phone, it's just being streamed on it by (usually) a gaming PC you must own. But the option is there. You can download Moonlight – a free streaming app – on both your Galaxy Z Fold 4 and PC, and with a good wireless connection – you'll be playing current triple-A games like Cyberpunk 2077 on your foldable phone! Again, with gamepad support too.
So whether you may want it to be a dedicated little console on the go, or a streaming console, your Android folding phone can pull it off like a champ.
It's a drawing tablet – the Galaxy Z Fold 4 has stylus support, and it's not just for jotting down notes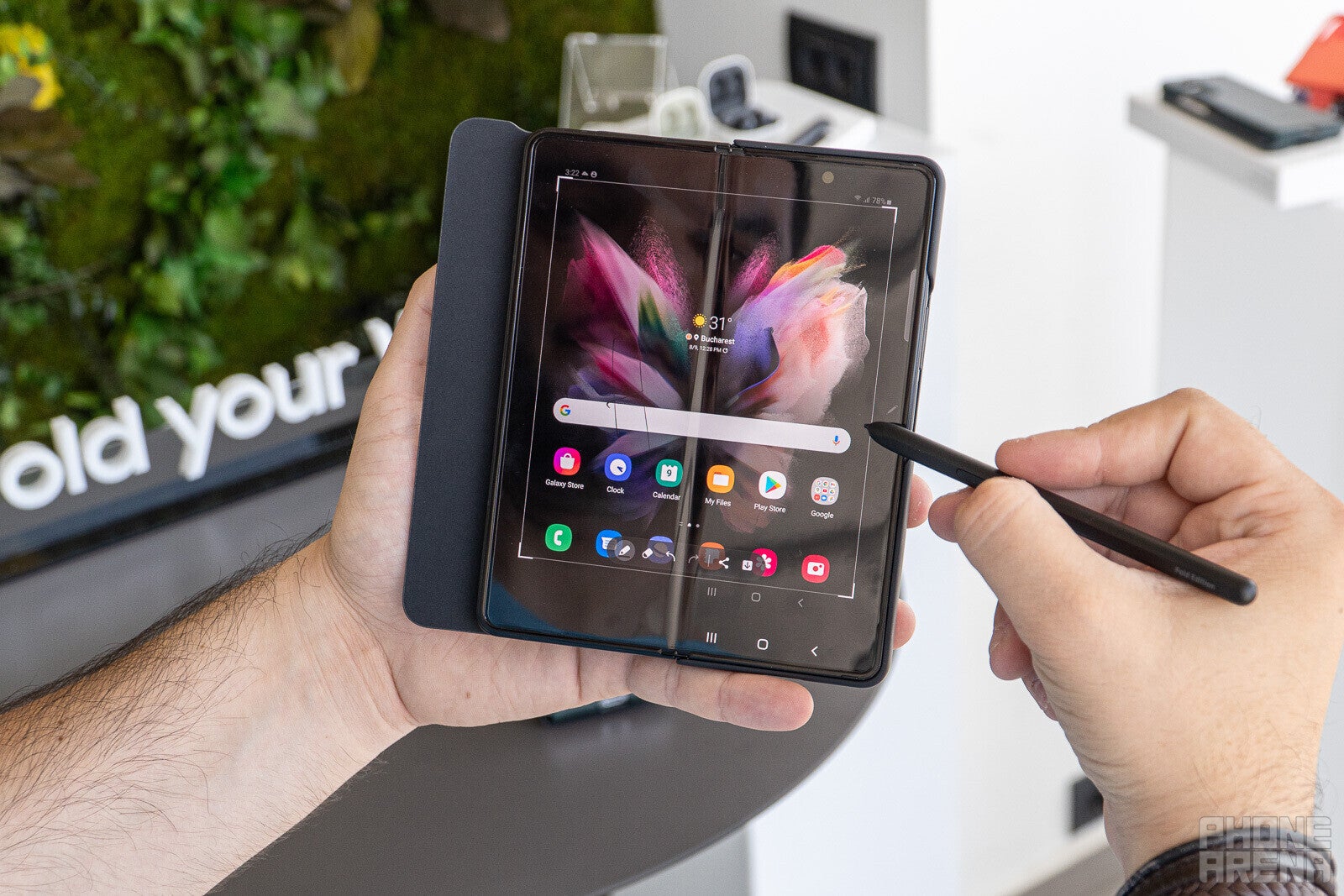 The Galaxy Z Fold 4 may not come with a slot-in stylus like we had hoped, but it does have active S Pen stylus support nonetheless, and that's quite impressive for a foldable with a soft display!
And if you've ever used a Samsung phone or tablet that came with a stylus, as several do, you already know what a good experience using it is. Unlike using Apple's iPad with an expensive Apple Pencil, where you're pressing a hard plastic stylus tip against hard glass, Samsung's stylus has a soft tip instead, and to me – feels vastly better to use because of that.
In addition, the Galaxy Z Fold 4 has tons of great stylus features, from basic, obvious ones like a notes app, to multitasking ones. And using a stylus gives you way more precision when doing fine things like resizing windows and navigating menus.
I've been working on a retro-style video game for a while now, and I've used Samsung tablets and foldables to draw pixel art for it – it's been a joy for me, and I'm sure you'll love the experience too.
Even if you just need to jot down some notes or sketch an idea for your next YouTube thumbnail, it's pretty amazing that you can do it on a big screen, that was just a small phone in your pocket seconds ago.
It's a futuristic ebook reader… Actually shaped, and folds, like a book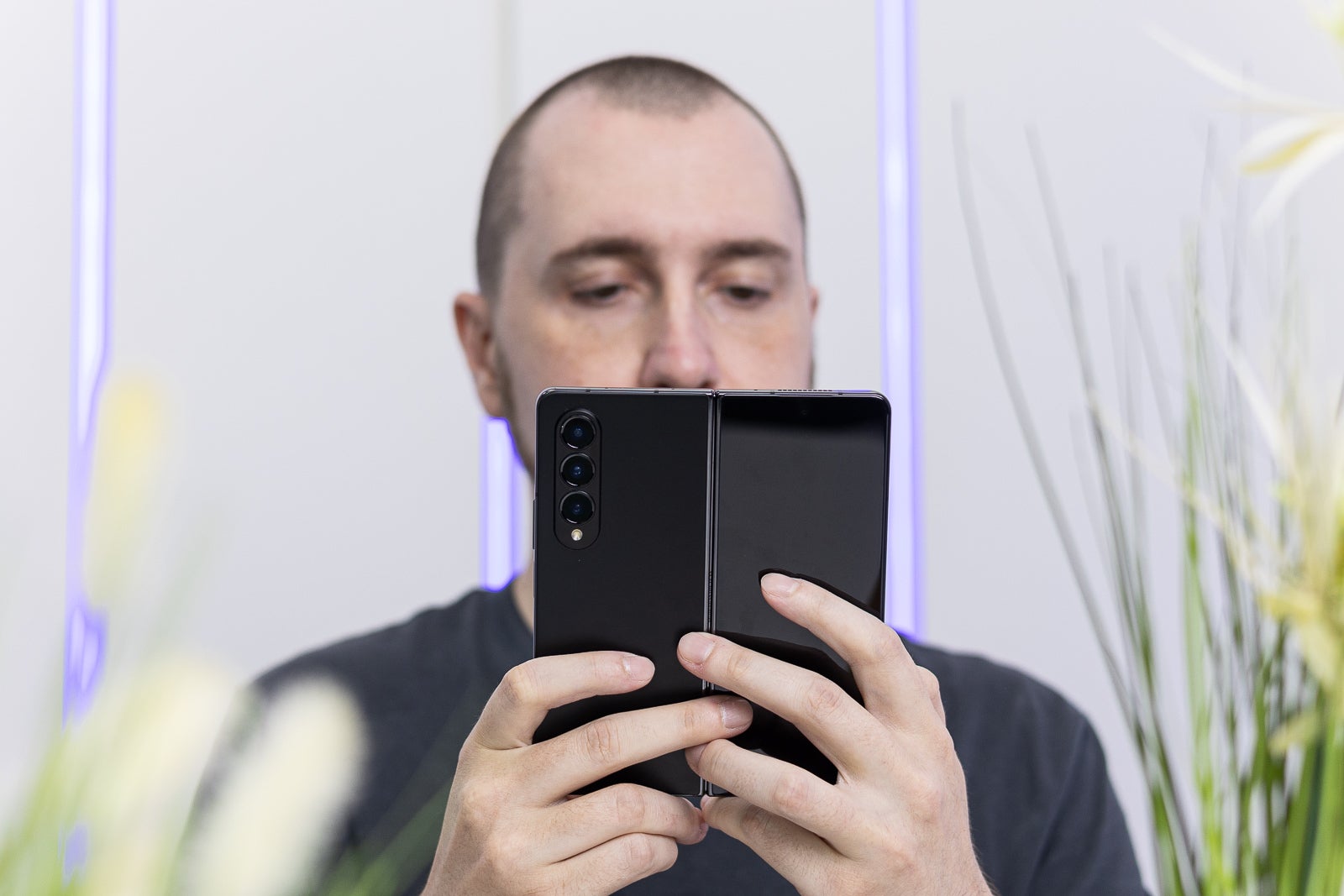 If you've ever wondered what a digital book would look like, and I know you haven't, this is it. Book-shaped foldables like the Galaxy Z Fold 4 are perfect for reading articles and ebooks anytime, anyplace.
If you're like me, you may have tried reading a book on your traditional smartphone, but the screen is just too dang small. So if you're into literature, unfold your tech marvel of a device, turn on Eye comfort shield (on Samsung phones, may be available under a different name on others) so the screen gets less blue and irritating to your eyes, and enjoy your books anytime, anywhere.
No squinting at a small screen. And best of all, when you're done, you can actually close the thing in your hands just like a book – satisfying!
How to get a Galaxy Z Fold 4 right now without breaking the bank
So, the retail price for the base Galaxy Z Fold 4 with 256GB of storage is $1799.99 on Samsung's store. And yes, that's quite a bit. However, you can knock that price down to about $1000 if you have an eligible trade-in device (say a flagship phone with an Apple logo on it, or an old Galaxy Note).
But $1000 is still a lot. So, here's how I buy my expensive gadgets without really feeling the impact of thousands of dollars evaporating out of my bank account instantly – monthly payments.
You can get a Galaxy Z Fold 4 right now for about $58.34 a month, for 24 months. And if you're already paying for monthly services like YouTube Premium or Netflix, this is not that high of a price to dish out monthly. Still not cheap, but hey – if you believe it's worth it – it's probably worth it!
Even better, if you can hold out for
Black Friday
– we saw a whole lot of great deals on the Z Fold 4 and 3 last time around, so stay tuned for the best
Black Friday Samsung phone deals
this year!
In conclusion – let us know – if you're a folding phone user, would you recommend it to your fellow tech enthusiasts? Are foldables ready, and not a risky purchase anymore? I clearly believe so, at least when it comes to the Z Fold 4 and Oppo Find N2, but what about you?