2017 iPhones rumored to have fast charging, tap to wake feature exclusive to the iPhone 8?
84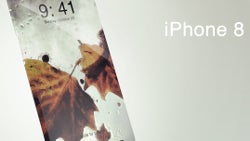 So, some wild rumors are stating that we might be seeing not two, but three new iPhone models introduced this year — the expected iPhone 7s and iPhone 7s Plus,
and a mysterious, super-premium iPhone 8
(codename Ferrari). The "s" models are, reportedly, a slightly upgraded variant of the current iPhone 7 and iPhone 7 Plus, stuck in the same from factor that we've grown accustomed to over the past 2.5 years. The iPhone 8, however, now this one is at the center of a lot of crazy rumors.
From
under-the-glass fingerprint scanner
to a full display body, a
curved AMOLED display
, wireless charging, so on and so forth — the rumor mill is really having at it with the mysterious new iPhone. Here, we have two more suggestions on what features the "Ferrari" might have.
Allegedly coming from leakster @SonnyDickson's mouth, the first report states that Apple will finally be adding fast charging to its devices. This is a feature sorely missed on iPhones, especially on the Plus variants. Most — if not all — competing devices are able to fill their batteries in about 90 minutes, while Apple's handsets still take well over 2 hours. Not a problem if you are a nightstand charge type of person, but a bit annoying when you need a quick juice up in the middle of the day.
Now, no details on how exactly the fast charging would work — whether it would be straightforward "more voltage, faster charge" like Qualcomm's Quick Charge, or a tricky alternative, like the OnePlus Dash Charge.
The second feature, reported by the leakster, is the presence of a "tap to wake" feature. However, it will, allegedly, only be present on the iPhone 8. Whether this has something to do with the AMOLED panel and the way that Apple intends to implement "tap to wake", or just an attempt to make the device more "premium" than the 7s models, we can't say. We'll just be sitting here, handing out grains of salt to go with those rumors.
Whatever the case, we are still 9 months away from the official unveiling. There's lots more rumoring to come!