2015 to be the 'year of Samsung,' says analyst, citing flexible OLEDs and 14nm chips
33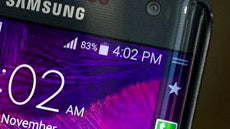 Despite that
Apple just announced a blowout quarter
for the business books, an analyst from the reputable Jefferies & Co. believes that 2015 will actually be the year of the grand Samsung return. So far, Samsung has been unable to really justify its higher-priced handsets in the face of competition from
Xiaomi and other up-and-coming brands
that offer the same features for much less.
The argument is that this year Samsung will be moving not only its flagships, but its midrangers to mostly metal casings, to which Xiaomi wouldn't have a reply, as it would require some retooling and economies of scale on a grand scope. This would take care of Samsung's most pressing design impression problems, that has plagued the company for the last two years or so.
Samsung, however, will have aces up its sleeve that the competition can't match this year, namely the superior 14nm chipset manufacturing process, and the flexible AMOLED display technology. We already heard that Samsung might be
taking on the almighty Qualcomm
by issuing its bread-and-butter
Galaxy S6
with an Exynos chipset. The analyst, however, confirms that the S6 could indeed ship with a dual-edged flexible display version, and in much higher quantities than Samsung did with the Note Edge, for instance:
We continue to expect Galaxy S6 to launch with two edge displays, utilizing Samsung's industry-leading flexible OLED panel technology. We believe Samsung has a 1-to-4 year technology lead over competition in Korea, Japan, and China, in flexible OLED. Our proprietary Smartphone survey suggests customer feedback for Samsung's Note Edge flexible display is positive. Our checks also suggest mobile operators are highly interested in flexible display capabilities, and are likely to help Samsung's roll-out of the GS6. Samsung has suggested foldable displays could be introduced as early as 2015/16...
Samsung would elevate its high-end offerings (e.g. Galaxy S6, Note 5) through innovative new form factors that leverage Samsung's unique flexible display technology, and 14nm AP.
To summarise, the Jeffries' analyst expectations are for Samsung to really hit it out of the park this year, ending its long period of restructuring and mobile strategy adjustments. Pushing back against Xiaomi and the rest of the Chinese gang would be done via Samsung's inherent strengths of flexible displays, the 14nm take on Qualcomm, and DRAM chip advancements. Sadly, nothing is mentioned about a radical change in software and services, so we can only be guessing what Samsung has in store for us in that respect, though the wait won't be long, as the MWC expo is fast approaching.