16-year-old Wisconsin native wins LG's Texting Championship and nabs $50,000
12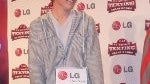 Today, in the heart of the Big Apple, LG held its annual
Texting Championship
where 10 finalists from across the country, including last year's champion, duked it out on stage against one another to become the lone standing 2011 LG Texting champion.
Indeed, thumbs were flying all over the place as the contestants used the
LG Doubleplay
to dish out some passages of text on its intriguing split-style QWERTY keyboard. After a solid hour of competition, the only players that remained standing were none other than Wisconsin native
Austin Wiershke
and
last year's winner, Brianna Hendrickson
. During their heads-up session, both players had to text phrases using their LG Doubleplay smartphones, but once the buzzer ended, a clear-cut winner emerged. With the smoke settling, it was none other than Austin Wiershke who was crowned champion.
In addition to holding claim to being the 2011 LG Texting Championship, Austin also managed to nabbed a cool
$50,000
, which he can use on whatever his heart desires. Furthermore, he was presented the over-sized novelty check for the amount from pop singer
Ashley Tisdale
. So yeah, as much as some people think that texting is a bad habit for the younger generation, it goes to show that you can actually score something big if you happen to be a speedy and accurate texter.
Don't forget to check out all the other photos from the event and even some of the LG Doubleplay.