New York teen wins LG Texting Championship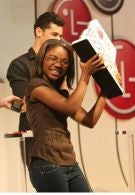 13 year-old Brianna Hendrickson has won the
LG U.S. National Texting Championship
, winning $50,000. She will now move on to compete in the LG Text For Good Challenge, where she could double her winnings, and win an additional $50,000 for the Susan G. Komen for the Cure Foundation. Brianna will also move on to compete in the 2011 LG Mobile World Cup, which South Korea won in 2010.
Brianna won the competition against an initial pool of 500,000 contestants, competing in events such as Text Attack, Blind Texting, Text Blitz and Do U Spk Txt. All the contestants used
LG Ally
devices, copying phrases and sentences as they appeared on the screens over head.
New for 2010, the competition also included a category for parents and caregivers, who won their trip to the New York competition by playing online qualifiers at LG's Championship Facebook page. The category was added in response to survey findings that 41% of parents feel that texting makes them more connected to their teens.
In the end, Brianna won by typing the following phrase in only 60 seconds: "Old McDonald had a farm, Ei, ei, oh! And on this farm he had a champ. W/a txtr here, and BFF there. Here a text, there a text, erywhere a text-text!" How fast can you do it?
source:
PR Newswire