13.8-inch Google Project Ara tablet spotted on GFXBench: Snapdragon 810, 3GB RAM and more
25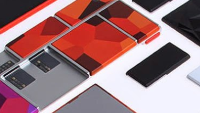 Remember
Project Ara
, Google's concerted effort to create a modular smartphone with swappable components? An idea that was once frequently in the news, we've heard little of its progress in quite a while. However, GFXBench has potentially uncovered a device-in-testing, which takes the form of a full-HD tablet.
The notion of a modular mobile device is a greatly appealing one for a number of reasons. Every year, smartphone owners can feel inclined to spend hundreds of bucks on a newer model when, almost always, changes are minimal at best. With Project Ara, a user would be able to switch out a processor or camera component as easily as a microSD card, and potentially upgrade the same base unit multiple times.
We probably won't see our first Ara handset until later this year. The Ara team indicated recently via Twitter that the first handset
would debut in 2016
, and if there is to be any news on the matter, it's almost certain that we'll hear about it at
the I/O dev gathering
in late May.
As we await an inaugural Project Ara smartphone, the new GFXBench revelation points to a tablet with a 13.8-inch display: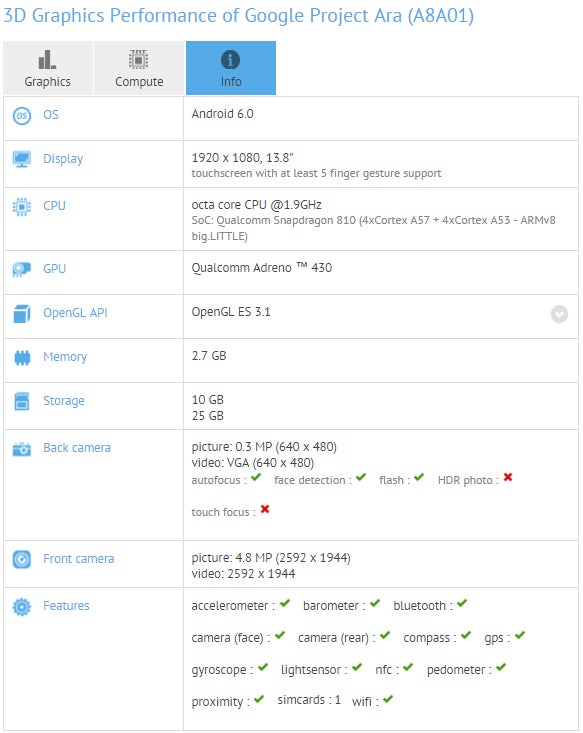 As you can see from the specs, it's a full-HD affair, though spread across such a canvas, wouldn't be incredibly sharp. The processor aspect is taken care of by Qualcomm's Snapdragon 810 SoC, which caused some controversy last year thanks to reported
overheating issues
. In the future with something like Project Ara, a problematic processor could be as easy to switch as a screen protector, and should modular smartphones ever become a Thing, the smartphone game as we know it would be completely turned on its head.
Identified as Google Project Ara (A8A01), the slab runs on Android 6.0 Marshmallow. There's no telling whether such a device is ever to be released, since benchmarks only offer information on specs. We'll surely know more by the time I/O comes around.
Do you think modular mobile gadgets are the natural progression from today's devices? Let us know in the comments!
Recommended Stories