128GB Microsoft Surface Pro to be re-stocked on Saturday
5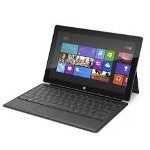 You wanted a 128GB
Microsoft Surface Pro
, but you figured what's the rush, at $999 a pop there is no way that the top of the line model would be gone on launch day. Uh, guess what.
The device did sell out
, and not just on Microsoft's online store either. Staples' web site was
plumb out
of the tablet well before the calendar changed to Sunday.
Invalid image meta
Before you either go on a scavenger hunt, or settle for something less, hold on for a second. A tweet from Panos Panay, GM of the Microsoft Surface line, says that the 128GB model of the slate will be re-stocked on Saturday while the 64GB model, also a sellout, is being re-stocked today. And while all of those sell outs sound impressive, indications are that
less than 20,000
Microsoft Surface Pro tablets have been sold overall, making a mockery of the "Sold Out" designation. Microsoft wanted a buzz and it got one. However, with the amount of sales noted, the buzz isn't of the favorable variety.
The Microsoft Surface Pro is the version of the tablet that is more like a mobile version of the box on your office desk as it runs your
legacy
apps and is powered by a dual-core Intel i5 core processor. The
Microsoft Surface RT
uses an ARM supported processor and is a more traditional tablet that competes with the Apple iPad and Android tablets.
source:
MicrosoftNews
via
WMPoweruser