11 reasons why the Motorola Moto X Style (Pure Edition) is a better phone than the OnePlus 2
98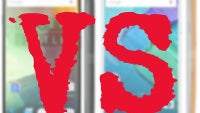 Yesterday was a pretty hot day for the smartphone industry - apart from the second-gen OnePlus device that once again brings up its "flagship killer" aspirations (this time for 2016, mind you), Motorola also got us abuzz with the substantial refreshing of its portfolio, which gave us the third-gen Moto G, as well as the Moto X Style and the Moto X Play.
All of the phones that got unveiled yesterday are further pushing the boundaries of the venerable "bang-for-buck" ratio, but if we have to take a closer look at the specs sheets of two of these, the US-bound Moto X Style and the OnePlus 2, we will certainly find a couple of things that make the Motorola a smidgen more compelling.
As we usually do after a new product announcements, we took our Sherlock Holmes-grade magnifying glass and began our inspection of the specs sheets of the OnePlus 2 and the Moto X Style. Check out what advantages the latter has over the former.