10 creative custom Android homescreen themes made by people just like you
7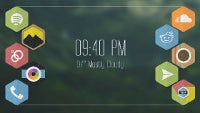 Close your eyes and think of any topic you're interested in. Got it? Good, now all you need to do is head over to Reddit and find the appropriate subreddit. Chances are, there is one – even if you thought of something ridiculously particular. As of today, there are 575,418 subreddits available according to
reddit metrics.
Theming has been something of an interest for us lately, and seeing how well-equipped the Android ecosystem is for the purpose, it was no wonder we ended in
/r/AndroidThemes
. The community is very active and churns out new and fresh themes for your phone's homescreen every day. Best of all, it is common courtesy for the creator to share detailed steps so that the rest of us can replicate his or her work. You can do the same.
We went through some of the most popular themes posted on the subreddit today, and we wanted to showcase some of them to you. Find below 12 themes we loved and a direct link to the guide that'll outline how to set them up on your own device.