10 Android smartphones that feature laser autofocus cameras
9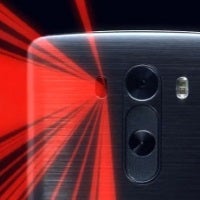 It took a while — longer than a year, actually — but the innovative laser autofocus system that first made its appearance on the LG G3 has actually made it to no less than nine other Android smartphones. We knew there was something to it ever since we saw the laser beams firing from the LG G3's sensor and helping it focus quickly and accurately on objects from the scene. So it makes us feel especially cheerful that more manufacturers have discovered this technology for their own smartphones!
You might be unfamiliar with this tech, so here's the run-down. Laser autofocus employs a small laser emitter positioned on the back of the smartphone, near the camera lens. Upon taking a photo, the sensor beams out a short laser burst which is reflected back off whatever you've been pointing your camera at. The light enters the camera sensor and a software algorithm calculates how long it takes for the laser to leave and return, which acts as a measurement of the target object's distance.
But laser beams alone aren't a reliable enough method, for poor laser returns at long-distance objects, and issues with reflective or transparent services present an obstacle to laser autofocus' mission. This is why some smartphones also employ a contrast detection algorithm, which tasks the main image sensor with finding the difference between adjacent pixels. This results in a hybrid system which usually lets smartphone cameras focus quickly and accurately.
Now that you know what the big deal is, here are 10 smartphones by various manufacturers that use laser autofocus cameras.