10 Android apps that will get music makers close to Apple GarageBand's functionality, look and feel
10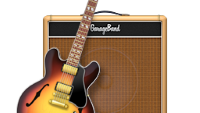 Hello, aspiring music makers from all genres and backgrounds! If you're reading this, you must be aware to a certain extent that iOS musicians have it much easier than the Android gang when it comes to high quality audio apps. But make no mistake, the Android tribe can certainly hold its own with the selection of audio workstation, samplers and synthesizers available in the Google Play store!
Today, we'll have a look at ten apps that kind of, sort of, or outright emulate the design and functionality of Apple's coveted GarageBand app, the gateway software to many a music makers looking to create their masterpiece one day. Be warned, you might end up pleasantly surprised by the quality of these apps. Not only will they get you close to GarageBand's groovy vibe, but they also put their own unique spin on the music making process. And it just so turns out that most of them are completely or partially free to use! Lucky you.
Check out this selection and get some music made on your Android devices!
Also read: