5 of the best music player apps for Android
18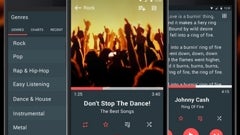 It's been a full year since we last presented a selection of
the best music player apps for Android
, which means it's time for a brand new list.
Mind you, the apps that you'll discover below - in alphabetical order - aren't released in 2016 (we've yet to see a great music player launched this year anyway), but they're certainly relevant at this moment.
If your favorite music player for Android isn't on this new list, perhaps you'll find it on our older ones (see
here
or
here
). If not, feel free to tell us about it in the comments section.