Samsung Galaxy Tab S9 release date, price, features, and news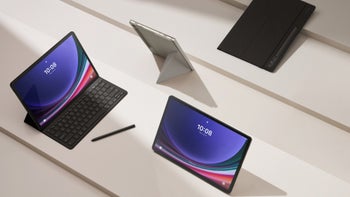 Last year, Samsung finally refreshed its high-tier tablet line — the trio of
Galaxy Tab S8
devices dropped alongside the
Galaxy S22
phones. Offering different premium features at different price tiers, the Galaxy Tab S8, Galaxy Tab S8+, and Galaxy Tab S8 Ultra are currently the
best Android tablets
you can buy.
So, we are waiting with bated breath for the next iteration. The Galaxy Tab S9 — when is it coming, will it have a special Snapdragon made for Galaxy chip, and what new features will it bring?
Currently, news are scarce, but we will be following along and eagerly fill in each gap as information becomes available.
Latest Galaxy Tab S9 news
Samsung Galaxy Tab S9 release date
Last year's Galaxy Tab S8 was announced alongside the Galaxy S22 at the February Galaxy Unpacked event. Obviously, we didn't see the next generation of tablets at the Galaxy S23 event, so now there's the question — when is Samsung planning to launch the Galaxy Tab S9?
Samsung does seem to take its time when refreshing its tablets — the gap between the
Tab S7
and the Tab S8 series was a year and a half. So, we wouldn't be quick to worry here. Mobile tech has hit a bit of a plateau, so year-over-year gains aren't really enormous enough to warrant an annual tablet refresh.
The latest and only leak we have on the matter is that the Galaxy Tab S9 may be announced in August, alongside the next Galaxy Z Fold and Z Flip.
| Device family | Announcement | Market release |
| --- | --- | --- |
| Samsung Galaxy Tab S6 | July 31, 2019 | August 9, 2019 |
| Samsung Galaxy Tab S7 | August 5, 2020 | August 21, 2020 |
| Samsung Galaxy Tab S8 | February 9, 2022 | February 25, 2022 |
| Samsung Galaxy Tab S9 | Early August, 2023* | Mid August, 2023* |
* - probable dates
Samsung Galaxy Tab S9 price
With so little information about the upcoming Samsung tablets, we have absolutely nothing to go on with price. Common sense dictates that we will probably see a repeat of the Galaxy S8 prices. Those being the starting prices of $700, $900, and $1,100 for the three different models. However, with the current turbulent economical shifts, we may or may not see a slight bump in those prices.
| Model | Starting price |
| --- | --- |
| Galaxy Tab S8 | $699.99 |
| Galaxy Tab S8+ | $899.99 |
| Galaxy Tab S8 Ultra | $1,099.99 |
| Galaxy Tab S9 | $699.99* |
| Galaxy Tab S9+ | $899.99* |
| Galaxy Tab S9 Ultra | $1,099.99* |
Samsung Galaxy Tab S9 storage
The current trio of Galaxy Tab S8 tablets starts at 128 GB of storage at their lowest tiers. That's a bit stingy, even by 2022 standards, especially at the starting price of the higher-end models.
Now that Samsung has UFS 4.0 chips, we are pretty sure they will want to put them in their higher-class tablets — that's double the read and write speed over UFS 3.1, which is already a massive improvement.
Here's the thing — UFS 4.0 chips start at 256 GB. So, we are pretty confident that — at the very least — the Galaxy Tab S9+ and Tab S9 Ultra will have a starting tier of 256 GB. The cheapest Tab S9 may keep a 128 GB tier to fit tighter budgets.
Galaxy Tab S9 storage capacity:
Galaxy Tab S9+ storage capacity:
Galaxy Tab S9 Ultra storage capacity:
Samsung Galaxy Tab S9 design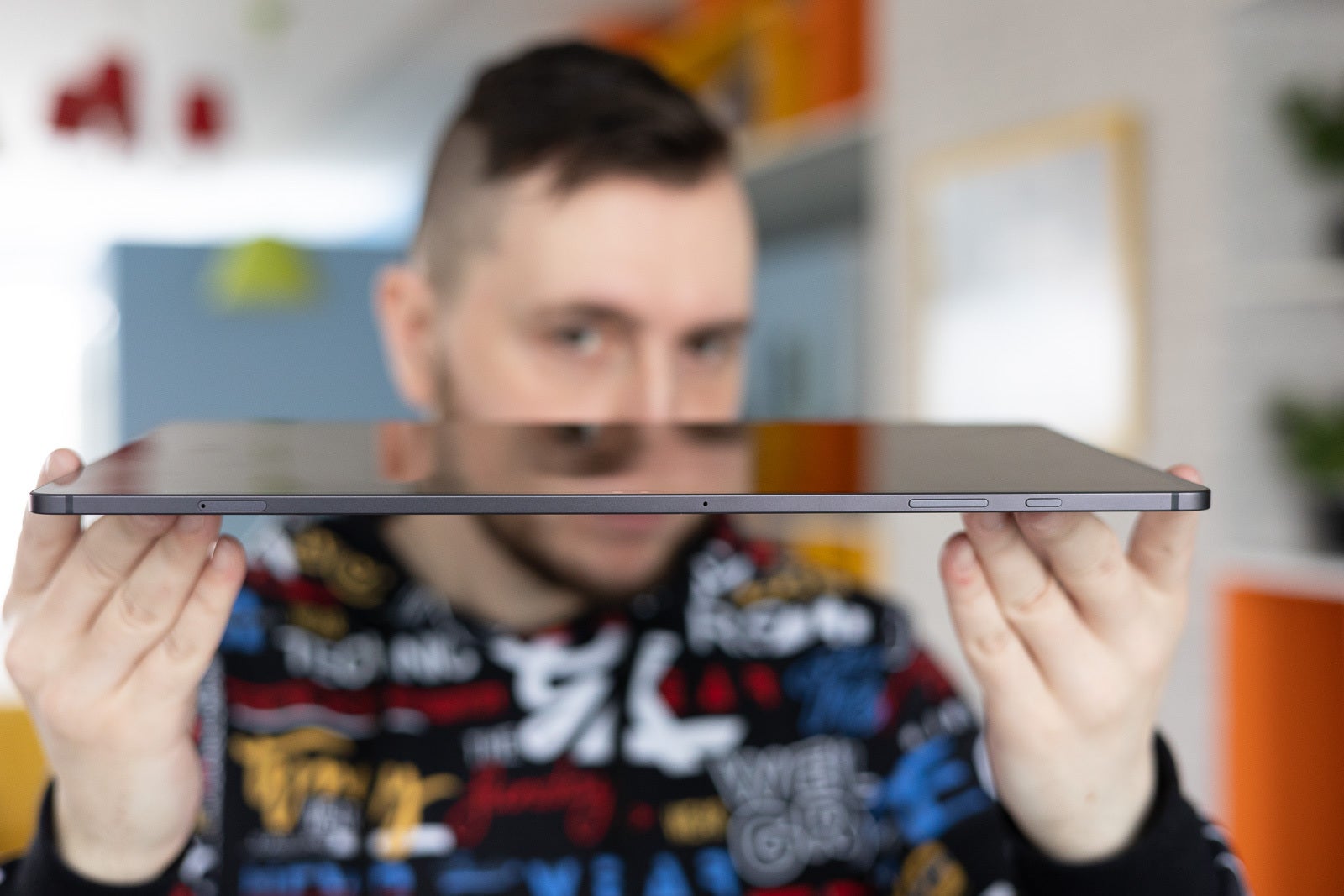 Galaxy Tab S8 Ultra (Image credit - PhoneArena)
No leaks and no schematics out there yet. We are pretty sure that the Galaxy Tab S9 line will have a design similar to the Tab S8 line. But there are still some questions — will the Ultra have a notch again? Will the Tab S9 and Tab S9+ have slimmer bezels?
Stay tuned as we follow any leaks that pop up!
Samsung Galaxy Tab S9 display
Typically, the most affordable tablet of Samsung's premium line has a slightly worse display. Not an AMOLED, but an LCD panel. The Plus and the Ultra get the pristine AMOLED with the deep blacks and infinite contrast.
However, all of them do get a high refresh rate — 120 Hz to be more exact.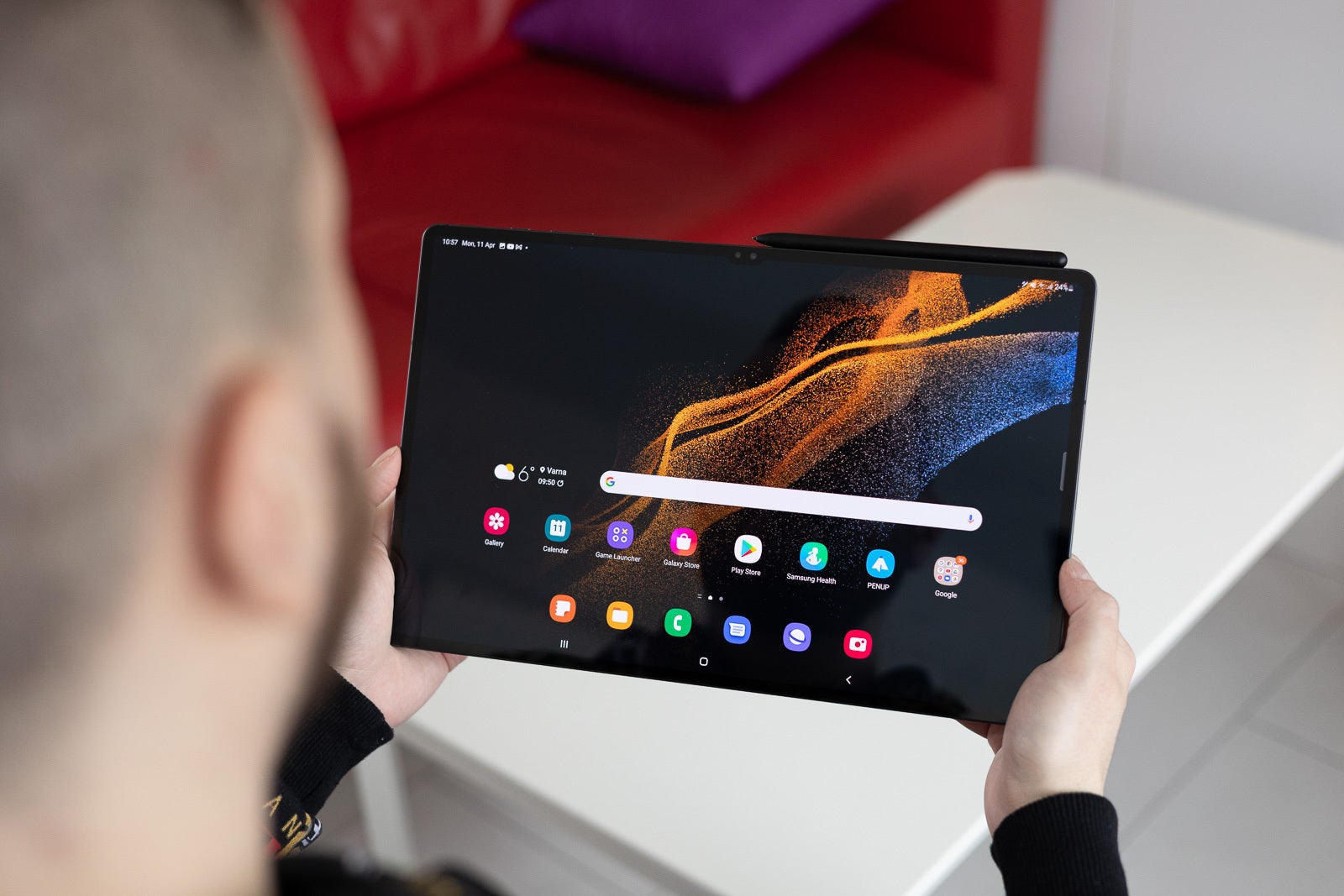 Gorgeous Galaxy Tab S8 Ultra display (Image credit - PhoneArena)
For the Galaxy Tab S9 line, we would hope that even the smallest variant will get AMOLED, but we aren't optimistic on that front.
On the size question, they go from typical tablet size to gargantuan. The Galaxy Tab S8 line had 11-inch, 12.4-inch, and 14.6-inch sizes. We expect something close to those numbers for the Tab S9, Tab S9+, and Tab S9 Ultra, respectively.
Samsung Galaxy Tab S9 battery
Since there's so little information available right now, we obviously have no word on battery capacities. Safe to say, Samsung has been aiming for that all-day battery life on its tablets, and we are feeling confident that whatever the Galaxy Tab S9 has in the trunk, will suffice.
Samsung Galaxy Tab S9 features and software
Samsung's One UI puts a heavy emphasis on multitasking — with gestures and easy-access app drawers that let you pull in apps for split-screen or floating window operation. These tablets make great use of their screen sizes by letting you keep track of a few apps at a time.
Then, there's the DeX interface, which transforms those Android tablets to look more like a desktop machine. Pair them with a Bluetooth keyboard and you are good to do some office work on them.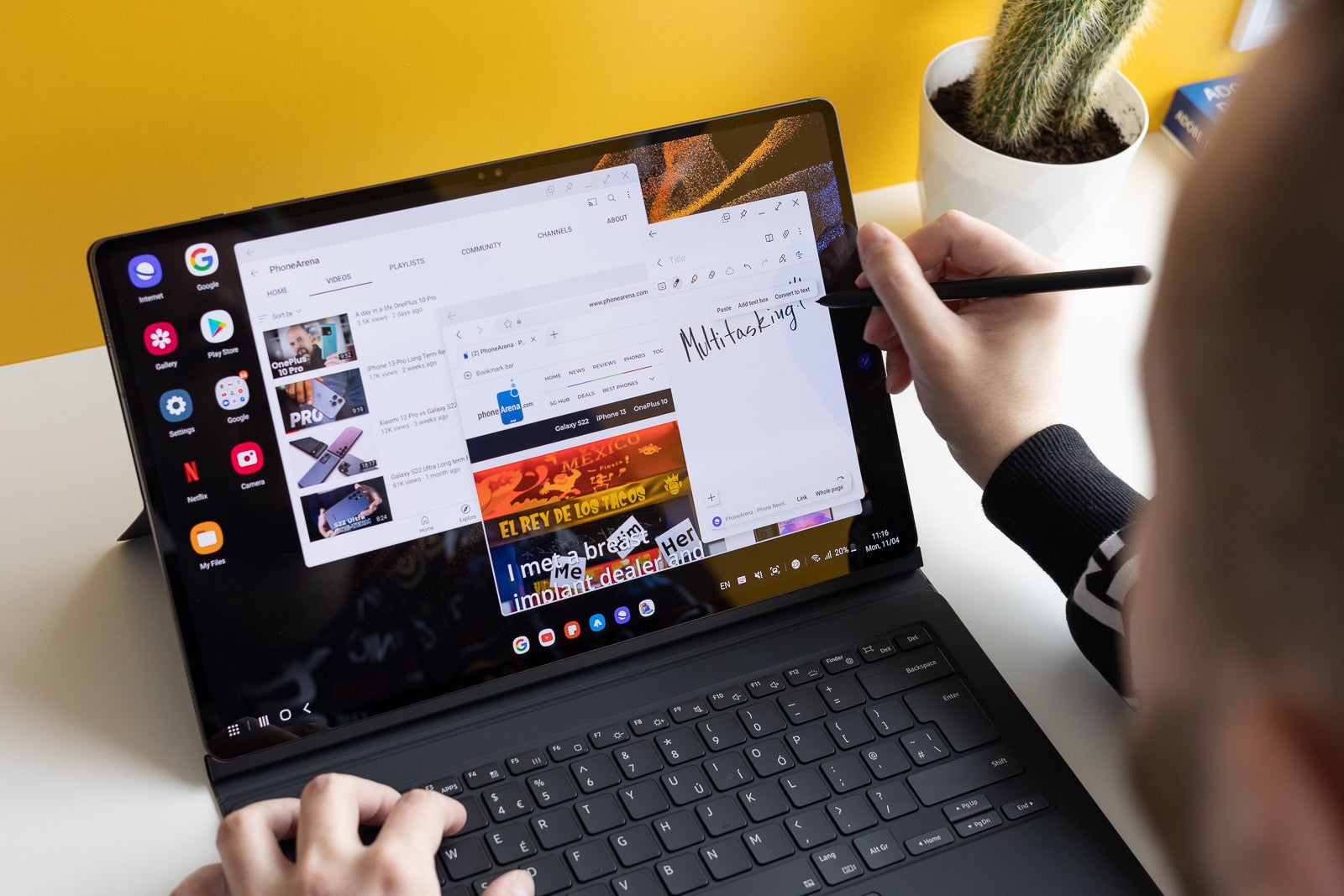 Just multitasing on Tab S8 with DeX (Image credit - PhoneArena)
And, of course, there's the S Pen — Samsung's own stylus, which it has perfected over multiple years. It is hands down the best stylus you can get in-the-box with a smartphone (a Galaxy S Ultra) or tablet. The tip is rubberized, so it gives you a natural resistance while scribbling lines, the sensitivity and response times are superb. For anyone looking to draw or hand-write on a tablet, it's hard to get something better than Samsung's offerings.
Of course, we expect all of that to make a return with the Galaxy Tab S9 — but we are curious if Samsung is looking to upgrade the experience even further.
Samsung Galaxy Tab S9 hardware and specs
Considering that the recent Galaxy S23 phones launched with a Qualcomm Snapdragon 8 Gen 2 Made for Galaxy, we think it's safe to assume that a Galaxy Tab S9, if it were to launch this year, would get a similar treatment.
What's special about those processors is that they are slightly overclocked and, presumably, Samsung worked in tandem with Qualcomm to really optimize performance for them.
So, the Galaxy Tab S9 can very well be powered by a Snadpragon 8 Gen 2 or a potential Snapdragon 8+ Gen 2, specifically tuned for them.
As for storage — we do think Samsung will be looking to pack these with UFS 4.0, which is twice as fast as the commonly-used UFS 3.1 in both read and write speeds. And, since Samsung doesn't manufacture UFS 4.0 chips with less than 256 GB memory, that will most probably be the baseline storage tier for the Galaxy Tab S9 series.
It's still possible that the cheapest, non-Plus Galaxy Tab S9 could come with a 128 GB UFS 3.1 chip — just like the baseline Galaxy S23.
As for RAM — judging by the Galaxy Tab S8 series, it seems Samsung believes that 8 GB is good enough for an Android tablet. However, considering that One UI puts so much emphasis on multitasking, we are hoping to see a slight bump in RAM with the next iteration of the top tier Samsung tablet.
Should I wait for Samsung Galaxy Tab S9?
Considering that the Galaxy Tab S8 trio is still excellent, and that we have absolutely no concrete info about a Galaxy Tab S9 or any launch plans — maybe just get your hands on what you like right now. The Tab S8 is still powerful, will still get plenty of support, and will get the job done... whatever job you have in mind.
You should wait for Galaxy Tab S9 if

you currently have a tablet, which is not in a dire need of upgrade.
You should not wait for Galaxy Tab S9 if

followed by why not. E.g. the reader likes their old model and doesn't find the updates this one brings worthwhile, or the older model is now more affordable, still up to date and generally great.