Sony LinkBuds review: the best pass-through is when you have a hole in the earbuds
3
We may earn a commission if you make a purchase from the links on this page.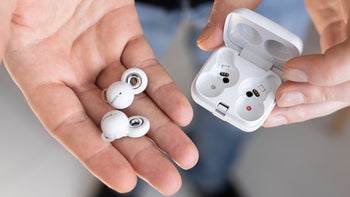 Well, folks — the unthinkable has happened. Sony has finally launched a mobile product that has an actual name.

These are the Sony LinkBuds — but you can endearingly call them Sony WF-L900, if you prefer that distinct naming scheme.

Jokes aside, the LinkBuds are a new form of earbuds that are the antithesis of noise-cancelling headphones — the LinkBuds are designed to very deliberately let outside noise in while still delivering the sound of your content.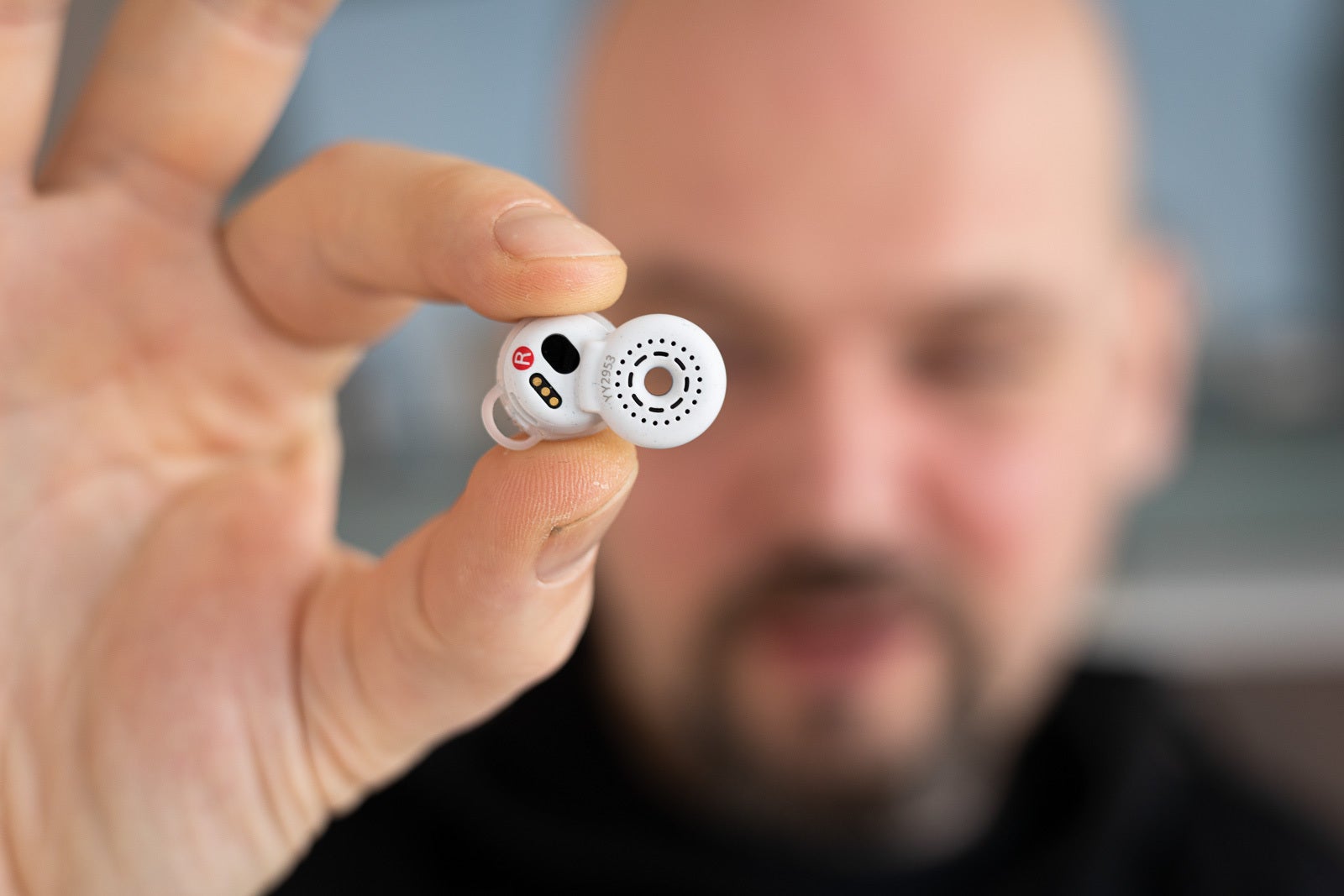 Essentially, they are meant for those people that would want discrete headphones to listen to their media through, but without losing any contact with the outside world. This is where the name comes from — these buds keep you "linked" to everything.
Yes, you can do that with earbuds with a really good pass-through mode, but the LinkBuds take it a step further. There's no need for pass-through if there's a literal hole in the middle of the buds, yeah?
Priced at $179.99, they are a product for the premium market, but not an alternative to or a replacement for the
Sony WF-1000XM4
. The LinkBuds are in a product niche that is entirely their own. What shall we call them? Pass-through headphones?
In any case, are the Sony LinkBuds good? Yeah, they accomplish the task they are meant for quite well. They fit well, they still sound good despite having a big hole in the middle of them, and the Sony Headphone Connect app has a couple of tricks that enhance them further.
Sony LinkBuds design and fit
When you first look at the LinkBuds, you may feel a bit confused on how to put them on. But it's pretty easy to figure out — especially since Sony's design team did a great job with the ergonomics of these earbuds.
Just place the "donut" part over your ear canal and lock the top part against your earlobe. It's that easy.
The Sony LinkBuds lock in place via a special rubber "wing", which presses gently against the ear. There are a total of 5 sizes of wings in the box with the LinkBuds, so there's a really high chance that they will fit you.
In fact, Sony's design team spent a lot of time looking at ear shapes and sizes from all over the world and aimed to make the LinkBuds as universal as possible.
In my experience, there'a s light pressure and pain point in my right ear. This one has always given me trouble with earbuds, so I am hardly surprised. Just throwing it out there for my bretheren with weirdly-shaped ears, you may or may not experience something similar.
Still, I can keep them in my ears for a good few hours without issue and the LinkBuds lock themselves in place really well with the rubber wings.
Sony LinkBuds sound quality
OK, so how do earbuds that sit outside of your ears actually sound? Well, in the case of the LinkBuds — surprisingly well!
The speaker here is a custom, ring-shaped 12 mm driver that Sony did exceptionally well at tuning.
If you keep the volume between 50% and 70%, you get a pretty balanced sound. Sure, they are not super-bassy, but the bass is audible. And they can get just a bit tinny around the upper mids, but this is very easily remedied if you use the EQ in the Sony Headphones Connect app.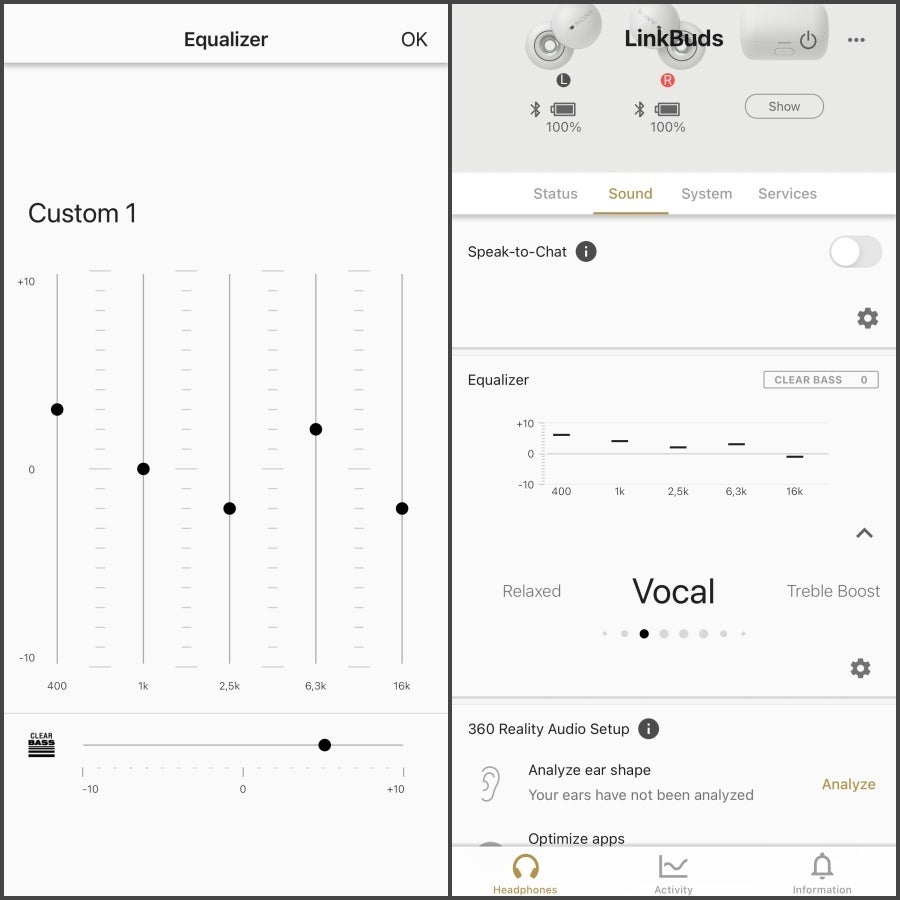 Now, if you do go above 70%, you can hear the drivers begin straining, the bass disappears and gives way to some rather unpleasant mids. I imagine you will want to do that for phone calls, if you want to get more clarity in the incoming voice. For music — it just gets unpleasantly loud.
Basically, these earbuds are meant for you to be able to listen to a podcast, a YouTube video, or an audio book without disconnecting from your daily life. Personally, I used them for music just fine and enjoyed the sound for what it is — a soundtrack behind my routine activities.
A dog walk, a bike ride, a run — any activity where noise-canceling earbuds would be a bit of an uncomfortable hindrance feels much better with the LinkBuds instead. I even forgot to take them off when shopping at the store, since I can so effortlessly hear my environment. IPX4 rating for water-resistance makes sure that sweat doesn't destroy them, but don't submerge these.
For phone calls and video conferences — the LinkBuds are excellent. Voice comes through pristine and clear, and the microphone picks up our speech very, very well. AI algorithms are in place to clear up ambient noise and only let through our voice.
No complaints were made by any callers and we listened to a conference being on the other end of a LinkBuds speaker — it sounded great.
Sony LinkBuds tap controls
Sony did something really cool with the LinkBuds controls. See, like many other wireless earbuds, these utilize touch controls for your playback or call answering.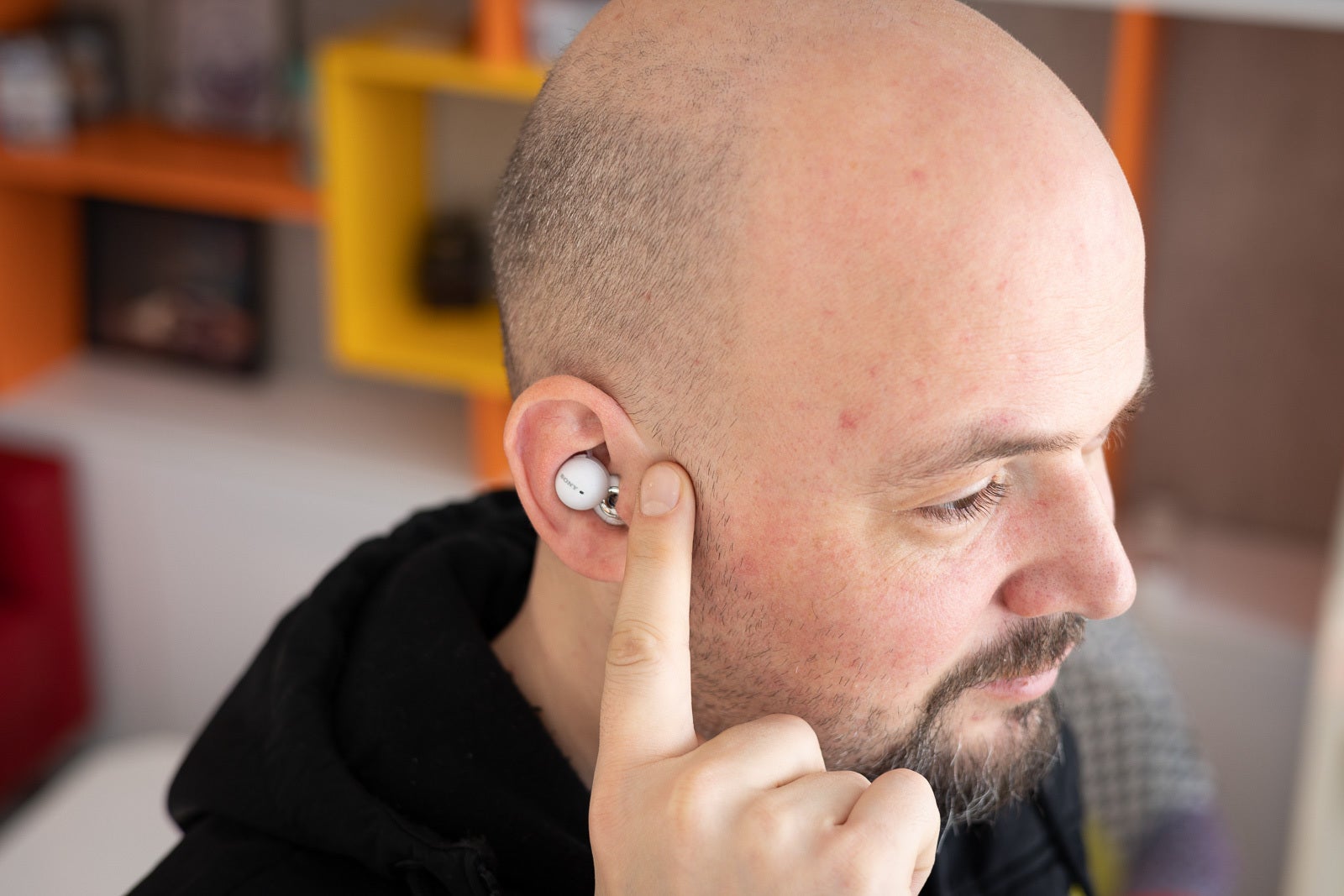 However, you don't need to tap the actual bud (and jab it into your ear in the process). The LinkBuds sense vibrations and they are so sensitive that you can tap the area just next to your ear. Sony calls this "Wide Area Tap" and you can turn it off if you wish, though I can't imagine why I would do that.
It works excellent and I got my gestures across each and every time. Meanwhile, I never got an accidental tap due to other vibrations or actions.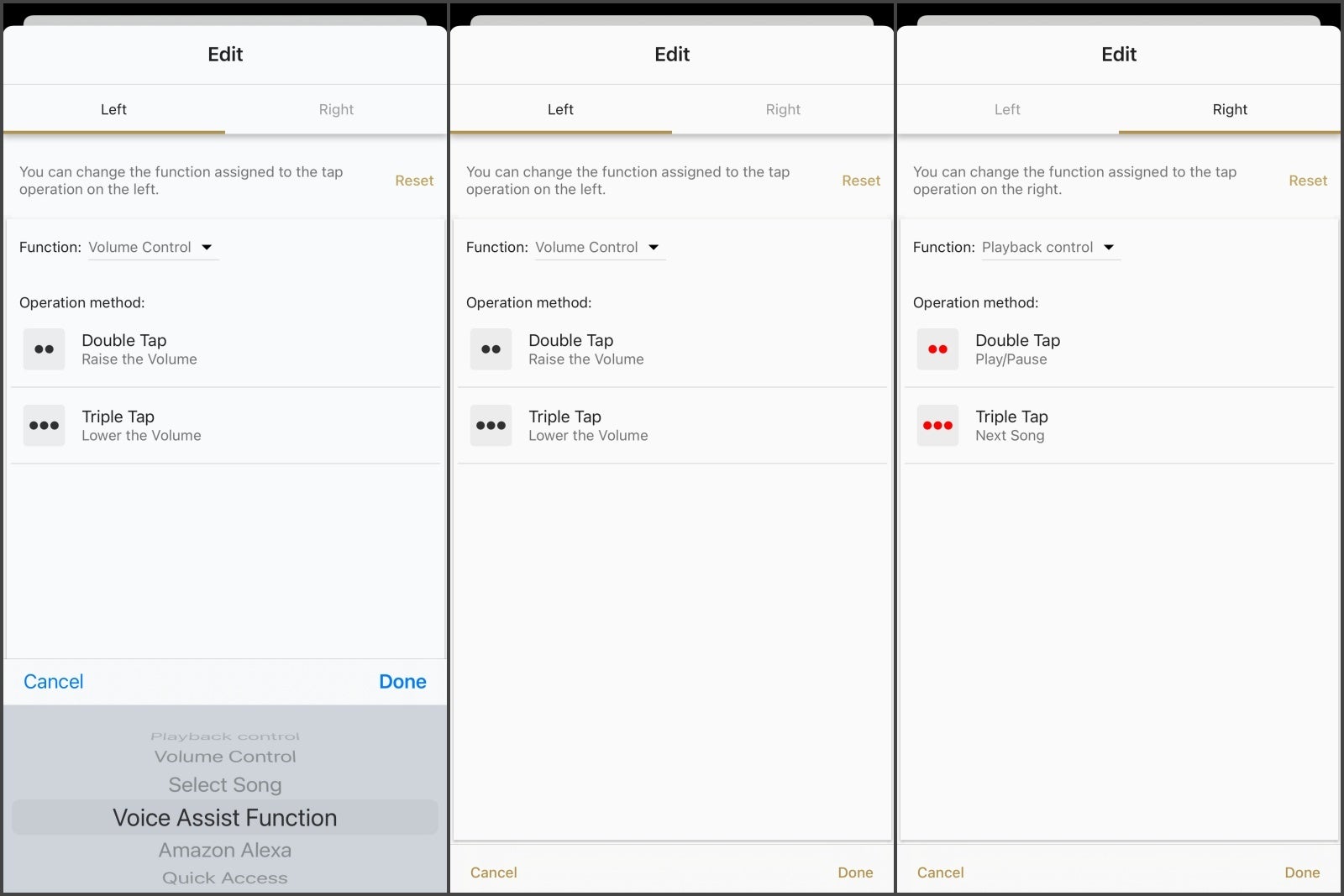 The gestures are dual-tapping or triple-tapping the left or right earbud. These can be customized to some degree inside the Sony Headphones Connect app.
Sony LinkBuds case and battery life
The LinkBuds come with an extremely tiny charging case, which continues the philosophy of the buds themselves. They are supposed to be light and feel like they are barely there. The case does the same.
Unfortunately, with such a tiny size, Sony didn't have a lot of room to work with, so the engineers decided to sacrifice wireless charging here and fill it with as large a battery as they could.
Official stats say that the LinkBuds can last 5.5 hours on a single charge and the case provides 12 more hours. So, in total — 17.5 hours of playtime on a single top-up of the case.
While I didn't attempt to drain or stress the batteries of the LinkBuds, I never felt pressured to recharge. In other words — the battery life is just fine. Though, if you are one who travels a lot, earbuds with more than 20 hours of juice might be the more convenient choice.
Sony LinkBuds connectivity and extra features
The LinkBuds support Google's Fast Pair and Microsoft's Swift Pair. Meaning that, on Android or Windows, as soon as you open the buds' case, a pop-up will suggest pairing.
That's nice and convenient, but — unfortunately — the Sony LinkBuds do not support Bluetooth multipoint, so you can't have them paired to two devices at once. This is a missed opportunity, considering the type of product they are trying to be.
The LinkBuds are equipped with Sony's custom V1 chip, which is designed to deliver high quality music via Bluetooth connectivity and there's Sony's DSEE on board, which can upscale degraded tracks back to high-def sound.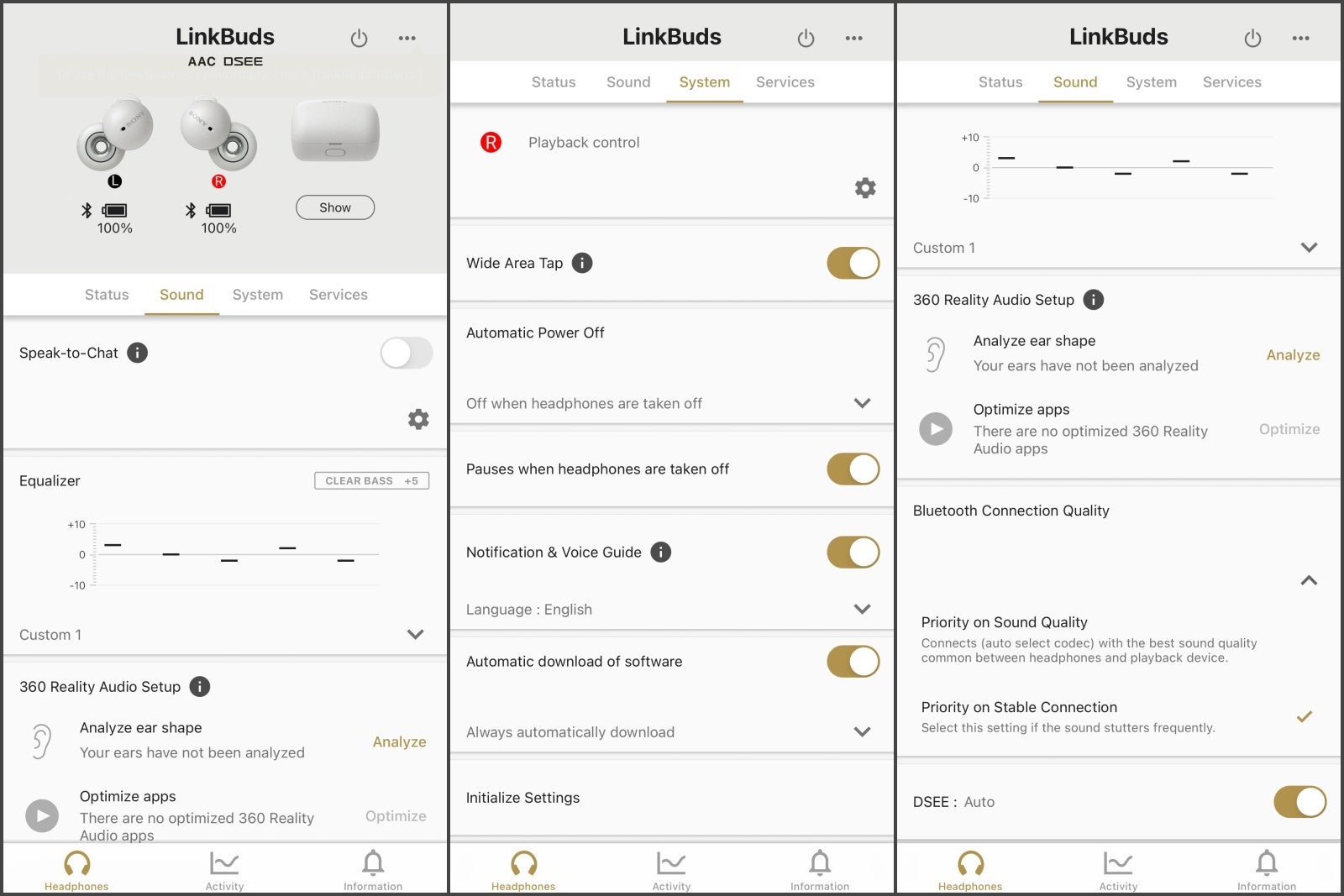 There's also Adaptive Volume Control accessible through the Headphones Connect app, which will listen to your environment and adjust volume levels automatically. I left this on and never really noticed it, so I would suppose it was doing its job just right?
Sony's LinkBuds support Dolby Atmos and 360 Reality Audio. This means that if you have a Tidal Hi-Fi subscription, you can enjoy the extended space-mastered tracks on there.
Sony LinkBuds final words
Before I go on to finish this review, I think it's worth mentioning that the Sony LinkBuds and their charging case are all made out of recycled plastic, which is pretty cool. And, as for the packaging, Sony continues on the trend of plastic-free, recycled paper packaging materials.
So… how do you rate the only truly wireless pass-through earbuds on the market? Tough call…
For what these are trying to do, I found them to be excellent. I was truly surprised that tiny 12 mm drivers that sit outside of my ear canals can still deliver detailed audio without being harsh. And the microphone quality is just superb, probably making other Bluetooth headphones slightly envious.
I absolutely think these needed Bluetooth multipoint to make it much easier to switch between devices (like jumping from my work laptop to my smartphone with ease). And I really felt the lack of wireless charging. Yeah, we are spoiled like that in 2022.
Should you spend $180 on a pair of Sony LinkBuds? If their use case sounds like something that describes your daily life, they could be a good purchase. If you are the type of person that dislikes headphones due to them isolating you from the world, or if you are the user that finds themselves using earbuds as a handsfree device very often, these are for you.
However, considering that they are not meant to be (and don't function as) isolating earphones that absolutely blow you away with deep, immersive sound, it could be a bit hard to part with that amount of money to grab a pair of LinkBuds. These are out there for a person with specific needs, probably someone who already has headphones for music and wants something that is much more convenient for "daily casual use".
Recommended Stories