Motorola Moto g10 review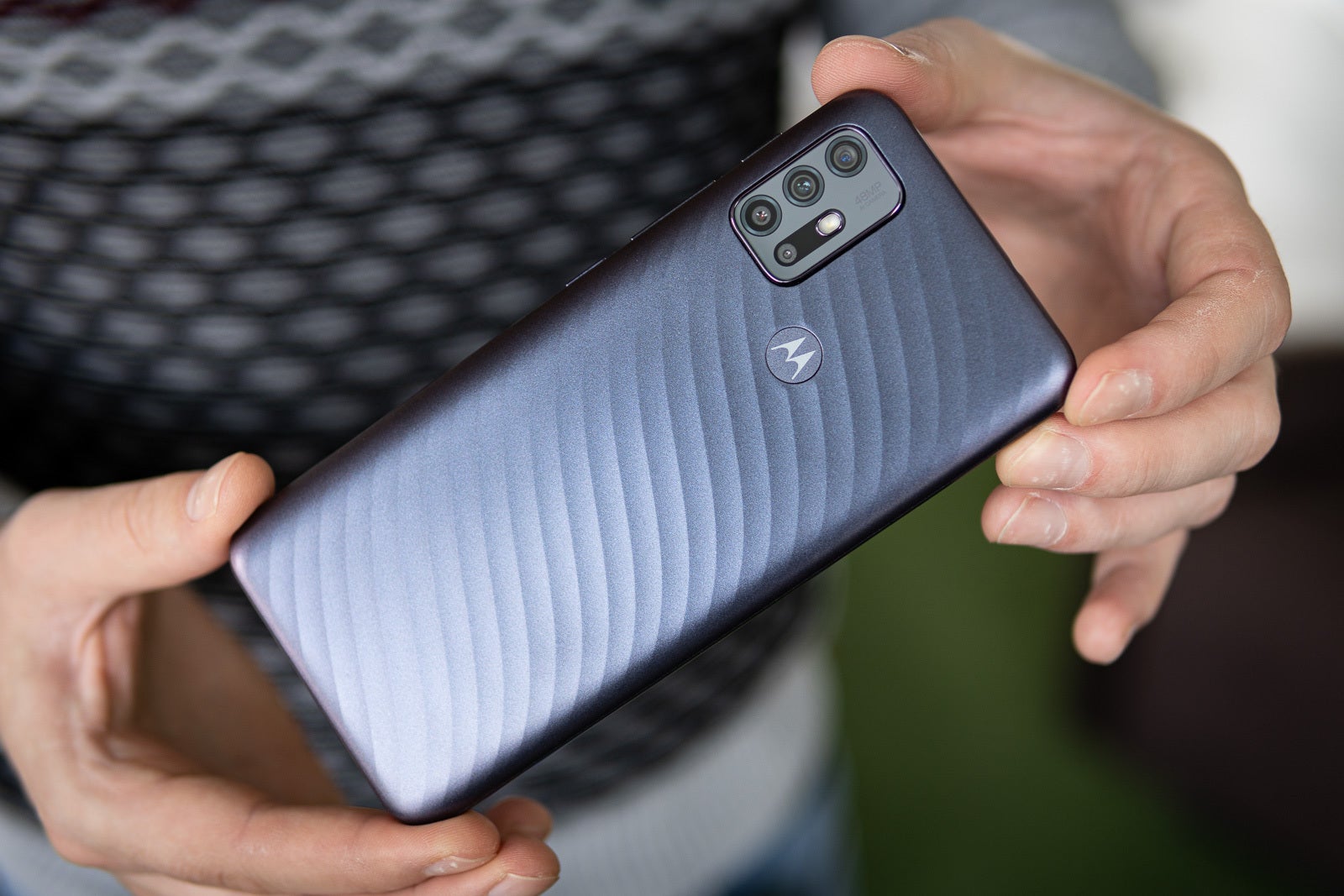 Motorola's Moto G series have always been about giving the users bang for the buck. Yes, they have midrange specs, but software optimizations and the right features in the right places make them great bargain phones.
Here, we have the Moto g10. It's launching alongside the Moto g30, but is a tad cheaper — it's not available in the States right now, but you can get the Moto g10 from international sellers for about $180.
Is it worth it at that price? Mostly not, but I am only saying that because the g30 exists — the Moto g30 strikes a lot of right notes for a price of $220, whereas the g10 had to cut one corner too many to hit that $180, and you can feel it.
If you are on a super-tight budget, yes, it's a pretty OK phone for a cheap price. But just $40 extra gives you a noticeable upgrade.
The Moto g10 is currently not available in the US, so either wait for it to hit official stores or — if you are adventurous and ordering from international stores — be sure to double-check the bands of your carrier and the model you are buying.
Moto g10 display and design
The Moto g10 has a 6.5-inch screen on the front, so plenty of real estate to consume media on. It has three color profiles to pick from and, I have to say, I am quite surprised by how accurate Natural mode looks — it's pretty rare to see a cheap phone with tame, natural colors.
Still, it's an LCD panel, so the contrast is not as great as on an OLED, and there's some good old-fashioned LCD ghosting when scrolling around. What's that? I am nitpicking a $180 phone? Yeah, I agree. But see, for just $40 extra, the Moto g30 has a 90 Hz screen of the same quality, and that kind of raised the bar for me.
Also, I may like the colors, but the phone definitely can't push a lot of brightness. Even on a cloudy day, using the Moto g10 outside was not a breeze. The combination of reflective glass and low max brightness made it a bit too tough to see.
Display measurements and quality
The Moto g10 has quite the bezel, and has an especially pronounced chin, but at that price, I'd say it's fine. It doesn't look hideous, just not extremely elegant.
The plastic back has a weird wavey pattern, which I didn't care for much, and its finish collects a good ton of fingerprint smudges. The Iridescent Pearl color we have here is a murky purplish brown that doesn't look amazing — I would suggest choosing the Aurora Grey option over this one.
The buttons on the side are solid and clicky, which is another pleasant surprise on a budget phone. And yes, the button at the very top there is a Google Assistant button, which is both hard to reach and redundant. But I digress.
Moto g10 camera
The Moto g10 has a quad-camera module — but don't get too excited. There's a 48 MP main camera, an 8 MP ultra-wide camera, and then the… ever-useful 2 MP macro camera. The fourth sensor is just a 2 MP depth camera that's meant to assist the main sensor.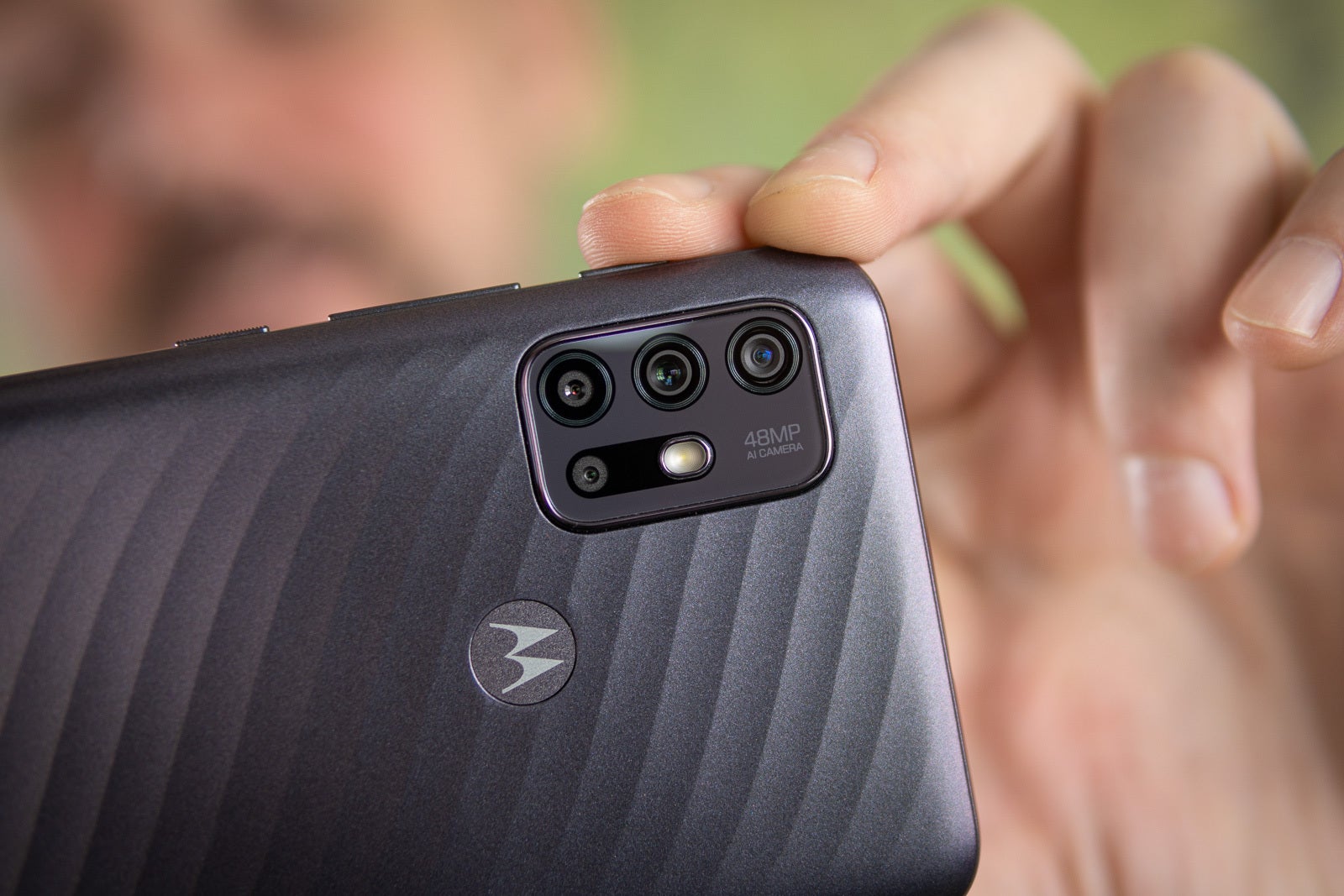 How are the pictures? Not amazing. Even with auto HDR on, the Moto g10's dynamic range is not really amazing and details come out jagged. In good lighting, it can take a photo worthy of your social media feed, but nothing beyond that — I wouldn't trust it for memorabilia shots.
There is Portrait Mode on board, but it's pretty bad at detecting edges and the faux bokeh looks a bit too fake.
The ultra-wide camera is pretty OK at what it does as long as you use it out in the daylight. And the 2 MP macro camera is… well, noisy and redundant.
There's absolutely no stabilization when shooting video. Colors do look good on clips taken with the Moto g10, but you absolutely can't shoot handheld.
The 8 MP selfie camera is soft, noisy, and not very flattering. It has a beautify effect turned on by default, but it somehow made things worse, so I'd suggest turning it off.
There's also a very noticeable lag between taking a photo and being able to view it — it's stuck in a "processing" cycle for quite a while, as the phone is doing the post-shutter adjustments to it.
But look, all of these things are par for the course on a $180 phone. The cameras of the Moto g10 are there just for you to have some sort of camera on your smartphone and that's about it. Don't expect miracles.
Moto g10 specs, software, performance
The Moto g10 is powered by a Qualcomm Snapdragon 460. An octa-core, 1.8 GHz chip from Qualcomm's bottom shelves. And yeah, you can kind of feel it. There's some touch input lag, there are hiccups, delays, and choppiness to be observed.
This is another field where I feel like the $40 extra for a Moto g30 is worth it — the latter phone comes with a Snapdragon 662 and it makes a noticeable difference. Especially when using the two phones day in and day out.
Back to the Moto g10 — it also has 4 GB of RAM and 128 GB of storage, which you can expand via a microSD card slot. So, not a multi-tasking monster, but that's OK, because the chip wouldn't handle it anyway.
The software on board is a pretty vanilla Android 11 experience, which is probably why the Snapdragon 460 is capable of holding it together. There are just a few Moto extensions sprinkled throughout — my favorite are the Moto gestures, where you twist the phone to launch the camera, or turn on the flashlight with just a chopping motion.
The fingerprint scanner on the back is pretty quick to react, too, which deserves credit.
All in all, it can hold it together for your simple daily smartphone tasks. Or simple games — I had no issues playing Archero. But it definitely shows that it's a sub-$200 phone once you start cycling through apps, or reading heavy websites.
Moto g10 battery life
So, the g10 has a 5,000 mAh battery, a lower tier chip, and a 60 Hz screen to power. The writing's on the wall — it's an endurance phone. It can easily, very easily last you a day and push that two-day battery life.