iPad mini 6 vs iPad mini 5: a big mini upgrade!
1
We may earn a commission if you make a purchase from the links on this page.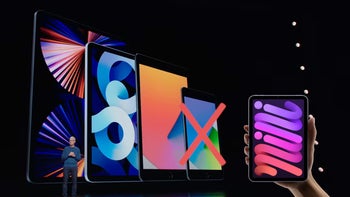 Preview and first thoughts after the iPad mini 6 reveal!
Apple's iPad mini may not be the most popular tablet out there, but it certainly has its devout fans. And for good reason — it's tiny and easy to hold in one hand, yet it packs a punch and lets you do all the "serious iPad stuff" that its siblings do.
Well, it used to, but the 2019 iPad mini felt long in the tooth when it released, and — in 2021 — is honestly kind of ancient. Thankfully, Apple finally refreshed the line with an iPad mini (2021) a.k.a. iPad mini 6th generation.
How do they compare and should you upgrade? The answer is — the iPad mini 6 crushes the predecessor and yes, you should. But let's take a deeper dive, eh?
iPad mini 6 vs iPad mini 5 price
The iPad mini 6 comes out with a price tag of $499 for its base, 64 GB model. You can still find an iPad mini 5 for about $399 for 64 GB in stores like Best Buy.
iPad mini 6 vs iPad mini 5 design and display
The iPad mini (2021) comes with a complete redesign — it now looks like a contemporary iPad Pro… but it's small. Flat sides, rectangular look, and what Apple calls an "all screen design".
Comparatively speaking, the iPad mini's bezels are still kind of, sort of thick, but at this point, we'd say that's a plus. Why? Because any thinner than this and it would be hard to hold the tablet without constantly tapping over the edges of the screen.
The screen on the iPad mini (2021) is slightly bigger than the one on the
iPad mini (2019)
— 8.3 inches vs 7.9 inches. But that's mostly achieved by the shrinking of the bezels — the actual size of the new mini is pretty much the same. In fact, the iPad mini 6 is slightly shorter and slightly lighter than the mini 5.
The home button on the new mini is gone, of course, so it gets Touch ID fingerprint unlock on the power button situated on its top frame. Also, interesting choice by Apple, the volume controls of the iPad mini (2021) are also located on the top frame. Interesting choice, probably dictated by how the internals needed to be positioned.
When it comes to screens, we have a 2048 x 1536 pixel resolution on the iPad mini 5's 7.9-inch screen. The iPad mini 6 has 2266 x 1488 pixels across its 8.3 inches. What's with the weird resolutions? Well, Apple just loves to stick to that 324 pixels-per-inch density on its LCD screens and I guess the legacy goes on.
It's worth noting that the iPad mini 6 has a screen aspect ratio of 4.6:3 while the iPad mini 5 has the classic 4:3.
The iPad mini 6 also comes with a nice pick of fresh colors, kind of how the iPad Air (2020) did. The iPad mini 5 is mostly available in black and silver nowadays.
The iPad mini 6 speakers are a clear win
For long, excruciating years, Apple refused to put true stereo speakers on the iPads. Yeah, it had two speakers, dual channel too, but both were placed on one side of the device. First, the iPad Pro line introduced true stereo with quad speaker setup. Now, the iPad Air 4th gen (2020) has "landscape stereo" meaning there is a speaker on the top and bottom of the tablet — when you are viewing a video in landscape, it's stereo.
Well, the iPad mini 6 adopts that "landscape stereo" from the iPad Air 4 and yes, it was high time it did! The iPad mini 5 still has that one-sided speaker setup and does feel like hailing from a year long before 2019.
iPad mini 6 vs iPad mini 5 processor and hardware
The iPad mini 5 came with an Apple A12 processor — the same SoC that powered the
iPhone XS
. Not bad and it can be argued that this silicon can still hold its own in 2021 — despite it being a bit long in the tooth already, it was super-powered on release and is still quite potent today.
The iPad mini 6 comes with the new Apple A15 — the 5 nm wonder inside the newly-announced
iPhone 13
. It is, of course, much more power-efficient and productive than the A12 of yore, but that's to be expected.
So, A15 will be able to run iPadOS 15 with all its multitasking perks much more fluidly, which is appreciated. It's also — obviously — much more future-proof, since it's just now coming out. Rest assured that if you buy an iPad mini 6 now, you're most probably set for at least 5 years with it.
Also, worth noting, the iPad mini 6 comes with a USB Type-C port on the bottom, instead of Lightning. That's a big deal, because it makes it much easier to attach 3rd party devices. We've been throwing external hard drives, USB sticks, SD card readers, and audio interfaces at the iPad Pro with USB Type-C and all of them worked flawlessly. The iPad mini 5 still has a Lightning port, which requires you to find an MFi accessory or at least an adapter, which may or may not work for your purposes.


Unfortunately, we don't have information on "geeky stuff" like RAM yet — we'll have to wait for a teardown for that. But, if the iPad mini (2021) is the miniaturized version of the iPad Air (2020) that it seems to be — it stands to reason that it has 4 GB of RAM.

Oh, quick fun fact — the iPad Air 4th gen runs an Apple A14, while the new iPad mini 6th gen runs Apple A15. So, technically, the iPad mini 6 is cheaper and yet more powerful than an iPad Air 4. Just stating this as fun trivia, rest assured that your iPad Air 4 is still great and it's definitely the tablet you want to pick if you want a bigger screen (and don't want to pay for a Pro).

In any case, the iPad mini 6 has another advantage over the iPad mini 5 — that new processor supports 5G.


iPad mini 6 vs iPad mini 5 cellular and 5G

There's no way around that — the iPad mini 5 just can't connect to 5G. It was not built for that… there was not 5G to connect to back in 2019. The iPad mini 6 crosses that boundary now. Whether you need cellular on your iPad… eh, that's a discussion for another article. But, if you decide that you need it — the mini 6 wins here.



iPad mini 6 vs iPad mini 5 Apple Pencil support
What's cool about the new iPad mini 6 is that it also supports the
Apple Pencil
Gen 2 — the magnetic Pencil that just sticks to the iPad and charges wirelessly. The iPad mini 5 works with the Apple Pencil 1, which needs to be connected to the Lightning port of the tablet to get its charge and has no magnets — you will need a case with a Pencil holder here.
iPad mini 6 vs iPad mini 5 camera
The iPad mini 6 saw a huge upgrade in the camera department. The main camera on the back is now a 12 MP shooter, as opposed to the 8 MP one on the mini 5. But that's neither here nor there.
The big deal is on the front — the iPad mini (2021) has the brand-new 12 MP, 122-degree ultra-wide selfie camera. These work in tandem with a software feature called Center Stage — the camera "follows" your face and you can hold video calls and conferences while walking around and doing your thing uninterrupted. You know, Apple was inspired by the fact that we spend a lot of time communicating… not in person nowadays. So, all the new iPads from 2021 have Center Stage, even the cheapest iPad 9th gen.
So, yeah, nobody really uses an iPad as their main camera. But quality-of-life upgrades for video conferences or document scanning? Now, that's a good upgrade to have.
iPad mini 6 vs iPad mini 5 battery life
You know the spiel — "All day battery life". Apple usually aims for a consistent 10 hours of screen-on time with its tablets. We are talking regular usage here, like web-browsing and YouTube streaming. Of course, actual gaming will melt that battery faster.
We will, of course, run it through its paces when we get our hands on it. But we expect nothing less than 6 hours when doing heavy things like gaming.
These are the same results we got with the iPad mini 5 and we expect the mini 6 to be no different in the battery department.