iPad Air 6 Preview: new chip, new size option, and...?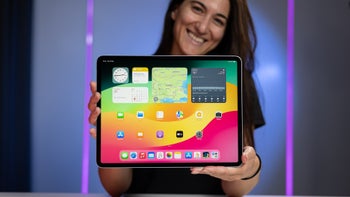 The image above is of the iPad Air 5 and for illustration purposes only.
iPad Air 6 Intro
The iPad Air is that perfect middle ground where price, performance, and size come into an almost perfect goldilock, at least as far as tablets go. The last time Apple grazed us with a new generation was in 2022, when the 5th-gen iPad Air came out, the first one to feature one of the company's new M-series chipsets, which adorn the likes of MacBooks, iMacs, and more.
But we are well into the final months of 2023, and we kind of expected Apple to have already announced the new iPad Air. Given that this did not happen during the Scary Fast Halloween event on October 30th, it is safe to say that we will have to wait probably until early 2024 to finally see the 6th-gen iPad Air.
What upgrades and changes will the 2024 iPad Air bring along? Well, frankly, that is somehow still a big mystery. For now, much of what we know about the next Air is based on speculation, with some small rumours sprinkled in. There is one interesting possibility that could make the new generation different to all of its predecessors though.
Expected upgrades with the iPad Air 6
New chipset
Two size variants
New colors
iPad Air 6 Specs
If you are familiar with the 2022 iPad Air, you might see an uncanny level of resemblance here. Truth be told, there isn't much information about the iPad Air 6 to go on as of this moment, so we are assuming that whatever hasn't been addressed in rumors and leaks will remain the same.
However, Apple is expected to announce the new Air in spring next year, so there is still time for these specs to turn out different, and hopefully give us more to look forward to besides just a new chipset...
Specs
iPad Air 6
Size and Weight
247.6 x 178.5 x 6.1 mm, 462 g
Display
10.9" OLED, 60Hz refresh rate, 1640 x 2360 resolution
Processor
Apple M2
RAM, Storage and Price
8GB RAM, 64/256GB storage, $599/$749
Software
iPadOS 17
Cameras
Main camera: 12MP
Selfie camera: 12MP
Battery Size
Unspecified
Charging Speeds
Unspecified
iPad Air 6 Design & Colors
The likelihood of Apple changing the iPad Air's design in any drastic or noticable manner with the next generation is pretty slim. The last overhaul might have been two generations ago, when the company introduced the 4th generation, but the that is still pretty soon as far as iPads or tablets in general go.
What we are really hoping to see, however, is that selfie camera going to one of the longer sides of the tablet, just like it is on the latest iPad Pro models. One of the best things you can do on an iPad is place it somewhere at home, with the display facing you, and have a FaceTime chat with a friend or family member while you are doing something else, and having the camera on the vertical side of the screen is not exactly optimal.
Anyway, we fully expect the iPad Air 6 to remain with the same design as the 2022 model, although since the previous couple of generations did resemble the
iPhone 12
to 14, it is feasible that Apple would make those sharp edges a bit less sharp. That would match the same design change on the
iPhone 15
series — a small detail but one which definitely becomes noticeable in everyday use, at least as far as comfort goes.
Colors-wise, even though there hasn't been any news on the subject, it is safe to assume that Apple will go for a similar palate, and spice things up by maybe replacing one of the more eye-catching options, like the blue or purple, with something like green or gold.
iPad Air 6 Display
Unfortunately, the iPad Air is usually treated the same way as a non-Pro iPhone. In other words, don't expect to see a high screen refresh rate here, we suspect it will remain at 60Hz. We would love to see Apple equip its mid-range tablet with an OLED panel this time around though, instead of the IPS LCD one that the 2022 version has.
Given that displays across the whole tech space have been getting brighter recently, we also wouldn't be too surprised if the new iPad Air comes with a significantly brighter one.
iPad Air 6 Camera
It is no secret that the back camera on a tablet is probably its least used part, so we don't expect any major changes on that end of the spectrum with the iPad Air 6 camera system. However, we might see an improvement with the front-facing camera, as it is the more important one when tablets are concerned.
iPad Air 6 Performance
The iPad Air 6's performance is the one area where there have been rumors for a solid upgrade, jumping from the M1 chipset to (most likely) the M2. What does that mean in practicality? Well, Apple says that M2 has a GPU that's 35% more powerful in comparison, and a CPU that is 18% faster. M2 also comes with a 40% faster neural engine, which is the part of the silicon responsible for anything having to do with artificial intelligence, like Siri, for example.
As for RAM and storage, everything is currently pointing at absolutely no changes. But having zero changes, especially with the storage options, would be almost as big of a letdown as the lack of a higher display refresh rate, because it would mean the same 64GB and 256GB.
256GB fine, it is a great middle ground and fits the mid-ranger spot the iPad Air holds in Apple's tablet portfolio nicely, but 64GB? In 2024?!? Come on, that sounds like the least funny joke in the world of mobile tech. The target audience for the iPad Air probably doesn't need it to have 512GB or more, but it also doesn't need it to have 64GB.
Changing the base model to 128GB of storage would be the way to go here, but we will have to wait and see. The 14-inch versions of the latest MacBook Pro took quite a bit of criticism for coming with 8GB of RAM for the base configuration (which is also ridiculous, especially for its price), so maybe Apple will think twice in case it really does intend to release the iPad Air with 64GB of storage.
Apple released iPadOS 17 back in September, when the new
iPhone 15
series was announced, so if the iPad Air really is set to come out this upcoming spring season, it will launch with that straight from the box.
iPadOS 17 includes a lot of features that iPhones get, such as lock screen customization, interactive widgets on the home screen, and you can now check your health and fitness information on your iPad as the Health app is available there too.
As far as software updates go, iPads are usually supported between 5 and 7 years, just like iPhones. Most of the time it is 6 years, so don't worry about future-proofing, you are covered.
iPad Air 6 Battery
Just like with the rest of its products, Apple does not specify what the charging speeds or battery capacity are on its iPads, and that includes the iPad Air. That said, the iPad Air 5 from 2022 generally lasted for a day or so of use, so we can expect similar times from the iPad Air 6.
One thing we are seriously hoping to see, however, is faster charging speeds. The iPad Air 5 charges from 0-100% in about 2 hours and 10-15 minutes, using the recommended 20W charger from Apple. Even bumping that to 30W would make things much better, given that the battery size does not increase same that is.
iPad Air 6 Audio Quality and Haptics
Besides the display, the speakers are also one of the main areas where Apple differentiates the Air from the Pro iPads. The latter comes with four speakers, while the Air has two. That is not to say that the audio quality is bad on the mid-range iPad, it is just far from being as impressive. Apple might improve the sound with the iPad Air 6, we doubt it will add two more speakers.
iPad Air 6 Models
Word on the street is that Apple might release two iterations of the iPad Air 6. More specifically, we are talking about two sizes, a 10.9-inch one and a 12.9-inch, matching the iPad Pro lineup. Whether size will be the only difference, however, is not clear. Well, besides the display and battery sizes, of course.
iPad Air 6 Summary and Final Verdict
It is a bit hard to get hyped about the iPad Air 6 at this stage. If the only changes truly remain the chipset, some new colors, and an additional size, then it would hardly be something to write home about. That being said, we expect Apple to surpris us with more changes than just these, so even though there is nothing "spicy" coming out of the rumor mill yet, it doesn't mean the product won't be an exciting one.
Recommended Stories