iPhone XS Max vs Samsung Galaxy Note 9
98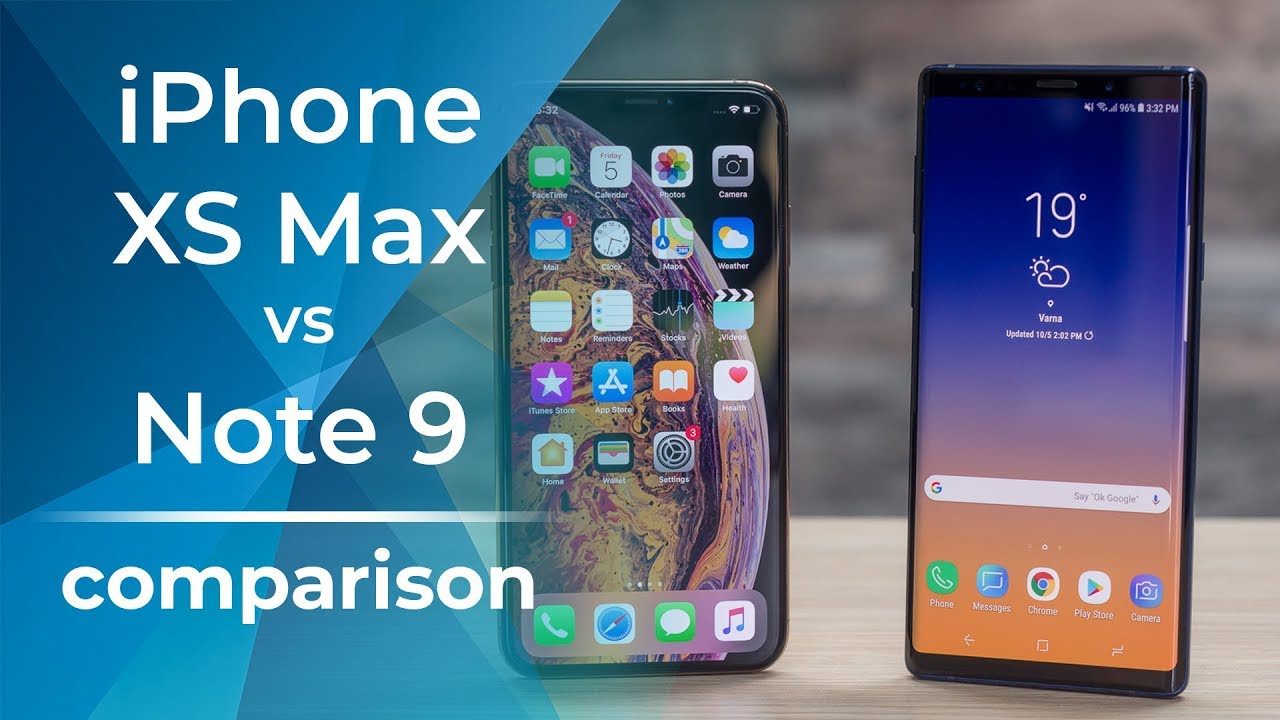 It's no surprise that the
Samsung Galaxy Note 9
and the
iPhone XS Max
are two of the (if not the) most celebrated devices this year. Sammy's Note line has always been the poweruser's dream — the phones where Samsung drops the latest and greatest commercially available hardware and packs its software full of features. And the iPhone XS Max is a large, plus-sized version of the iPhone XS, with the bezel-less design, OLED display, and Apple's impressive new A12 Bionic chip.
Depending on which variant of each phone you go for, they can be comparable in price. The Galaxy Note 9 starts at $999 for its 128 GB version and has a 512 GB variant that goes for $1,249. The iPhone XS Max starts with a 64 GB edition for $1,099, then offers a 256 GB version for $1,249 and tops out at $1,449 for a 512 GB edition.
In other words, both phones readily break the $1,000 price barrier, but they are also the best handsets that Apple and Samsung have to offer. Which one is better and which one is more deserving of this price tag? Well... let's compare them!
Design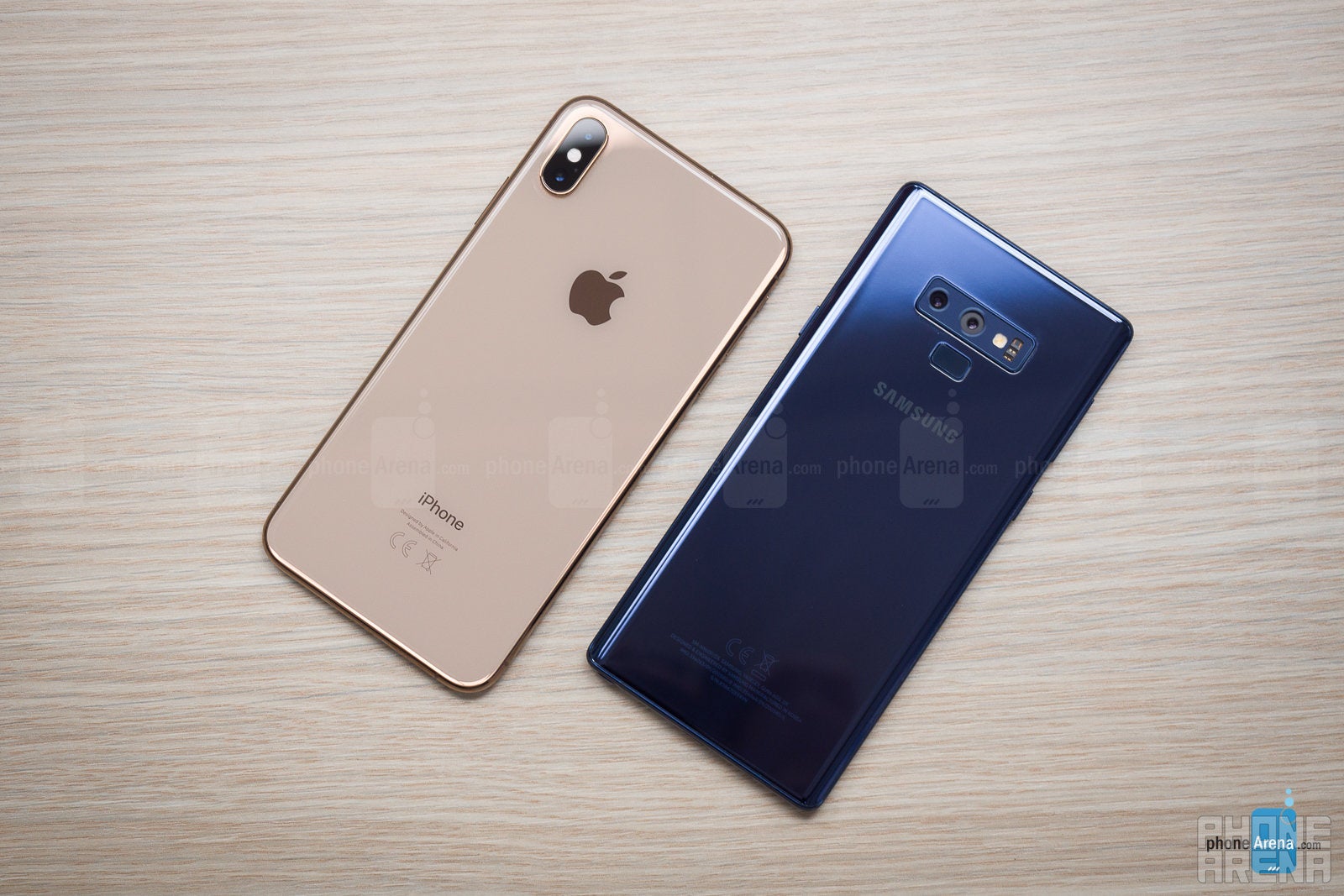 Both of these smartphones sport gargantuan screens and are clearly aimed at the "poweruser" — the person who spends tons of time on their phone, either for entertainment, creativity, socializing, or even work. The Galaxy Note 9 has a 6.4-inch display with an 18.5:9 aspect ratio, and the iPhone XS Max has a 6.5-inch screen with a 19.5:9 aspect ratio. They are quite tall and offer tons of real estate for your content.
Thankfully, both phones have pretty slim bezels all around, so handling them is much easier than the screen sizes would suggest. They are still rather hefty and not really the most comfortable devices to use with just one hand, but it's definitely doable with some extra care not to drop them.
Both phones have a glass back and a metal frame — in the case of the Note 9, the frame is aluminum, while the iPhone XS Max goes the extra mile and is encased in stainless steel. The Note 9's back is curved towards the edges, mirroring the phone's curved screen on the front. This makes for a softer shape pressed against the palm, but the aluminum frame that's sandwiched between the front and back glass panels feels kind of thin and doesn't give us the feeling that we have a firm grip on the device. The iPhone XS Max's glass panels are much flatter and they leave a lot of room for a nice, meaty piece of that stainless steel frame to press against our fingers. As a result, the XS Max feels a bit easier and reassuring to hold.
Light up the screens and you will see another difference in design philosophies — to Notch or not to Notch. Samsung's Note 9 has razor-thin side bezels around its curved display, but still has a bit of a forehead and a chin. These are, of course, needed to house things such as the speakers, cameras and other front-mounted sensors, the display driver, et cetera. Apple's iPhone XS Max, on the other hand, aims to have an even, slim bezel all around the phone. The downside is that there's a notch that eats into the top of the display to house the Face ID sensors, selfie camera, and earpiece.
Which one is better, which one is worse? The notch is a highly controversial topic online, with some people hating it, some not minding it at all, others secretly liking it for giving the iPhone its signature look (which many were quick to copy... so not very signature right now). If it doesn't bother you, you will certainly appreciate the evenly thin bezels all around the device, giving the iPhone XS Max a very clean and compact appearance. If you loathe the notch — the Galaxy Note 9 will deliver a screen that is a pure rectangle with gently rounded corners, but the phone's top and bottom bezels make it look and feel a bit taller than it needs to be.
In terms of handling, we'd say the iPhone XS Max wins by a hair. Make no mistake, both of these phones are large, heavy, and have slippery backs, but the thicker frame and the slightly shorter form factor of the iPhone win it an extra point every time we slip it in and out of our pockets.
Display
Both Samsung and Apple have been known to make top-notch displays for years now. Samsung's Super AMOLED tech evolved from being this super-punchy, aggressive color machine to a customizable screen that can also produce tame and realistic colors. Apple's iPhone displays are known to hit colors accurately and the XS Max is no different — the screen is balanced and soft on the eyes.
On the iPhone XS Max, we have the best of the two worlds, one would say. It has an OLED panel made by Samsung, which has been tuned to Apple's standards. Sounds great, doesn't it? Well, it is. With beautiful colors and true blacks, the iPhone XS' screen leaves little to be desired. There's a visible color shifting effect when the display is viewed at an angle, but that comes with the territory — you can see it on Samsung's Super AMOLED panel as well.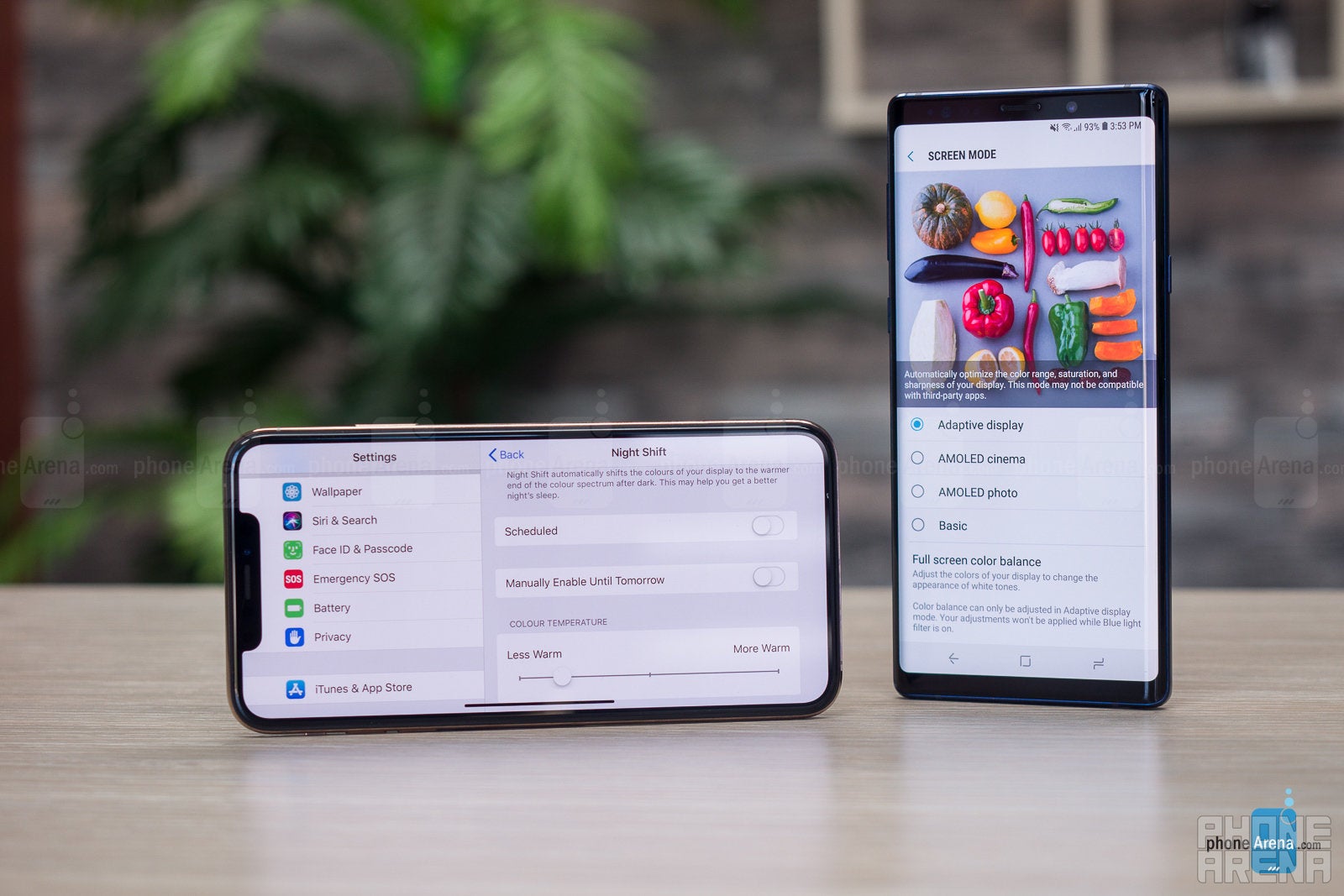 The Note 9 does offer a bunch of calibration options to suit more tastes. The Adaptive Mode will give you the classic cold whites with super-saturated and punchy reds and yellows, while the Basic Mode will ground all the tones to be much more subdued and easy on the eyes.
Of course, both Apple and Samsung offer a Blue light filter a.k.a. "Night Shift". Its point is to make the screen easier on the eyes past sunset hours by — you guessed it — filtering out the blues to a varying degree, leaving you with a much warmer picture, which is supposedly softer on the eyes. Why do we bring it up? Well, Samsung's Blue light filter will, for some reason, boost color saturation. Yes, you don't have the blues tormenting you at night, but the reds become annoyingly aggressive, especially for users that like to keep their display in Basic Mode.
The iPhone XS Max has Apple's True Tone feature on board — it's supposed to analyze your ambient lighting and adjust the display's color temperature to match and sort of react as real paper would. This feature looks great on the LCD-equipped iPad Pros and iPhones of the past. However, on the OLED-sporting iPhone X, XS, and XS Max, it makes for a very yellow-ish tint. Apparently, Apple still has some fine-tuning to do when it comes to using this feature on its OLED screens.
Display measurements and quality
So, which is the better display? Both of the screens are pretty awesome, we have to say. Large, colorful, detailed, true flagship phone displays. As we outlined above, Samsung's Note 9 gives you the option to go for super-punchy colors, if that's your thing. Apple's screen, on the other hand, gives us better options to warm up the colors for night time media consumption. Neither point is a gamechanger — rest assured that both of these devices deliver in the display department.
Interface
We've got two very different beasts here when it comes to software. Samsung's Galaxy Note 9 comes with Android 8.1 out of the box with the Samsung Experience 9.5 UI laid on top. What this ultimately means is that you will see very little of Google's original vision for the Android platform, as every little icon, animation, or even menu structure has been replaced with Samsung's take on things.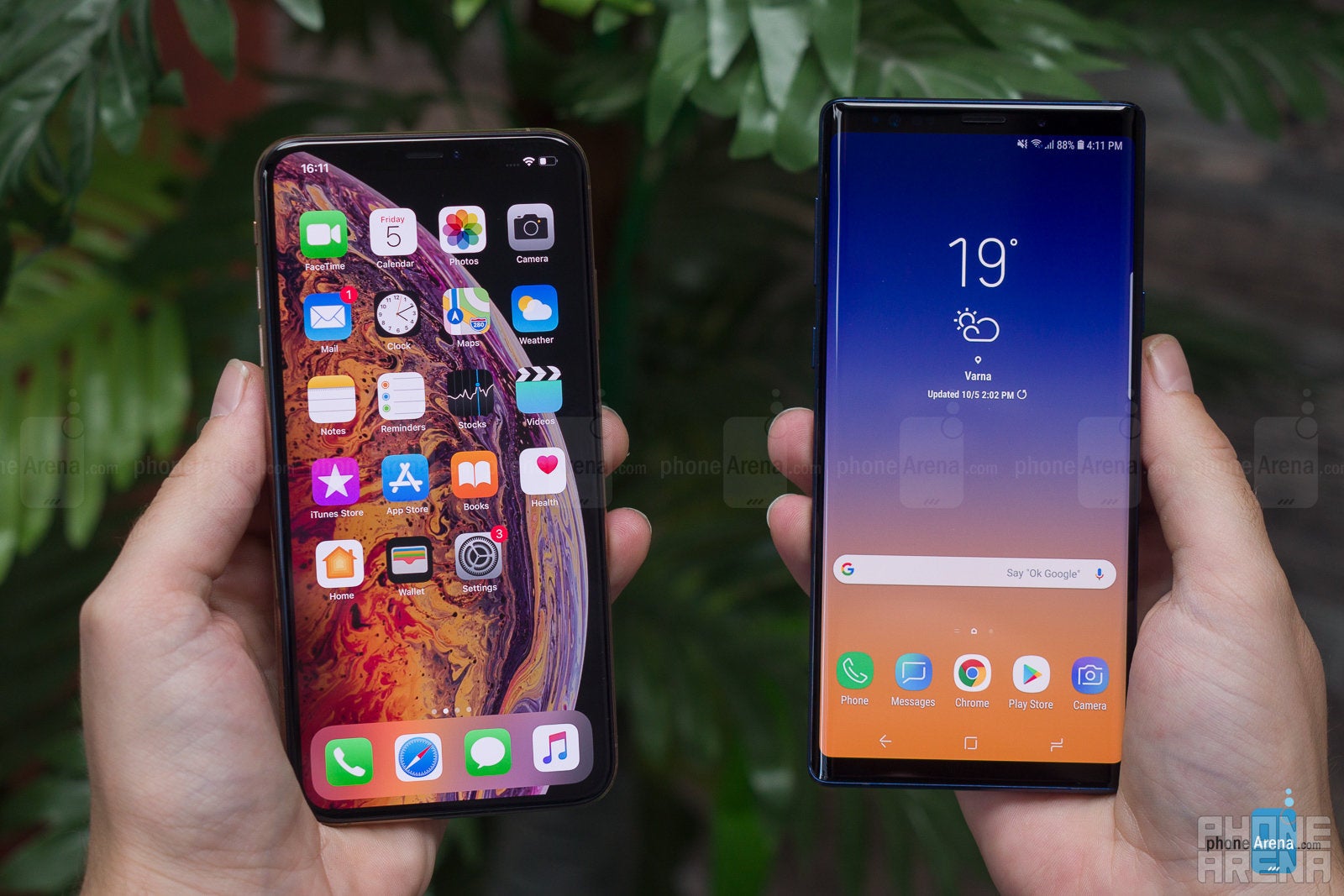 That said, Samsung Experience looks mature and feels smooth, if a little sluggish at times. It has gone a long way since the days it was called TouchWiz and everyone used it as a synonym for performance-destroying bloat (no wonder Samsung decided to rename the UI). Yes, it's still chock-full of Samsung-installed features, but many of these are actually good. Like the Secure Folder, which lets you have a private folder on your phone, just in case; or the Game Launcher, which holds various useful toggles for gamers; the Always On Display, which is cool to have sometimes and is easy to toggle off when you don't want it; Dual Messenger, allowing you to have 2 accounts logged in on one service; split screen and floating windows; and the Device Maintenance suite, which will be sure to let you know if an app is draining too many resources or preventing your phone from sleeping.
Of course, we also get Samsung's proprietary S Pen — the best stylus to come included in the box. Powered by Wacom technology, it's quick and precise, and is a pleasure to use whether you choose to jot down notes or actually draw with it. In the Note 9, the S Pen has been upgraded to be a Bluetooth remote — you can use it to flip through music, presentation slides, play and pause clips, or activate the camera's shutter remotely, at a distance of up to 10 meters. It doesn't sound like a big deal, but after using it for a while, we can say that the feature is definitely nice to have.
The iPhone XS Max comes — naturally — with iOS 12, which is Apple's home-made operating system, developed specifically for its own hardware.
iOS 12, in contrast, is much more straightforward. You only get to work with whatever app is on screen — forget about floating windows or split screen here. At least Apple lets you reply to messages straight from their notification banner, which is neat, but has some restrictions — you can't write a second line of text as soon as you send your reply because the notification disappears, yet the red "unread message" badge will stay on the chat app's icon until you open it up. It's a small nitpick, but it just speaks of how much iOS doesn't support multitasking.
However, iOS does have its strong points — every little interface element, gesture, and design decision has been made to fit the phone's capabilities and ergonomics. And, of course, the software has been developed to work on Apple's very own hardware, making it snappy and responsive — it's a true delight to watch the floating animations every time you perform an action.
Additionally, you get access to that sweet, sweet Apple ecosystem, with the ability to send and receive iMessages for free (over data or Wi-Fi), sync to an Apple Watch, control AirPods, and download exclusive AR apps from the App Store — a field where Android is still catching up.
Siri vs Bixby
Siri has been the punchline of "voice assistant fails" jokes for years now. Well, that is, until Bixby rolled about.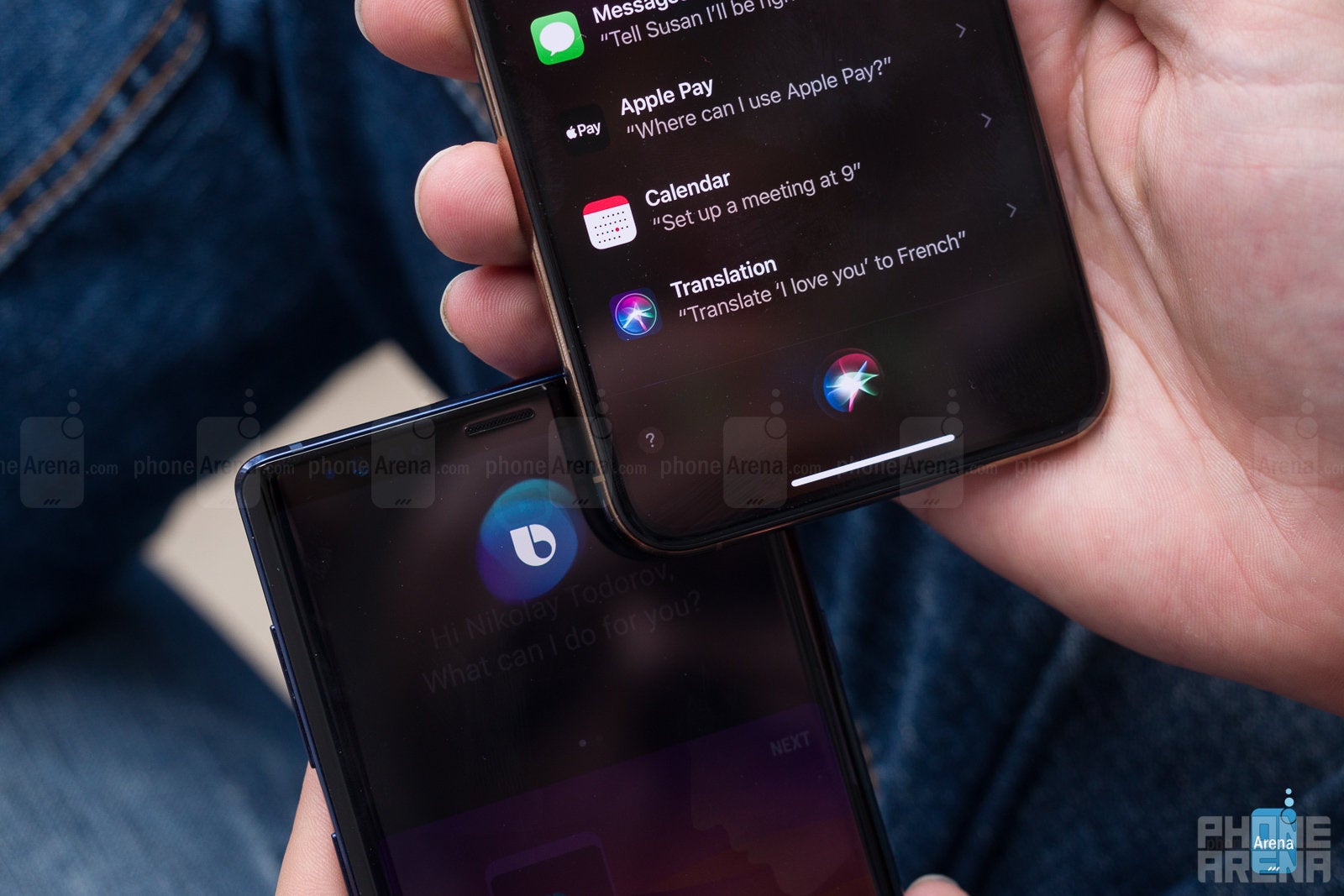 Yes, Apple's voice assistant is still not extremely smart or useful, especially compared to the Google Assistant, which is an unrivaled leader when it comes to on-the-phone AI companions. But for basic tasks and requests, Siri still gets the job done most of the time.
Samsung's Bixby, on the other hand, is still on and off with its reliability. Still unable to understand some requests if they are not phrased as it needs them to be, and unable to understand context in a conversational thread.
Samsung has great ambitions for Bixby, as it wants the assistant to become your way to interact with the phone hands-free. You can have a voice password that will unlock your phone, with Bixby analyzing your voice and speech pattern as well as the uttered words. In theory, Bixby should be able to open apps and perform actions within these apps on your request. In practice, it's hard to get it to work reliably, especially with 3rd party apps. But hey, the potential is there...
Hardware and performance
Of course, we have the latest and greatest hardware in both devices. The Galaxy Note 9 sports the Qualcomm Snapdragon 845 — the SoC of choice for all big-name Android flagships in 2018 — and an excessive 8 GB of RAM. The iPhone XS Max has the Apple A12 Bionic chip — an SoC, which Cupertino makes in its own kitchen and is unavailable to the competition — and 4 GB of RAM, which, looking at previous generations, is quite the amount of memory for an iPhone to have.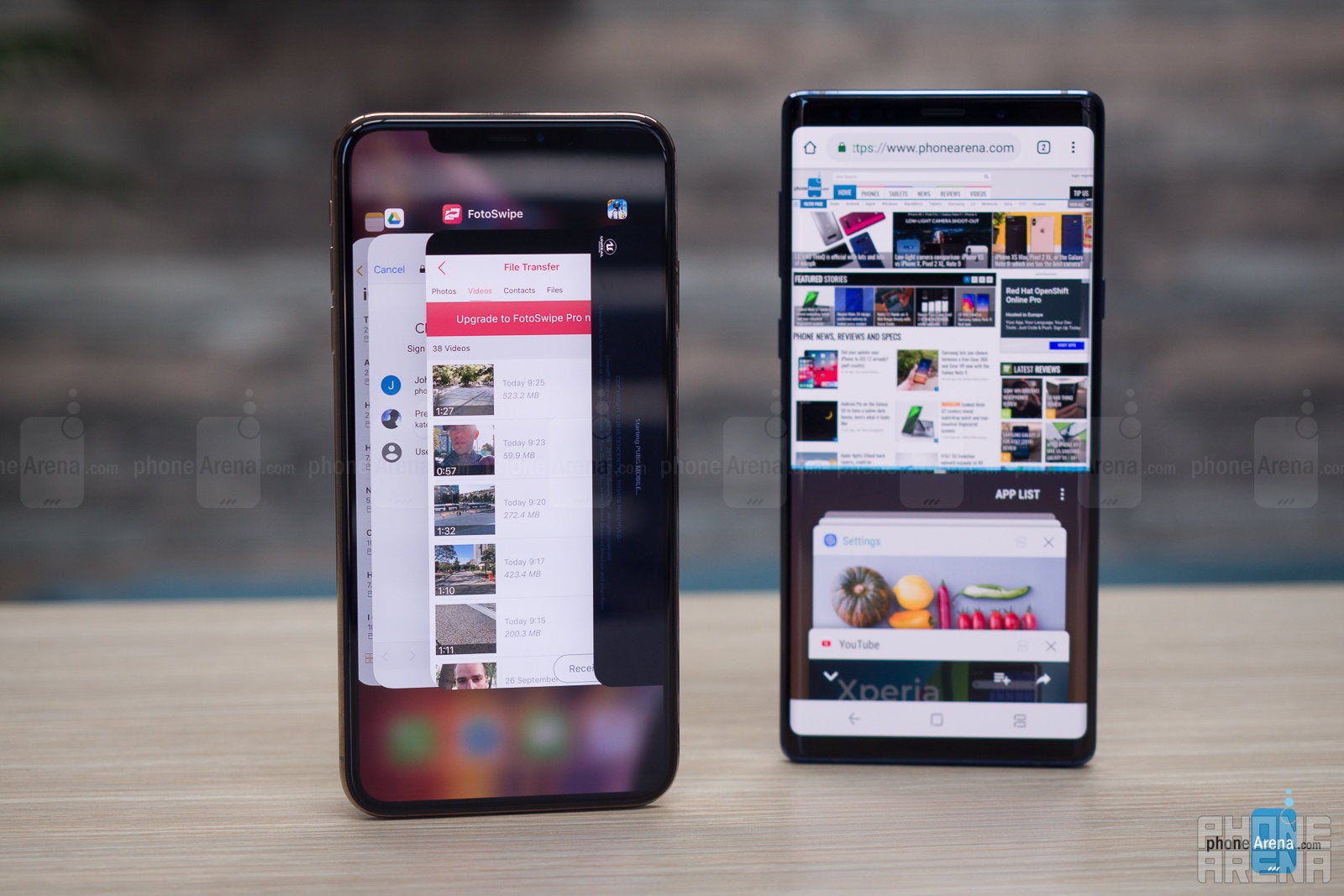 Which one is the better chip? The Apple A12, hands down. It has a 2,490 MHz 6-core processor, built on a 7 nm process, while the Snapdragon 845 sports a 2,800 MHz octa-core processor, built on a 10 nm process. On paper, it sounds like the Snapdragon 845 should be the better one, despite the slightly older, 10 nm process build, right?
Well, benchmarks say otherwise. The iPhone XS Max hits impressive scores and is far ahead of the competition.
Of course, being the one that designs its own software and its own hardware, Apple is at an advantage here. But does that mean that the Note 9 is a weak phone?
Not at all. The Snapdragon 845 is nothing to smirk at and thanks to Samsung's new "water-carbon" heatpipe, the Note 9 is able to push the processor further and longer than before.
But, of course, both phones will have their strengths and weaknesses. Let's dive a bit deeper:
Productivity and multitasking
This category is for those who rarely put their phone down, constantly doing a few tasks at a time on them. These are the people that demand battery life, fast performance, and multitasking on a phone. And the Note 9 certainly delivers — you've got split screen, you've got floating videos, a huge display to hold all your content, the S Pen to help sign digital documents, edge panels for quick app switching, chat bubbles that hover on screen, and so forth.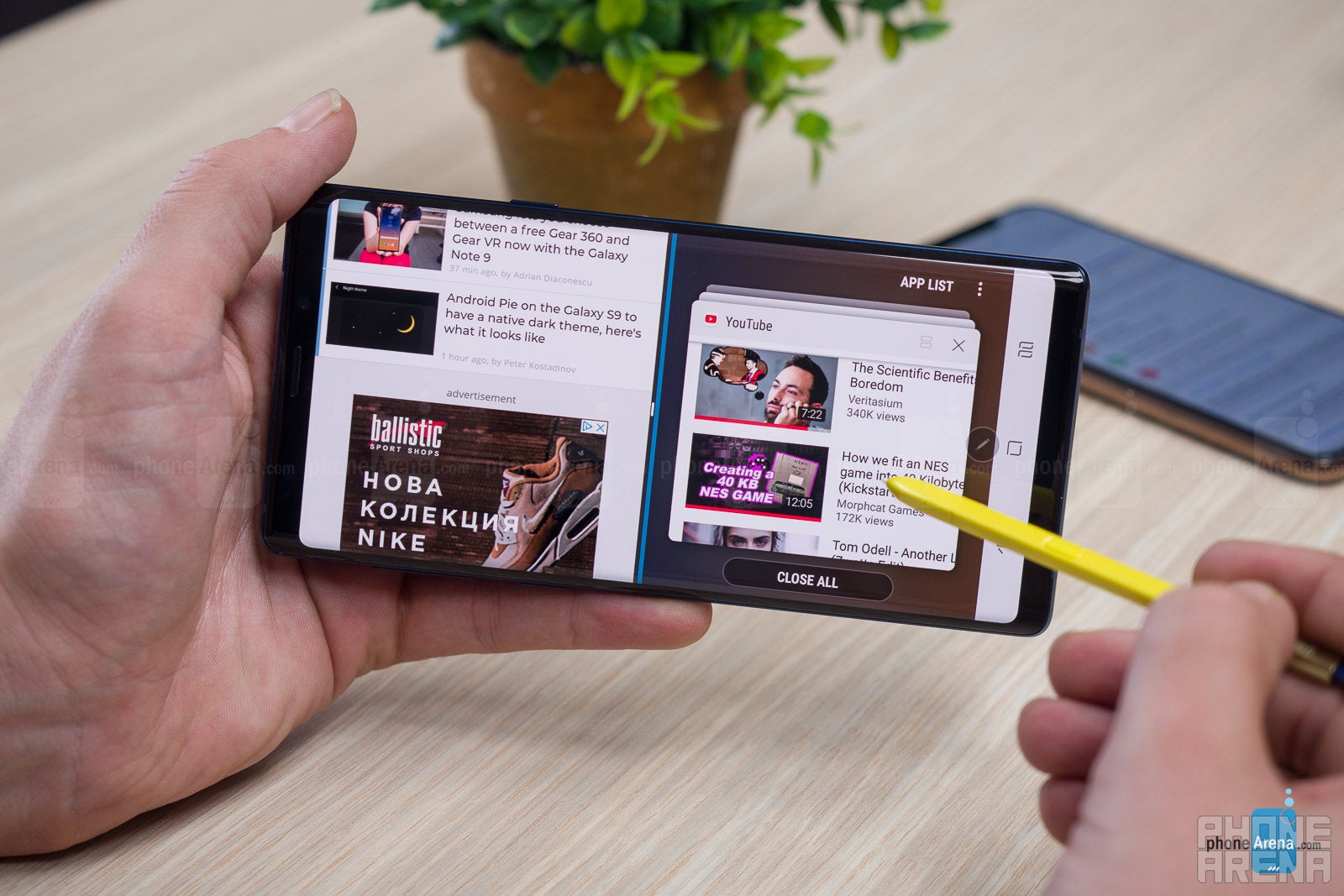 The Note 9's plethora of features may feel overwhelming at first, but once one gets used to them they are nothing short of liberating for multitaskers. To top it off, you have Samsung DeX — the desktop platform, powered by the Note 9. Grab an HDMI-to-USB Type C adapter or one of the proprietary DeX docks, attach a monitor, keyboard, and mouse, and you can open any file on your phone and work on it in a desktop environment. It's sort of like you have a mini PC in your pocket at all times.
The iPhone XS Max is powerful and fast, and flipping through tasks with the new gesture-based interface is actually quick and intuitive. But iOS' philosophy of doing one thing at a time can feel a bit restricting, especially to those that come from a Note experience. There's no split screen or floating player despite the fact that the XS Max's display is huge, and nothing fancy like edge panels or a proprietary stylus.
So, while both phones are very, very competent, we'd say multitaskers will enjoy the Note 9 better.
Which one is better for gaming?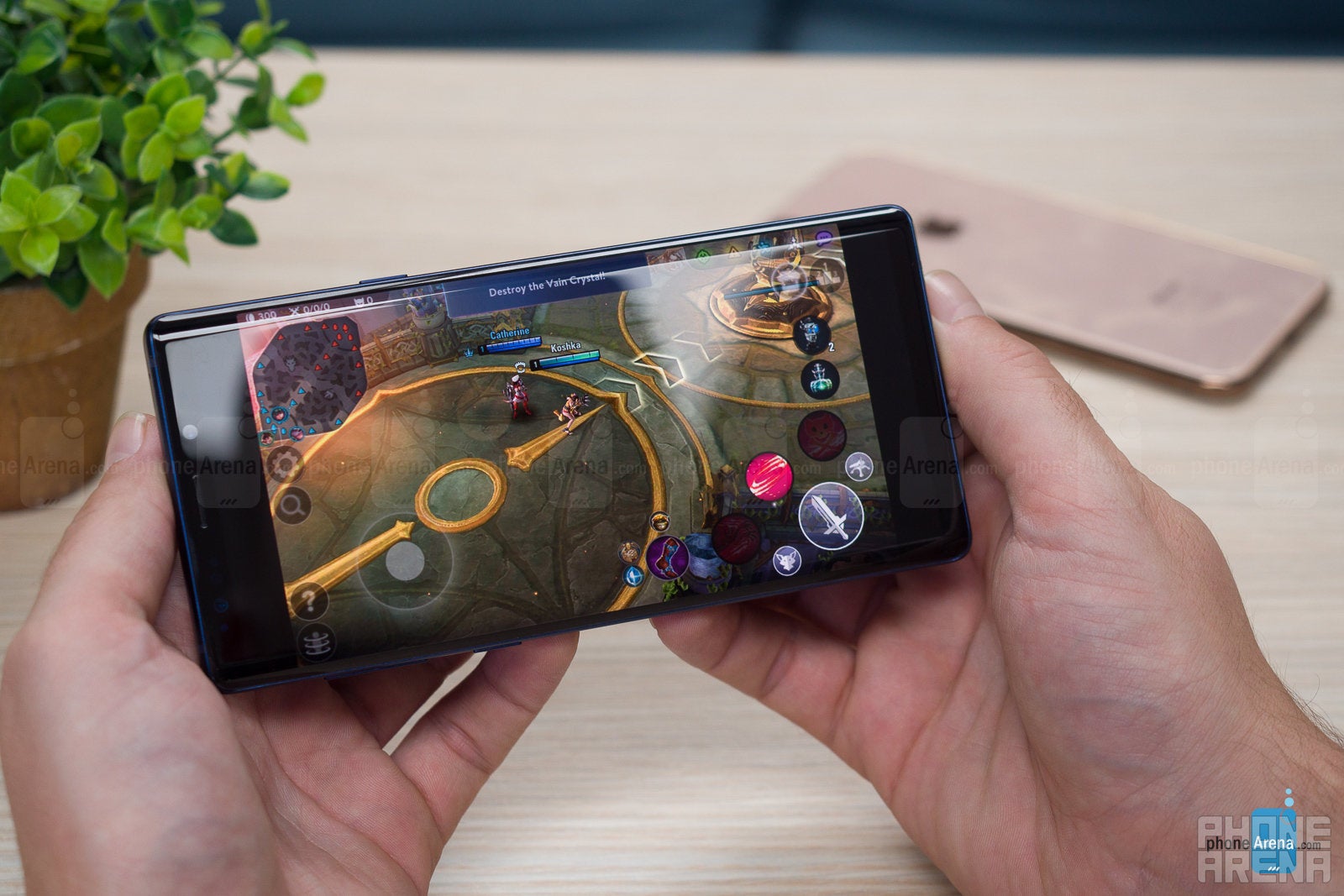 When it comes to mobile gaming, the iPhone is hands down the best and has been for some years. Games often look better on the iPhone and run better on the iPhone. To top it off, a lot of titles come to iOS a few months before they hit Android and some even stay iPhone-exclusive. Some developers of shooter games have also implemented Apple's 3D Touch technology to make it a bit easier to control and fire your gun with the limited touch inputs.
Here's an example — we ran PUBG Mobile and Vainglory on the iPhone XS Max and the Galaxy Note 9. And despite that both phones were set to high graphics, the games certainly look a bit sharper and more detailed on the iPhone. But, at the very least, when it comes to performance — the Note 9 was doing just as good as the iPhone.
But hey, some gamers still have a reason to pick an Android phone like the Note 9 over the iPhone. For one, you've got a lot more Bluetooth controllers to pick from, if you choose to invest in one. In comparison, if you own an Apple device, you need to hunt specifically for an MFi-certified controller, which will also be a bit more expensive and not necessarily of better quality.
Additionally, the recently-launched Steam Link app, which allows you to stream PC games to your phone over your home Wi-Fi, is still exclusive to Android. And yes, we tested it on the Galaxy Note 9 — it works quite well and streams in 60 FPS, if only with just a bit of input lag, which comes with the territory.
Creativity and niche applications
There are some demanding apps out there that offer pretty niche features, which we still feel need to be talked about, especially when considering a device that costs $1,000+.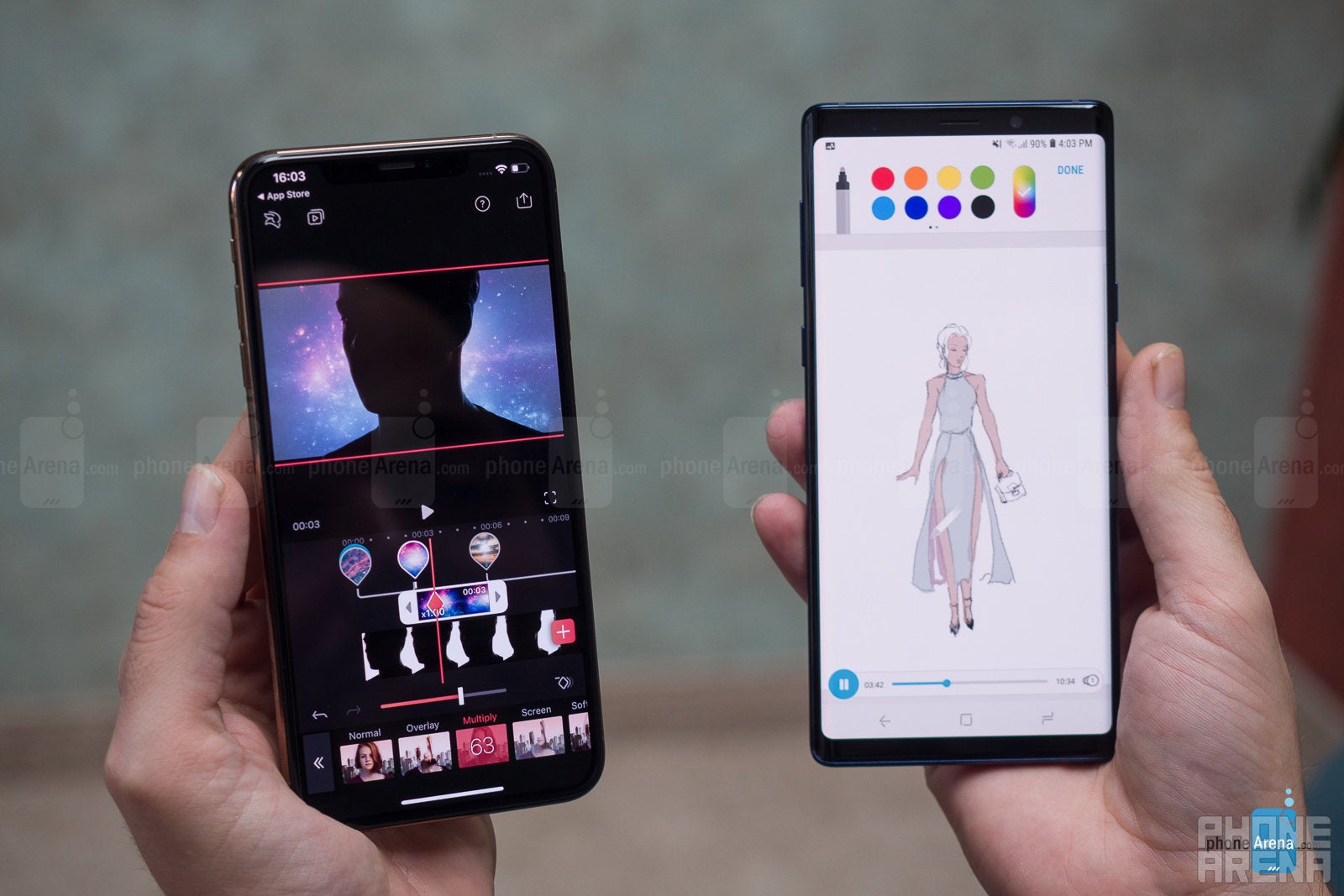 For one, with all the power that Android smartphones have today, with all these 8-core processors, supposedly powerful GPUs, and obscene amounts of RAM, there still doesn't seem to be a single video editor that supports keyframes in the Play Store. In fact, there doesn't seem to be a single video editor that just feels nice and offers a fluid workflow on Android.
That's not the case for iOS. A few of the most popular video editors for Apple's platform feel smooth and intuitive, and offer a pretty good workflow even on an iPhone. We have been quite obsessed with Enlight's Videoleap as of late — it just works great, offers multi-layer track editing, chroma key for transparency, keyframes, and it's all pretty simple to use. While it still has its limitations and won't be replacing your main video-mixing rig, it's a great little tool to either make minor videos for a social page update, or to edit small clips that you will be including in your vlog later.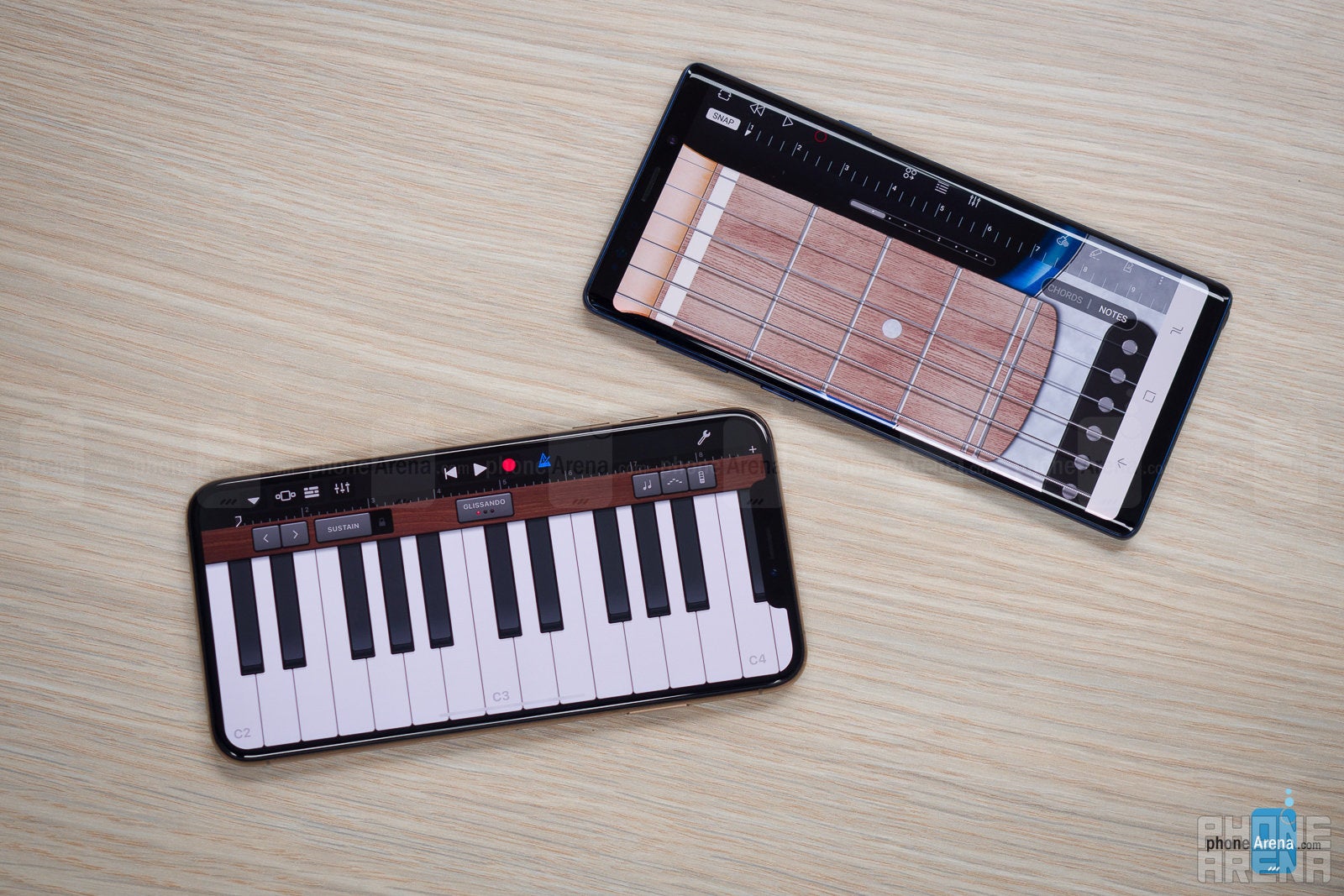 Additionally, the App Store has been offering tons of software for mobile musicians for years now. Apple got rid of audio latency problems long ago and you can hook your iPhone up to a guitar, a MIDI controller, or just use on-screen keys to produce music or add effects in real time. Again, this will not replace a recording studio, an amp, or an effects unit, but it's definitely an amazing thing to have at your fingertips, either for practice or experimentation.
Credit given where credit is due, Samsung got tired of waiting for Google to fix the audio latency issues of Android long ago and developed its own Samsung Professional Audio Driver. This made it possible to run real-time audio apps on Galaxy flagships, such as AmpliTube and Samsung's Soundcamp (a GarageBand knockoff). However, developer support for such apps on Android is extremely weak, the apps are few, and they are usually thin on features.
On the Note's side, we have the S Pen and the PenUP app, which will let you connect with artists all over the world, view their drawings and share your own. Don't know how to draw but want to learn? PenUP features a ton of regularly updated "live drawing" tutorials, which will literally lead your hand to create beautiful drawings. That is pretty cool, and we lost more time than we'd like to admit in this app.
Multimedia
When it comes to media consumption, both phones deliver equally well. You've got large, sharp, beautiful screens to view movies and clips on, and you've got stereo speakers on both devices.
Samsung's speakers sport a "Tuned by AKG" logo and sound really meaty thanks to a very prominent bump in the lower mids. It makes them sound full and loud, but they can sometimes muddy up the details in music. You do have an onboard equalizer and a Dolby Atmos software enhancer, but they come at a cost — you either lose some loudness when tweaking the EQ or get a minor dip in the low end when activating Atmos.
The iPhone XS Max speakers are louder and deliver a much heavier boom in the bass department. They do have a dip in the mids, which gives the overall sound more of a Hi-Fi character. You have a bunch of EQ presets in the phone's Settings to choose from (no Custom for user tweaking), but they will only affect the Apple Music app, so it's sort of a half-there feature.
While both phones' speakers are great for what they are, the XS Max's sound is definitely on another level and overshadows the Note 9 when they are in the same room.
Camera
Both Apple and Samsung have been pretty much on top of their camera game for the last few years. The companies do take different approaches here and there, but it's safe to say that both achieve great results — just ones that look different.
This year, Apple surprised us with a new feature that it calls Smart HDR. It works sort of like Google's HDR+ where the phone takes multiple shots and stitches parts of them together in order to achieve a superior image at the end, with fewer details lost in shadows and fewer highlights burning out to white.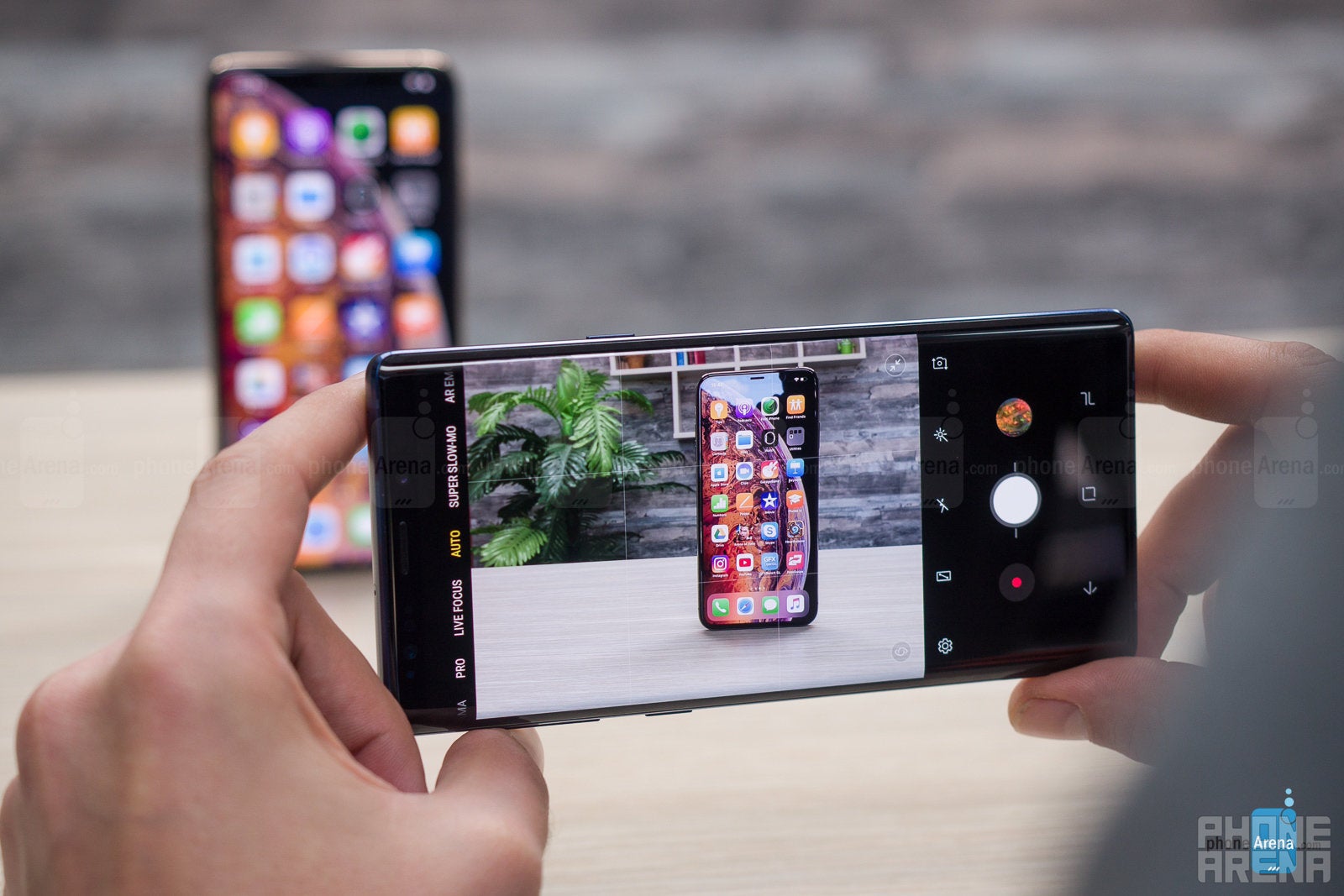 Smart HDR is definitely nice to have and will sometimes give the iPhone an advantage when comparing it to the Note 9's camera — the very first set of photos below show how Samsung's camera overexposed the building in the far left, while the iPhone managed to preserve its peachy color.
Such instances aside, both handsets are pretty great at capturing dynamic and colorful scenes. The Note 9 loves to sharpen details, in typical Samsung fashion, which may or may not be your thing. The pictures coming out of the iPhone may sometimes look a bit yellow-ish, as Apple seems to be in love with adding that warmth while processing images, but it can also nail colors a bit better than the Note 9 — as it did in the first pair of Portrait samples below.
Of course, nighttime photos are a challenge for both phones. The Galaxy Note 9's sharpening helps it out here, making details look less distorted by noise (image 18 vs image 17), while the iPhone XS Max seems to be better at keeping exposure even throughout the composition (images 13 and 14).
Portrait Mode
Of course, Portrait Mode (known as Live Focus, in the case of the Note 9) is a big deal. By now, everyone is doing a version of it, some being better than others, and we expect the top phones in the industry to have a very convincing bokeh.
And these two do.
Don't get us wrong — both Portrait Mode and Live Focus have their moments where they "fail". A part of the subject's hair will be blurred out, or their ear will be cropped off, or a piece of the background will manage to trick the camera in thinking it's actually supposed to be in focus. But most often than not, we get a very convincing portrait shot from either one of these phones. And since Apple added the ability to adjust the bokeh strength after the photo is taken, there's even less difference between the two features.
Video
Both the iPhone XS Max and the Galaxy Note 9 can hit 4K video recording at 60 FPS. This means buttery-smooth and extremely detailed footage at the same time. The image reproduction is as beautiful as it is in the photos. Both will employ their own mix of optical image stabilization assisted by digital stabilization in their own way to varying success. You can check out the short samples below.
The iPhone does offer 4K recording at the cinematic 24 FPS standard, which will help you record clips that have a very movie-like appearance to their motion.
It's still annoying that iOS has the camera settings hidden away in the Phone Settings app, instead of being accessible directly through the Camera app. You need to do a lot of back-and-forth when you are looking to change your FPS mode or resolution.
On the flip side, the zoom controls on the iPhone XS Max are a lot more comfortable to use with just one hand — tap and hold on the 1x zoom button and swipe up or down to zoom in and out. The Note 9 does have this feature where it lets you use the shutter button as a zoom slider, but it's very, very awkward and inaccurate to use. This becomes apparent when trying to zoom in and out while recording a video, which is why we mention it here.
Battery life
This year, Samsung upped its game and stuck a 4,000 mAh battery in the Note 9, which is a significant upgrade over the 3,300 mAh one we had in the Galaxy Note 8 last year. The result? About an extra hour of screen-on time and plenty more standby. We can confidently carry the Note 9 and use it throughout our day and still have charge through the evening.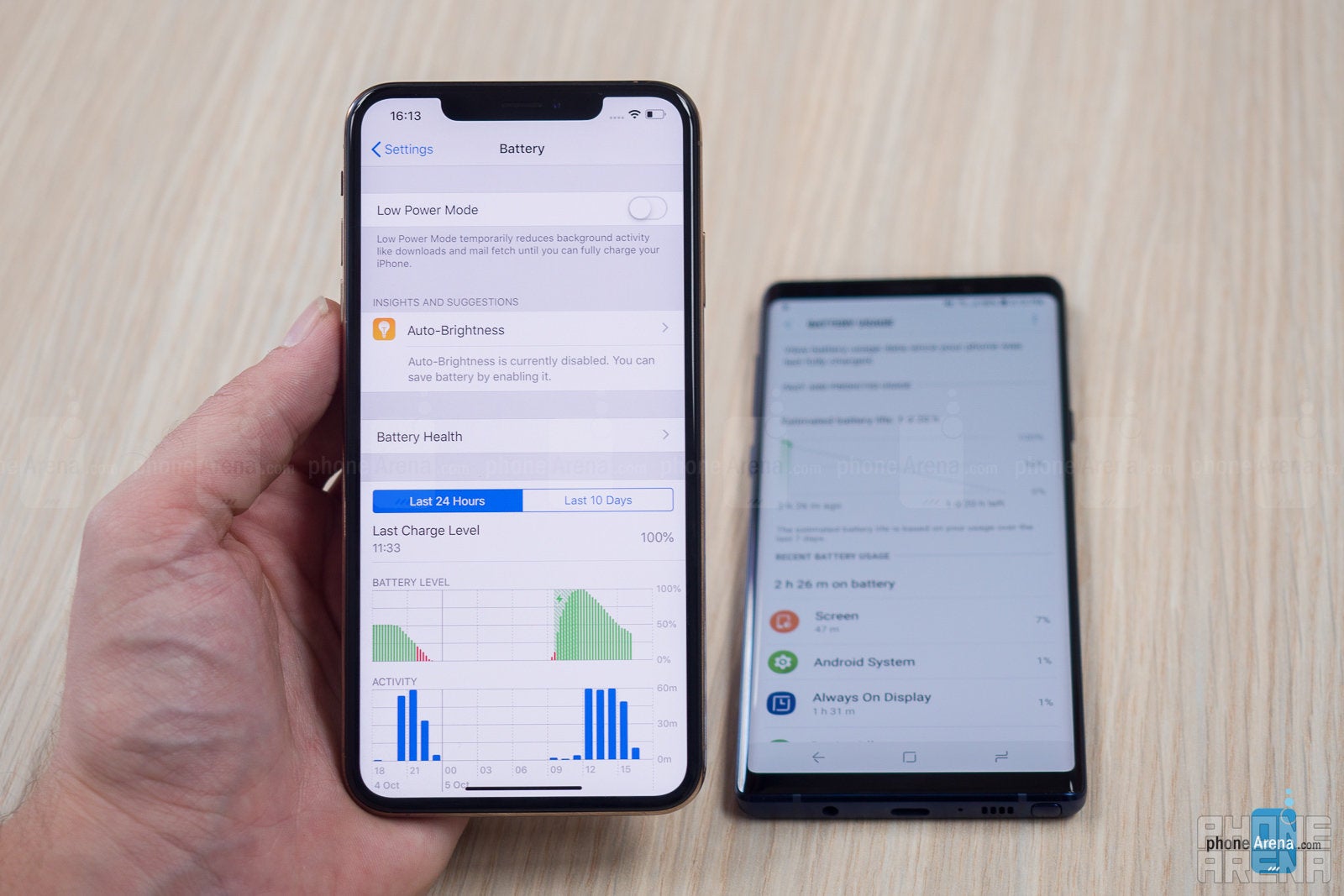 The iPhone XS Max, in typical iPhone fashion, offers an excellent battery life. More than 9 hours of screen-on time on our battery life test and exceptional standby efficiency.
Both of these phones will do fine in the hands of powerusers, but those who go with the iPhone XS Max — better plan out their charging sessions ahead of time. While the Note 9 can be fully recharged in a little less than two hours thanks to its Fast Charging brick, the iPhone XS Max will take 3 hours and 30 minutes to fill that battery tank back up! Well, unless you buy a quick charge plug and USB Type C to Lightning cable, sold separately by Apple.
Conclusion
Ultimately, there is a ton of people out there who have their hearts and minds set on either Android or iOS. So, who was this review for? Maybe you are about to buy your first truly high-end phone and are wondering which one is the better investment. Maybe you don't mind switching between operating systems and are wondering who has the better offer this year around. Or maybe you already have one of these products and are curious how it stacks up against the competition.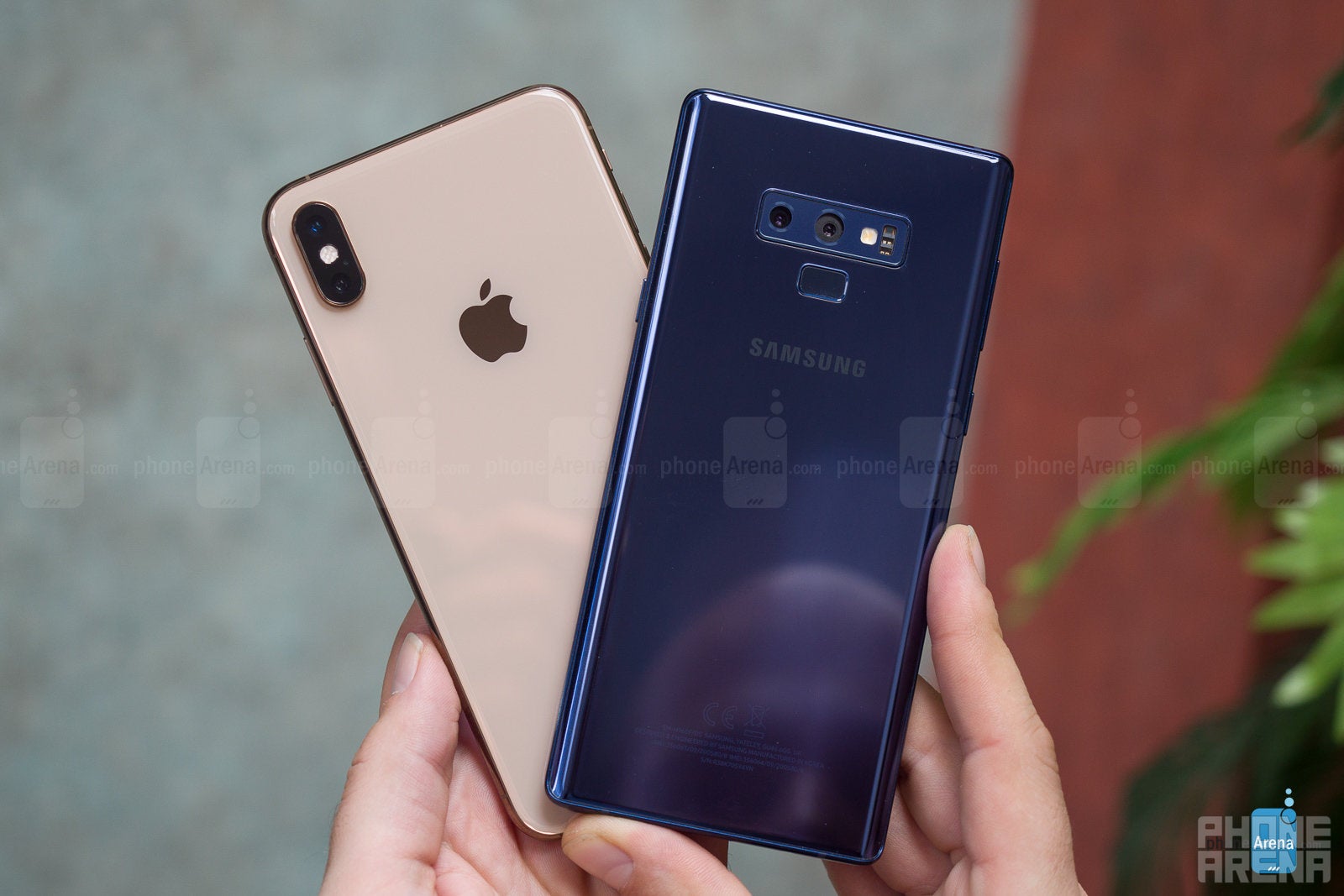 Well, rest assured that both of these phones deliver — the
Samsung Galaxy Note 9
is one of the most feature-packed, productivity-oriented Android smartphones you can get your hands on, and the Apple iPhone XS Max has the biggest screen and fastest chip that Apple has ever put on a smartphone. Both devices are mature, with years of company know-how behind them, and any smartphone poweruser out there will find a way to justify paying their steep price in their mind.
Which one is for you, though? The Note 9 is the phone that can do a ton of stuff, a lot of it at the same time. Multi-window and split-screen, floating UI elements, S Pen for drawing and writing, GIF capture of whatever's on your screen, Samsung DeX, and lots more.
The
iPhone XS Max
has powerful hardware and certainly excels in smooth performance and graphical fidelity. But iOS is a much more "focused" operating system — one app at a time, nice and easy. And the Apple ecosystem does support a few niche creativity sectors, such as music and video-editing, better than Android.
One can say that the Note 9 is trying to transcend the boundaries of being a handset and become a multi-purpose device, while the iPhone XS Max is comfortable with just being a phone... an iPhone.
Pros
Slightly more comfortable to grip
Super-fluid gesture-based UI
Face ID is better than Samsung's face- or iris-scanning solutions
More powerful chip offers better graphics in gaming, access to niche creative software
Allows access to the Apple ecosystem — iMessage, AirPods, HomePod
Stainless steel feels better than aluminum
Pros
The dual-curved display is still undeniably cool-looking
A multi-tasking, multi-purpose beast of a phone
Has a fingerprint scanner
S Pen is still the best stylus to come packaged with a smartphone
Always on Display and "Time until fully charged" notifications make life easier
Storage capacity options are more generous than the iPhone
Recommended Stories