Huawei Watch Fit 2 review
3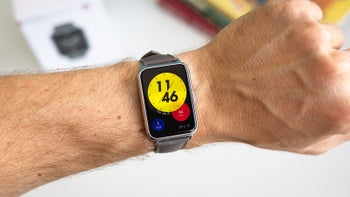 Intro
The Huawei Watch Fit 2 is the company's mid-range wearable and sits comfortably in the middle of Huawei's lineup of smartwatches and sport-oriented smart bands.
The first iteration of the Huawei Watch Fit was rather lacking in features and accuracy, which made it feel like a somewhat unfinished product. That said, it is common for first-generation devices to have such a rough start, as the company lacks the experience and polish in the early stages of development.
Thankfully, Huawei has managed to add quite a lot of value with the Fit 2 by upgrading the hardware in key areas and adding new helpful features to spice up the deal and make the second generation a much better bang-for-your-buck buy.
Speaking of buying, there are three Huawei Watch Fit 2 versions you can pick from:
Huawei Watch Fit 2 Active Edition – €149
Huawei Watch Fit 2 Classic Edition – €199
Huawei Watch Fit 2 Elegant Edition – €249
You will find out more about the differences between the three versions in the "Design, Models, and Sizes" section below.
What's new with the Huawei Watch Fit 2:
More choice in straps and versions of the watch

18.6% larger AMOLED display

97 supported workout modes

Pre-workout and post-workout animated guides

New metrics: running force index and training load

Upgraded satellite system

Support for exporting/importing routes

9-axis geomagnetic sensor

Bluetooth 5.2

NFC (excluding the Active Edition)

Speaker

Bluetooth phone calls
Table of Contents:
Huawei Watch Fit 2 Unboxing
Inside the Huawei Watch Fit 2 box, you get just a few things: the watch itself, a charging cable (without a charging brick), and documentation.
Huawei Watch Fit 2 Specs
Specs
Huawei Watch Fit 2
Models (Size, Weight, Prices)
46 x 33.5 x 10.8 mm, 26-30g, €149/199/249
Storage
4GB
Software
HarmonyOS 2.1
Battery and Charging
7-10 days battery life, full charge in 2h
Sensors
9-axis IMU sensor (Accelerometer sensor, Gyroscope sensor,Geomagnetic sensor)

Optical heart rate sensor
Huawei Watch Fit 2 Design, Models, and Sizes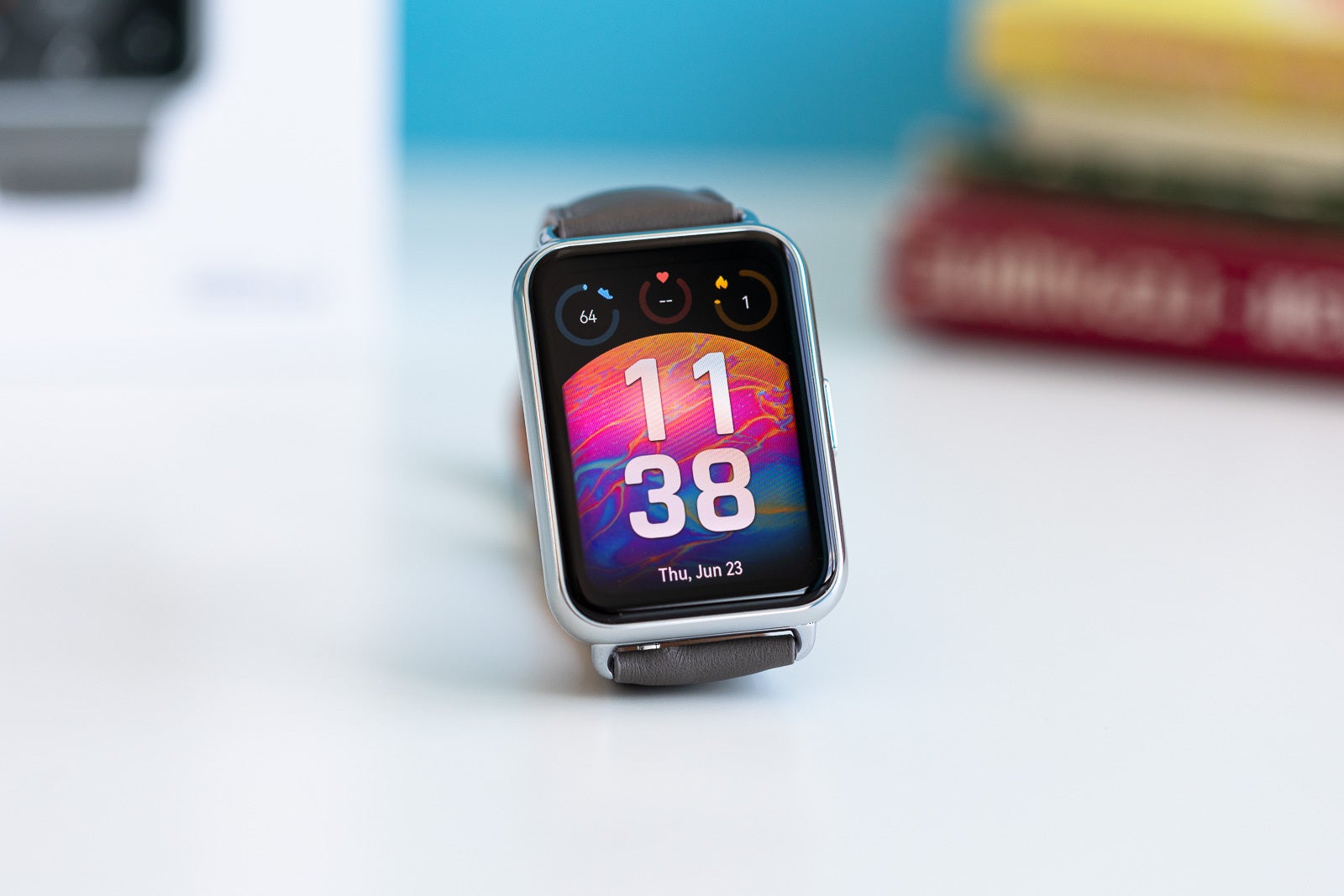 While the Huawei Watch Fit 2 might seem similar to its predecessor, it actually has a few key design changes that make it a much better wearable. First, and probably most important, is the 1.76-inch AMOLED touchscreen which is 18.6% larger than before thanks to a combination of visibly smaller bezels and the watch being wider than before.
In regards to its size, initially, it seemed to me that Huawei had made this watch a bit too large for my liking, but within a few days, I started getting used to it. I have average hands and the Fit 2 fits my wrist, but just barely — if they were slightly thinner the watch would have been more uncomfortable and sit awkwardly.
Strap-wise, I got to try out the leather ones that come with the Classic Edition. They felt comfortable, even after hours of wearing the Fit 2, including during sleep.
Speaking of editions, let's dive in a little deeper into what differentiates the three Huawei Watch Fit 2 models.
One of the more obvious differences is the accompanying strap that each edition comes with. For the Active Edition, you get a silicone strap, for the Classic – a leather one, and the Elegant comes with a metal strap. No matter which one you decide to go for, though, you have the option to change your strap afterwards.
The process of swapping straps is even easier with the Fit 2 thanks to a new "link" system that works by pushing a small button to release the strap.
Huawei Watch Fit 2 colors and materials:
Active Edition – Midnight Black, Sakura Pink, Isle Blue (polymer)

Classic Edition – Nebula Gray, Moon White ( aluminum front case and polymer rear)

Elegant Edition – Premium Gold, Silver Frost (aluminum front case and polymer rear)
One of the significant downgrades if you decide to go with the most affordable Active Edition is the lack of NFC support, meaning you get no contactless payments and other NFC-enabled services. However, the Active version is slightly lighter coming in at approximately 26g instead of the 30g of the other two versions (without strap).
Huawei Watch Fit 2 Software and Features
The Huawei Watch Fit 2 runs HarmonyOS (version 2.1), Huawei's own proprietary software. The UI has not changed much compared to the previous model but gives you all the essential recent health and fitness information straight from the watch. If you want more detailed statistics you can find them in the Huawei Health App, alongside additional settings and features.
Speaking of features, there are a ton of new ones compared to the first generation from 2020.
Improved heart-rate monitoring
Of course, you have your standard 24h heart-rate monitoring, which is now improved thanks to a new sensor that's adopted straight from the more premium Huawei Watch GT 3 series. This is some awesome news, as the GT 3 is known as one of the best smartwatches for tracking heart rate.
But of course, there are many other health tracking features such as constant stress monitoring that can send corresponding alerts depending on your stress level.
Others include what Huawei calls scientific sleep monitoring, dubbed TruSleep, which can analyze your sleep quality by reading your sleep stages and patterns. The watch then provides appropriate advice on improving your time in bed.
The sleep monitoring on the Fit 2 did well at detecting when I fell asleep and woke up. It also seemed to do well with detecting my sleep stages. For example, one of the days I woke up suddenly, and it showed me that instead of going gradually from deep sleep to REM, I woke up while I was in my light sleep stage, which the Huawei Health app explains can make you feel unrested and tired.
Continuous SpO2 monitoring

Thankfully, the SpO2 tracking is still here, but unlike its predecessor, the Fit 2 can now do it automatically throughout the day. Of course, don't rely on its results too much, as taking your blood oxygen levels via a smartwatch is usually not the most accurate and reliable method.

In my testing, the percentage seemed to be somewhat inconsistent, as I would get 96% and then immediately get 97% while doing the measurement. That difference is to be expected, though, as the result can be affected by what you are doing (for example if you are moving), and how well the watch is placed on your wrist.


Better and independent GPS tracking

Unlike its predecessor, the Huawei Watch Fit 2 has built-in GPS tracking, meaning you can go running or cycling without your phone and still have a full record of your route. Additionally, the location tracking is improved significantly and is much more accurate than before, as the watch now supports all five major satellite systems.


Running Force Index and Training Load metrics

The Huawei Watch Fit 2 inherits two important fitness tracking features from its more expensive sibling, the GT 3 — the Running Force Index and Training Load.

The Running Force Index gives you an assessment of your overall running performance, putting you in a specific category. Training Load is a measurement of your body's fatigue, which directly affects your recovery time.

In my tests, the Fit 2 put me somewhere in the middle (average) when it came to my performance, which is about where I see myself as well. Training Load seems to accumulate the more you exercise, and even after one 5K run the watch told me to rest for two days, which I don't quite agree with, as I felt ready even after one day of rest.
Call Quality
Another big upgrade comes in the form of a speaker, which can be used in conjunction with the onboard microphone to accept calls and talk directly through the Huawei Watch Fit 2.
Since there is no SIM card on board, the calls work via the Bluetooth connection between the watch and your phone. Call quality was very good — I could hear the person on the other end loud and clear, and the same goes for them hearing me, even when there was background noise around me.
On a side note, the same speaker comes in handy when exercising, as it allows for audio cues that guide you throughout your exercise.
Software hurdles
There is one annoying aspect of the Huawei Watch Fit 2's software, though, and that is how slowly it updates. What's even worse is that you have to keep the Huawei Health App open throughout the whole process of transferring the update to the watch and cannot exit that page in the app until it is done, otherwise it stops and you have to do it all over again.
My advice would be to adjust your screen settings so that it doesn't go to sleep at all, since even that would interrupt the transfer. Then you can revert it back. Well, unless you want to constantly wake your phone during the transfer.
Tap to transfer and Remote shutter
Tap to transfer allows you to directly transfer a photo to use as your watch face with the small caveat that you need to have a Huawei phone.
Remote shutter does what the name suggests — you can use the Fit 2 to snap a photo with your Huawei phone.
Voice assistant and quick replies
The Huawei Watch Fit 2 also comes with the company's own voice assistant, as well as the ability to send quick replies when you receive a text message. However, both features are only available when the Watch Fit 2 is paired to a Huawei phone.
Huawei Watch Fit 2 Battery and Charging
Battery life and charging on the Huawei Watch Fit 2 have not changed at all from the previous generation. Huawei claims the watch can last you up to 10 days with moderate use and 7 days with intensive use, and in my experience, I landed somewhere in between.
Charging-wise, you can juice up the Fit 2 in about 2 hours from zero to maximum percent via the same magnetic charger that came with the last generation.
Huawei Watch Fit 2 Storage and Performance
The Huawei Watch Fit 2 comes with 4GB of onboard storage, which can be filled with music files, photos, and more of the numerous watch faces you can download from the store.
Performance-wise, the Fit 2 is smooth, without any signs of stuttering during the animations. One gripe I have is that sometimes it takes an extra moment whenever I swipe from the left edge towards the right to go back, although I am not sure whether that was me being sloppy with the swipe or the watch being slow.
Lastly, every now and then I would have to flick my wrist a few times until the raise-to-wake feature works. Not a dealbreaker, but it was occasionally annoying.
Huawei Watch Fit 2 Audio Quality and Haptics
The new speaker on the Fit 2 produces a surprisingly loud and clear sound. So much so that I actually had to turn it down during my runs, as it was making me feel anxious about the people hearing the kind gentleman speaking to me through my wrist.
Haptics, on the other hand, are mediocre at best. They are strong and will definitely do the job for cues during exercise or to wake you up in the morning, but are far from feeling tight and precise.
Huawei Watch Fit 2 Competitors
One possible alternative to the Huawei Watch Fit 2 is the Fitbit Versa 3. Fitbit sports watches and bands are known for having great sleep tracking, so if that feature is important to you, this could be a viable option over the Fit 2.
Another option you have is the Amazfit GTR 3 Pro, which comes with a circular design — compared to a squared one — as well as a physical crown for easier navigation. It is a good-looking watch without a premium price tag.
Not to mention the GTR 3 Pro works with Amazon's voice assistant, Alexa, and does not require you have any specific phone to use it.
Huawei Watch Fit 2 Summary and Final Verdict
Huawei has really stepped up its game with the Watch Fit 2 and I would argue it has successfully upgraded it into a viable and worthwhile budget smartwatch. You have a solid foundation of fitness and health trackers, but on top of that, you also get practical features like Bluetooth calling and notifications delivered to your wrist.
On the other hand, it is a bit disappointing that you have to own a Huawei phone in order to use some of the smart features like the voice assistant or quick-reply messages.
Here's the thing, there are three scenarios here:
If you own a Huawei phone and don't want to spend too much money on a smartwatch/band, then the Huawei Watch Fit 2 is a perfect fit for you.
If you don't own a Huawei phone, but you don't mind losing some of the smart features, then the Fit 2 is still a great option to consider. Although, you might also want to look at some of the alternatives.
If any of the mentioned smart features that are locked for non-Huawei phones are important for you, however, then the Fit 2 is probably not the one for you.
Recommended Stories