honor 7 Review
48
Introduction
"What phone is that?" - we've been asked this numerous times since we started using the
honor 7
as a daily driver several weeks ago. Clearly, the bold brand name embossed on the back of our handset didn't ring a bell to anyone but our most tech-savvy buddies. Surprising this was not, as honor is one of the newer players in the smartphone arena. In fact, it has been less than a year since honor became an entity of its own, ran separately from its parent company - Huawei.
The honor 7 is the young brand's current flagship smartphone. Several months after launching in China, where it was met with overwhelming demand, the Android 5.0-based handset was released in Europe as well, priced at 350 euro (roughly $400). In exchange you get a 5.2-inch display, an octa-core Kirin 935 SoC, a 20MP camera, and a 3100mAh battery, among other goodies, all encased in a metal-made body. Sounds like a good deal, doesn't it? Well, let's find out if that's the case.
In the box:
honor 7 smartphone
pre-applied, removable screen protector
SIM card ejector tool
wall charger (Output: 5V, 2A)
Micro USB cable
quick start guide
Design
A typical modern-day smartphone with a metal-made body and adequate size for a 5.2-incher. The Smart button and fingerprint scanner are welcome bonuses.
At a glance, the honor 7 looks like a typical modern-day smartphone. It is a rectangular, mostly flat device with slight curves at its four corners. The moment you pick the phone up, however, your fingers will detect the cold feel of its non-removable metal back plate and sides. Yes, the honor 7 has a mostly metallic build, which adds a welcome dose of premium feel to an upper mid-range handset. The metal surface is immune to fingerprints, and it is showing no signs of wear after several weeks of use (and maybe a few accidental bumps).
Handling the honor 7 isn't much of a trouble given its size and weight, and we've never had troubles fitting it in the pockets of a regular pair of jeans. At 5.64 by 2.83 inches (143.2 by 71.9 mm), it is of typical proportions, if not slightly smaller, for a smartphone rocking a 5.2-inch screen. It is neither too thin, neither too thick, measuring 0.33 inches (8.5 mm) if we don't count its protruding camera. The mostly flat back of the honor 7 is slightly sloped near the ends, which, together with the beveled edges, contributes to a comfy grip. And to facilitate single-handed usage, there's a single-handed mode that scales down the UI, making even its furthest corners reachable, although we can't remember a time when we really, really needed to use it.
While the honor 7 has a mostly metallic build, there are two plastic elements on the phone's top and bottom - behind them reside its antennas. These elements spoil the looks of the handset a bit as they reflect light differently and are not perfectly aligned with the metal plate at the seams. The tray for the SIM and microSD cards does not seem to fit ideally either. Bear in mind that these slight imperfections could be limited to our review unit only.
Looking at the sides, a metal-made power key and volume rocker reside on the phone's right side. They are raised well and respond with sufficient tactile feedback. On the opposite side is found the Smart key, which is a programmable button, and up to three functions can be assigned to it. We find it useful, as it lets us easily turn on the flashlight, initiate a Google search, or launch our favorite music app without even looking, for example. However, since the Smart key is placed oppositely of the power key, pressing the latter might result in accidentally pressing the former as well. It happened to us on several occasions, but eventually, our fingers got used to the buttons' arrangement.
On the back of the honor 7, below the camera, is positioned a fingerprint scanner that reads your fingerprints when touched, not swiped. That's a good thing as scanners using the latter method aren't as reliable, as our experience goes to show. The honor 7's scanner isn't perfectly accurate either, but it does work at least 4 out of 5 times. To improve its reliability, you may enroll the same finger twice, touching different areas of its tip when registering it.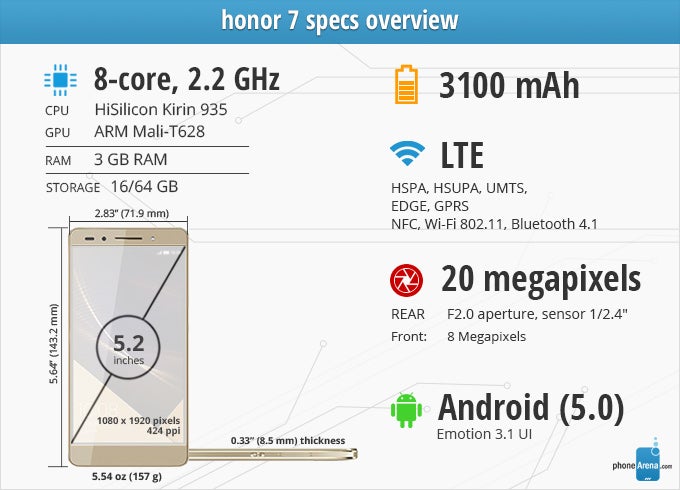 Display
Large, with high resolution for great details. Color accuracy, however, leaves something to be desired.
The honor 7 sports a 5.2-inch IPS LCD display, made by Japan Display, with a resolution of 1080 by 1920 pixels. This translates to a pixel density of 424 ppi, producing clear, crisp, pixelation-free visuals. The resolution isn't ground-breaking, of course, as we already have QHD-resolution displays of such diagonal size, but to tell you the truth, the pixel count of the honor 7's screen is perfectly sufficient for any need.
On the downside, the screen of the honor 7 is noticeably cold-looking - we measured a color temperature of over 7600K, which explains the display's blueish tint. We must mention that the second honor 7 unit that we tested had an even more inaccurate display, clocking in at around 9000K. Not all users will be bothered by this flaw, of course, but those who are may adjust the display's color temperature from the Settings menu. Still, we do wish that colors were more accurate out of the box. On a related note, our color measurements indicate that the screen produces slightly overblown shades of red and green.
The honor 7 is mostly usable under sunlight. We measured a peak brightness value of 436 nits, which is an acceptable figure. It is far from ideal, however, as bright sunlight reflected at the user's eyes renders the screen very difficult to use. The minimum brightness value of 9 nits is an average figure - using the honor 7 in the dark is rather comfortable, although it would have been better if the screen could get even dimmer.
Before we move on, we must mention that a screen protector is pre-applied on the honor 7. It does not spoil the viewing experience in any way, and leaving it on would be a good idea as it will protect the display against damage. However, finger traces stick to it more easily compared to the bare glass surface of the touchscreen.
Display measurements and quality
Recommended Stories