Sony Xperia Z1 vs LG G2
65
Introduction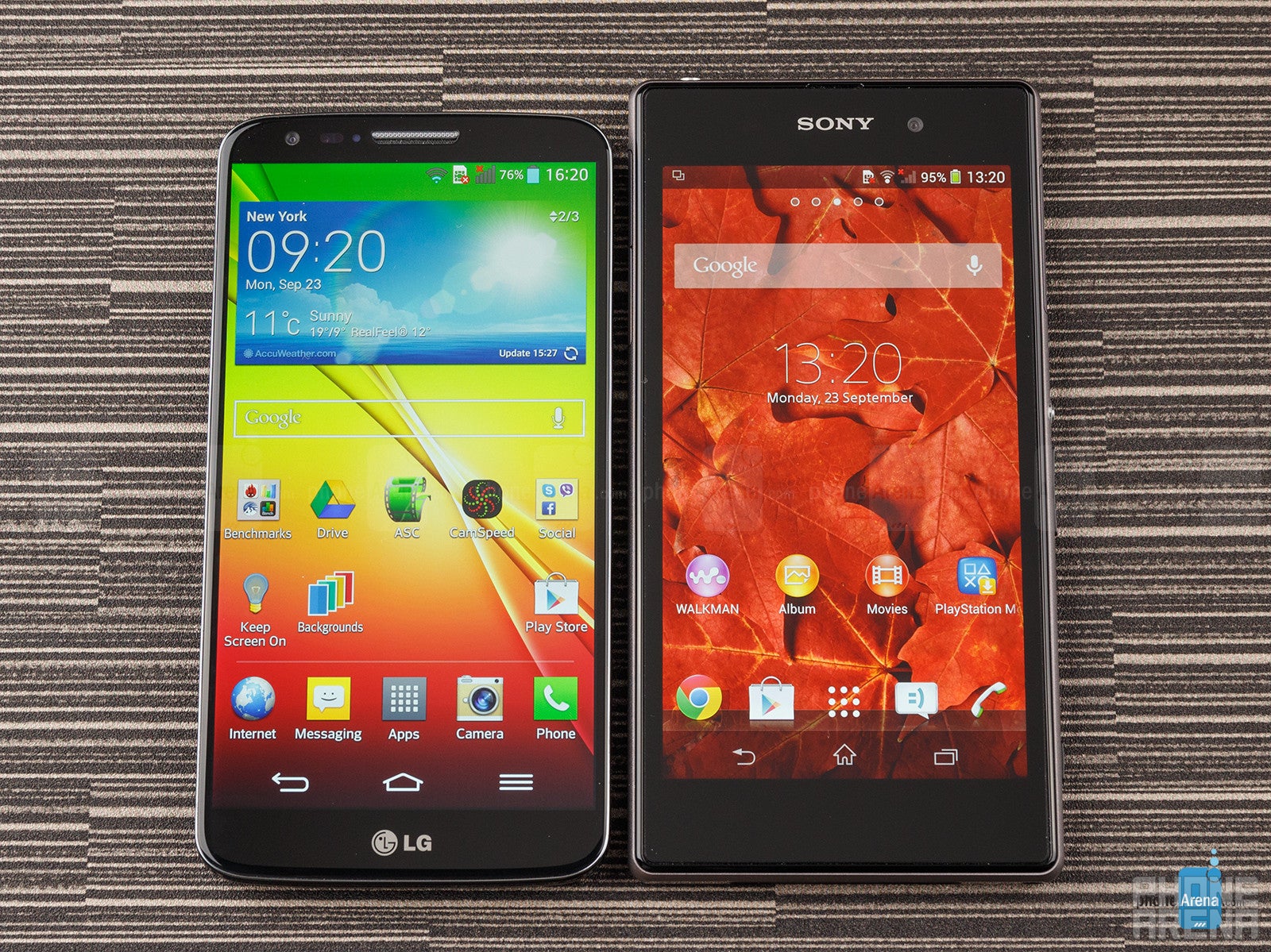 Question: what's the very best Android smartphone out there? Well, that's hard to tell. Labeling a phone as best in its class is no easy task, and that's especially true when the high-end category is concerned. But if we had to state our favorite top models, then the
LG G2
will surely be among them. It is the Korean company's current flagship device – a phone that scored a commendable 9.4 in our review.
Now, however, we have a new contender for the crown. It is known as the
Sony Xperia Z1
and it is shaping up as a beast of a phone. Like the LG G2, it is loaded with outstanding features, while its specs sheet will bring tears of joy to the eyes of any smartphone geek. And if that's not enough, Sony's new flagship is quite a looker with its glass-and-metal-made water-resistant body. Still, is it better than the LG G2? Perhaps a thorough side-by-side comparison between the two would provide the answer to that question.
Design
There's no denying that the Sony Xperia Z1 is the better-looking smartphone. It builds upon all that made its predecessor, the Xperia Z, stand out in the design department, and reinforces its statement with a solid metal frame. Its image is complemented by the perfectly flat front and back sides; made of tempered, shatter-proof glass, they instantly grab one's attention. Besides, let us not forget that unlike most other Android high-ends, the Sony Xperia Z1 is dust- and water-tight, so it will take photos even underwater, while the LG G2 isn't likely to survive if accidentally dropped in the pool.
However, the LG G2, despite looking a bit less inspiring, has a number of advantages over the Z1. For starters, it is more compact, even though its front is graced by a slightly larger screen (5.2 inches for the G2 vs 5 inches for the Z1). This has been achieved by trimming down the bezel surrounding the G2's display as much as possible. Also, the LG G2 is much lighter and fits better in the hand, which makes it easier to handle. But that's not all. While the Sony Xperia Z1 looks great, its otherwise beautiful glass body remains quite vulnerable; it might crack after the first drop on anything harder than your living room's carpet. The plastic-made LG G2, on the other hand, seems a little bit less fragile, although we doubt it would take much more beating than the Z1.
Like it or not, LG has placed the G2's physical buttons on its back. This should, theoretically, make them easier to reach as they would always be right under the user's index finger. But in reality, we're still finding it hard to get used to their arrangement. In fact, we don't see much of a benefit of them being placed where they are, other than allowing the phone to be very narrow for its size. Nevertheless, the notification light embedded in the power key looks kind of cool.
The physical keys on the Sony Xperia Z1 feel okay and provide good feedback, although we wish they were slightly bigger. A nice addition is the dedicated 2-stage camera shutter key, allowing one to snap photos quickly and comfortably.
Display
No smartphone can be regarded as a truly premium device if its screen quality isn't top notch. And we're glad to say that neither of these two handsets disappoints in that respect, although they both leave some room for improvement. The LCD screen on the Sony Xperia Z1 has adopted the company's Triluminos tech, found on its recent TVs, while LG has gone with a high-quality IPS-LCD panel for the G2. Both smartphones come with 1080p panels (1080 by 1920 pixels) so everything displayed on them looks perfectly smooth and sharp.
As we stated above, the LG G2 does come with a larger screen even though it is more compact than the Sony Xperia Z1. The exact figures are as follows: 5.2 inches of display real estate for the LG G2 vs 5 inches in diagonal for the one on the Z1. Clearly, both screens fall under the spacious category.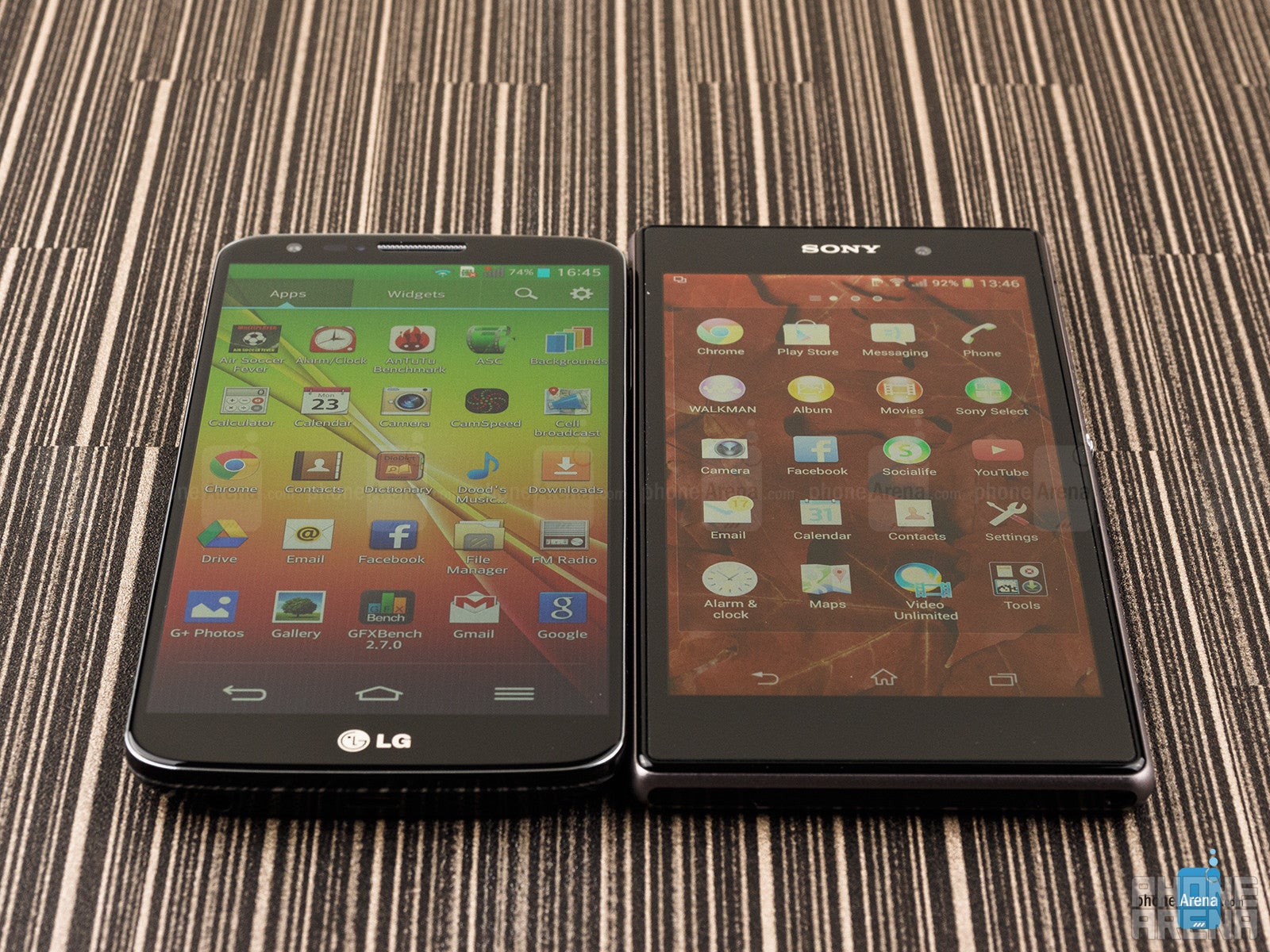 Something we noticed about the screen on the LG G2 is that it is clearer and more legible under broad daylight as it reflects less of the sun's rays. Its viewing angles are also better by a huge margin. But according to our measurements, the screen on the Sony Xperia Z1 has the upper hand when it comes to color accuracy. And sure enough, when the two are put side by side, it is clear to see that the G2's colors lean towards the colder side.
All in all, neither of these smartphones' displays has managed to achieve perfection, but nevertheless, most users would be more than happy with either one.
Display measurements and quality
Recommended Stories