Sony Xperia Z1 Compact vs Samsung Galaxy S4
12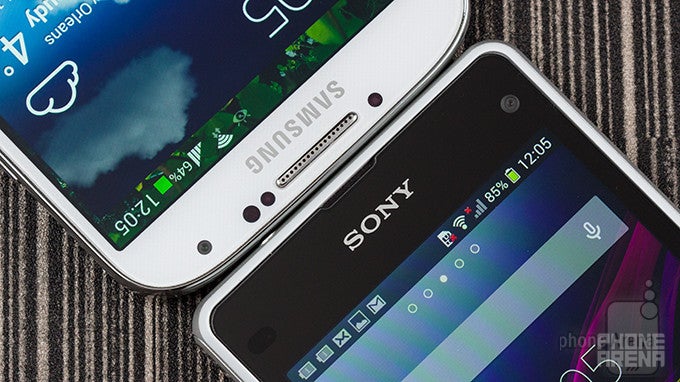 Introduction
Android has improved hugely, but as it evolved every year, the screen size of the top Android devices also increased. We grew from having 4-inch phones to 4.7-inch devices, then 5-inch ones, only to arrive at a landscape of humongous gadgets dominating the mobile landscape. The blessing had become a curse to some who still wanted a compact smartphone, one that you can easily use single handedly, and one that easily fits all pockets. Those exist today, but feature less capable hardware than the big guys. That's where the
Sony Xperia Z1 Compact
comes in with the simple promise to be not just compact, but also running on no-compromise top-notch hardware.
The Xperia Z1 Compact features a 4.3-inch display and compact overall sizes, while the
Galaxy S4
is larger, with a 5-inch display; the Z1 Compact runs on the newer and more powerful Snapdragon 800 system chip, while the Galaxy S4 features the older Snapdragon 600; the Sony phone has a large-sensor 20-megapixel camera, while Samsung's has a regular smartphone camera sensor and a more modest, 13-megapixel resolution.
It is a battle of small versus big, new against old, where the smaller new phone can for the first time in recent history turn out to be better than the big one. Is that so? It's time to find out.
Design
Size is the most glaring distinction between the Sony Xperia Z1 Compact and the Samsung Galaxy S4 - single-handed use is a joy on the Xperia Z1 Compact as your thumb can easily reach every corner of it, while the same cannot be said about the Galaxy S4. At the same time, the Z1 Compact is slightly chubbier, but not hugely. You can see the exact difference in our size visualization tool below.
The two also feature radically different design. The signature glossy plastic used by Samsung does not have that premium feel we expect from a top-shelf device, but that has not stopped the Galaxy S4 from selling in the millions. Still, we appreciate the slightly more expensive materials used in the Xperia Z1 Compact - its front is made of glass, the back is made of plastic, and it's all held together by a sturdy metallic frame, a construction that Sony refers to as 'Omnibalance' design language. It is not just about the looks, though - the Z1 Compact is also water and dust resistant. It features the IP58 protection rating, which means that it can survive in water under 3 feet deep for continuous periods of time (more than half an hour). As for the Galaxy S4, you'd better not drop it in water at all - it has none of those advanced protection features.
The Z1 Compact has all sorts of slots and buttons on its sides, and you get an easily accessible micro SIM card slot, a microSD card slot, a volume rocker, lock key and dedicated camera shutter key. All are within easy reach and have reasonable amount of travel making them comfortable to press. The Galaxy S4 does not expose all its ports and slots - the micro SIM and microSD card slots are under the back cover, only the volume rocker and lock keys are on its sides, and are even clickier and easier to press than the ones on the Z1 Compact.
Display
Sony is known for including not-so-stellar displays with sub-par viewing angles in its latest top smartphones, but luckily the Xperia Z1 Compact bucks the trend and actually uses a very nice IPS LCD screen with good viewing angles. Most importantly, the screen has got lively, nicely saturated colors, and just looks good. It's a 4.3-inch display (on-screen buttons take up some of that space) with a resolution of 720 x 1280 pixels. This translates into pixel density of 342 ppi, which is enough to produce pretty sharp visuals.
The Galaxy S4 on its part uses Samsung's AMOLED display technology, and has a larger 5-inch diagonal size. The screen uses a wider color gamut, with more saturated (but less realistic) colors. Its resolution is also higher at 1080 x 1920 pixels, which makes it even sharper than the Sony display, and as a result, it's easier to read tiny fonts on the Galaxy S4. Samsung's flagship also has superior viewing angles, as - even when you tilt it to extreme angles - it retains colors and brightness very close to those you see when you look straight at the display,.
Outdoors, the Sony Xperia Z1 Compact has the advantage of being able to get much brighter, and it's easier to read. Peak brightness reaches a respectable 515 nits, while the Galaxy S4 can only go to as much as 289 nits. Interestingly, though, in night time, when you want your screen to go as dim as possible, the Galaxy S4 has a big advantage as its display can be toned down to 9 nits (measured with the screen set to show white color), while the Z1 Compact would annoy your eyes as it's only capable of lowering brightness down to 39 nits.
Overall, it's hard to say which of the two phones has the better screen. Both are good, but not perfect. Having a larger screen like the one on the Galaxy S4 could be an advantage, but also results in a larger device. For all else, they are just different.
Display measurements and quality
Recommended Stories