Sony Xperia Z1 Compact vs Sony Xperia Z1
24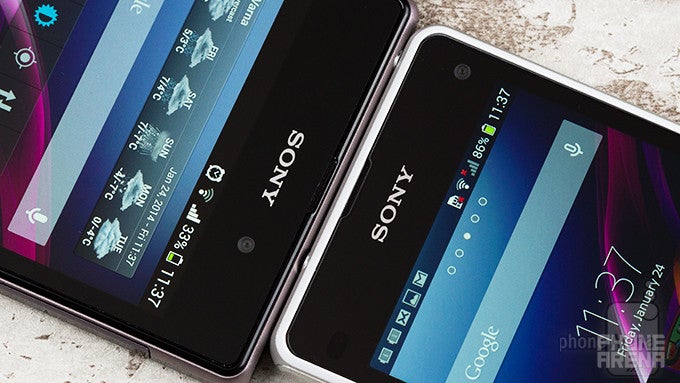 Introduction
The
Sony Xperia Z1
and the
Sony Xperia Z1 Compact
are two phones that have quite a lot in common. They share the same OmniBalance design that's typical for Sony's smartphones, they're both waterproof, and they both pack the hardware specs we've come to expect out of a high-end Android device. Size, however, is the key factor that sets them apart. The Xperia Z1 comes with a 5-inch screen and is obviously the chunkier one of the two, while the Z1 Compact is physically smaller as it is equipped with a 4.3-inch display. But is there anything else that makes these two phones different from one another, and ultimately, which one should you pick? Well, let's dive further into it and check them out in detail.
Design
The Sony Xperia Z1 Compact is a phone that lives up to its name. All there is to love about its bigger brother, the Xperia Z1, it has adopted without compromise. In other words, the Xperia Z1 Compact looks and feels just like a smaller Xperia Z1, with the only difference between them being the arrangement of the ports on the sides. And that's a great thing. We've already pointed out numerous times how likable of a smartphone the Sony Xperia Z1 is, and the Xperia Z1 Compact feels almost as premium in the hand with its sleek body, built of glass, plastic and metal. As a matter of fact, we aren't sure if it is just us, or Sony's OmniBalance design does look even more appealing in a 4.3-inch size factor. Long story short, both smartphones are worthy of admiration.
Bonus points go for the Z1 Compact for being available in a broader range of colors. There's a conservative black option, of course, but for those who want to stand out, the phone comes in white, yellow, and pink as well. The Sony Xperia Z1 comes in black, white, and purple. A flaw common for both handsets, unfortunately, is that fingerprints stick easily to their glass surfaces. These appear to be easiest to spot on a black model and least annoying on a white one.
Clearly, size is the key differentiating factor between these two smartphones. The Sony Xperia Z1 Compact is very suitable for single-handed operation and we love how it fits comfortably in pockets of all sizes. As for the Sony Xperia Z1, it is thinner, but much heavier and harder to handle because of its dimensions.
Both the Sony Xperia Z1 and Z1 Compact are designed to withstand dust and water damage, as indicated by their IP58 rating. That explains why all ports, with the exception of the 3.5 millimeter headphone jack on the top, are sealed by removable flaps. Thankfully, these don't stand out much and blend well with the phones' shape. That docking port on their side, however, is quite distracting, in our opinion.
On the right sides of the two phones are located their identically designed physical buttons. On both devices we see a volume rocker, a power key, and a 2-stage camera shutter. The power key is easy to reach and having a camera shutter is a nice perk that few other phones have to offer, but the volume rocker could have been a bit larger and more clicky.
Display
The Sony Xperia Z1 Compact and the Xperia Z1 are strikingly similar on many levels, but their screens set them widely apart. And with more than just the obvious size difference, for that matter. On the larger Xperia Z1 we have a 5-inch Triluminos display, which is based on TFT LCD technology. Resolution is 1080 by 1920 pixels (441ppi), as it is now the norm for premium Android phones. With the Sony Xperia Z1 Compact we get a smaller, 4.3-inch screen with a resolution of "only" 720 by 1280 pixels, resulting in a pixel density of 342 ppi. What's more worthy of being pointed out, however, is that the screen is made using IPS technology – a first for Sony.
So at the end of the day, which phone has the better screen? Well, that's tough to say since both have their advantages and drawbacks. Looking at figures alone, the Sony Xperia Z1 has the upper hand, offering more pixels per inch of real estate than its smaller sibling. Images and graphics are clearer and more detailed as a result of that, and we won't be wrong if we say that the Xperia Z1 is the phone more suitable for browsing the web, playing games, watching video, and other kinds of multimedia-related activities. On the other hand, we must admit that the screen on the Sony Xperia Z1 Compact is more pleasant to look at thanks to its livelier colors and wider viewing angles. Not that we have anything against Sony's Triluminos tech, but the colors shown on the Z1 Compact's IPS screen are simply more accurate and more pleasing to the eye. To sum it all up, people who spend a lot of time actively using their smartphone would appreciate the extra space offered by the Xperia Z1's screen, but those who feel like going for the eye candy would be more satisfied with the Z1 Compact.
Outdoor visibility is excellent with both smartphones as their displays are perfectly usable even under broad daylight. That's mostly due to their high brightness output of around 500 nits. It also helps that their displays resist fingerprints well, unlike their glass backs, as we mentioned earlier.
A cool extra feature that you get with the Sony Xperia Z1 Compact is Glove mode, which you can activate when needed. It boosts the touchscreen's sensitivity enough for it to detect input through light fabrics, which allows one to, let's say, launch apps or pick up calls without taking their gloves off. In contrast, the Sony Xperia Z1 doesn't offer an extra-sensitive touchscreen.
Display measurements and quality
Recommended Stories