Sony Ericsson K810 Review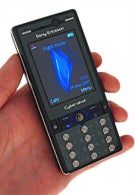 After the merger 5 years ago, the Swedish-Japanese joint-venture Sony Ericsson started to launch phones in all segments, thus staking its claim to enter into the 'big game' and to be among the leaders on the mobile phones market. A few generations of phones, one after the other have demonstrated innovativeness and reinforced the manufacture's advantages, becoming better and better year after year.
К800 was launched on the market in 2006 as a proud heir of К750 with a considerable upgrade of its multimedia features. К800 was largely assessed as a real cameraphone, and it was its manufacturer's idea to take a share of the portable digital camera's market, which it succeeded doing. К800 was evaluated as one of the top cameraphones in Europe and America and indisputably as the phone with the best flash, using the Xenon technology. К800 represented many innovations crammed in one.