Sony Ericsson Hazel Review
13

This is a global GSM phone, it can be used with AT&T and T-Mobile USA, but without 3G.

Introduction:
Sony Ericsson is one of the most environmentally-devoted manufacturers. The company has put together a nice green catalog now that even includes a smartphone, in the form of the
Sony Ericsson Aspen
. Some of the feature phones in the manufacturer's
GreenHeart
line though deserve some attention as well, and one such handset is the
Sony Ericsson Hazel
– an eco-friendly slider.
The Sony Ericsson Hazel is more of a traditional cell phone, as it lacks a touchscreen, but still offers some sweet goodies like a 5MP camera, Wi-Fi and social networking capabilities. What we should be more interested in here though is its outer shell, made of recycled plastics.
The compact box contains:
Sony Ericsson Hazel
User Manuals in several languages (strange, given those could be preloaded on the phone)
Stereo handsfree
Energy-efficient charger
Design:
The Hazel may have been executed from recycled plastics, but this has not left a negative impact on its feel whatsoever. To tell you the truth, we have not yet seen an eco phone made from such plastic that actually feels bad in the hand (see our Samsung Blue Earth Review, for example). The Hazel stays true to this tradition as it feels sturdy enough. Its sliding mechanism is also well-made as it snaps reassuringly into place every time you decide to open or close the handset.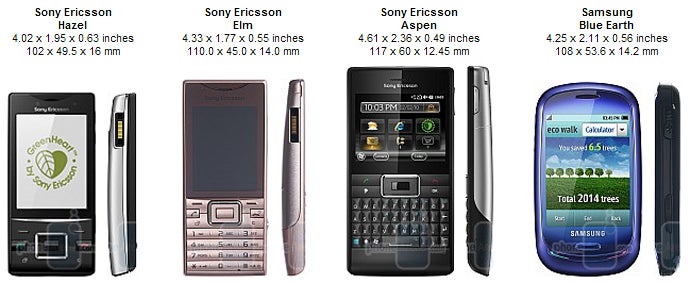 You can compare the Sony Ericsson Hazel with many other phones using our
Size Visualization Tool
.
Sony Ericsson's Hazel actually sits in the upper range of non-touch feature phones, in terms of specs. It sports a
2.6-inch TFT screen
with QVGA resolution and 16-million color support. Image quality is pretty good as long as you don't mind the 2.6-inch diagonal. It certainly gets the job done though, and presents you with a passable experience when outdoors, but you'll have to switch to a more contrasting theme if you want to be able to read those perky texts you receive without too much pressure on your eyes.
Below the screen
is where you'll find the two soft keys, d-pad, send and end buttons, as well multitasking and delete keys. All of these are decently-sized and allow for a relatively handy use of the device.
Sliding the Hazel open of course reveals the standard
12-key numpad
, which will also be your exclusive means of text input. Its keys are pretty much flush with the surface, but this doesn't mean that you won't be able to comfortably type with them, since they are of adequate size and can easily be distinguished by touch. Pressing them also feels nice, as their pronounced travel leaves no room for hesitation about whether or not the handset has registered your click.
Taking our usual trip around the sites of the phone, we find Sony Ericsson's proprietary charging port on the left, as well as the volume rocker and camera shutter on the right. We found those to be pretty usable too, except for the second stop of the camera key, which is quite stiff. Removing the plastic back cover will provide you access to the battery, SIM and microSD card slots. On the back sit the 5MP camera and LED flash, with the speaker grill found at the opposite end.
As we said, the Sony Ericsson Hazel feels pretty relaxing in the hand. It may not exude that premium level of craftsmanship that some high-end smartphones do, but it is still quite solid and good-looking.
Sony Ericsson Hazel 360 Degrees View: Recommended Stories