Sony Ericsson HBH-PV720 Review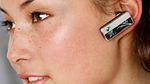 Introduction and Design:
The
Sony Ericsson HBH-PV720
is a fashionable and compact Bluetooth headset designed for those who value looks the most. But does that mean that it compromises quality for design? Not at all as we found the headset to deliver excellent quality in addition to its discreet modern looks. For those great many not wanting their inner geek to surface in weird wearable gadgets, the headset has a small size, while changing looks is easy with three different faceplates included in the package. And with the current price at around $50, looks are all the more affordable with this handset, so read on to find out all the details about its performance and changing faces.
Apart from the headset, the
package
includes a charger using the proprietary FastPort connector, two ear hooks, the three replaceable faceplates as well as a necklace and the user manual.
The first thing that you notice about the HBH-PV720 is its small dimensions – at just 2.7 x 0.6 inches the device is very small. It is equally lightweight at 0.35 ounces with a rectangular body, slightly curved around the edges, very elegant and pleasing to the eye. It complements the ear so well that you could easily wear it as an unconventional accessory. The three patterned faceplates will add some variety to the fashionable headset. In addition, you will also find a necklace for keeping the HBH-PV720 close.
On the negative side, however, we found that the earbud comes a bit too large and will not fit everyone's ear without the support of an ear hook. Using one of the two included earhooks the device fits lightly and securely in the ear. While we found the HBH-PV720 very comfortable for even longer use, we still wished we could wear it without the ear hook.
Smartly concealed, the
operational key
under the faceplate lets you take/end calls and it is the only button on the front side of the headset. The
right side
holds the volume rocker, which is somewhat small, but luckily you would rarely need to use it as the device comes with automatic volume control, which seems to do a great job in most cases. You might still need to pump up the volume in very loud environments, but in general use you might even forget about the volume controls.
The back side of the HBH-PV720 holds the
power button
, which is carved in the surface and hard to press. With that said, you should take into account that if you are not planning on switching devices often, you would rarely need to use it. Just below the power button, a light indicates the status of your device and its battery with different color notifications. Finally, on the very bottom you will find the microphone.
Recommended Stories