Scosche RS1060 Bluetooth Stereo Headphones Review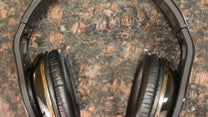 Introduction:
Media centric Bluetooth headphones have become all the rage, especially when companies like Beats Audio garner a lot of advertising dollars into marketing its portfolio. We've seen both the good and bad in the space, but it's the first time we're seeing something from accessory maker Scosche – the
RS1060 Bluetooth Stereo Headphones
to be exact. Yes, we know it's an uninspiring name to say the least, but it's not something we'll hark upon meticulously from this point on, since you know, it's all about the performance that matters the most in the end.
Design & Comfort:
Well, the Scosche RS1060 surely fooled us, as it seemed pretty sweet looking inside of it packaging. Just staring at the thing, it led us believe it was going to be a serious pair of over-the-ear styled headphones, but sadly, its inferior plastic construction makes it feel simply cheap in the end. At first glance, the design appears imposing from all angles, seeing that its ear cups are so massive looking. However, the glossy plastic tends to get dirty very quickly – thus, turning its once shiny façade into a magnet for smudges and fingerprints. Indeed, we appreciate the collapsible aspect of the design, but the hinges feel a bit on the brittle side, which doesn't necessarily help with its already shaky construction.
Despite the cheapish feel of the Scosche RS1060, we'll mention that it's super
comfy to wear
over our head. Adding plenty of support thanks to the viscoelastic memory foam and genuine leather material, there's an ample amount of cushioning found below the headband and around each ear cup to make it feel snug when worn. Even better, the 2-axis gimbal system incorporated into each ear cup enables it to adjust properly to accommodate our ears. Finally, when it's worn, it does a decent job of reducing background noise – albeit, it's not technically noise-cancelling.
Along the outer section of the
left ear cup
, there's just a single dedicated power button that's used to turn it on/off and put it into pairing mode. Meanwhile, all of its other controls are found on the
right ear cup
– these consists of separate buttons for volume up, volume down, and pause/play. With the latter, it's actually a multi-functional button that can also pickup/reject phone calls, and act as forward/reverse functions by double/triple pressing on it. Perhaps, it would've been a better idea to have dedicated button for forward/reverse, but at least the function is available directly from the RS1060 – as opposed to strictly relying on our smartphones/devices. Finally, we find its microUSB port, LED light, and microphone outlining the
bottom edge
of the right ear cup. Aside from going with the usual wireless Bluetooth connection, we're pumped to also find a 3.5mm port on it as well for a wired connection.
Recommended Stories