Samsung Galaxy S20 Ultra vs Apple iPhone 11 Pro Max: clash of the titans
20
We may earn a commission if you make a purchase from the links on this page.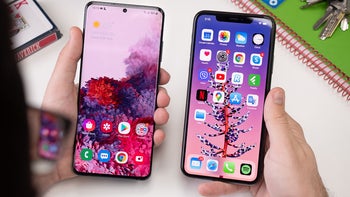 Update:

The newest flagship smartphones by Samsung are now joining us! Check out how the Galaxy S21 Ultra compares to the iPhone 12 Pro Max in our comparison of the Galaxy S21 Ultra vs iPhone 12 Pro Max.
##

Samsung's latest flagship trio shows that — despite the smartphone market stagnating — the company has absolutely no intention of slowing down or changing trajectory. The Galaxy S20 phones are absolute powerhouses and their price tags show that Sammy is not interested in compromising.
At the top there is the Galaxy S20 Ultra 5G — big, bad, menacing, the king that other phones will dream of toppling over. Against it, of course, we have another titan of the smartphone industry — the iPhone 11 Pro Max, Apple's cream-of-the-crop handset.
Let's throw them in the arena, shall we?
Summary
These two phones are absolute powerhouses that represent different ideologies and ecosystems. Which one do you go for: the iPhone 11 Pro Max or the Galaxy S20 Ultra?
You can rest assured that if you are going to be dropping the amount of cash each asks for, you will be getting a premium handset with curring edge tech crammed in it. There are subtleties to consider, and different areas each one excels in — the question is, what does one want more of?
Of course, there is also the question of the surrounding ecosystem. A mobile tech purchase is not just about the phones anymore. It's about the apps, the accessories, the wearables, appliances, and services that surround them. It's about you and your personal tech lifestyle.
Want to pick the phone that's going to be the centerpiece of your tech ecosystem? One of these two can very well be the choice for you.
Buy Samsung Galaxy S20 Ultra 5G from:
Buy Apple iPhone 11 Pro Max from:
Design and display
We've got two competing philosophies here — and Apple loves to play the traditionalist. When it comes up with a smartphone design, it tends to stick with it for about 3-4 generations before reinventing it. So, the iPhone 11 Pro Max looks a lot like a big iPhone X from 3 years ago, only with an offensively big camera module on the back. On one hand, it's nothing fresh; on the other — it's still a solid, instantly recognizable design that fits well if you are used to iPhones. It also comes in the classic gray and silver, but also in gold and green if you want your handset to pop out a bit. A matte glass on the back takes care of a gripe we've had for years — the iPhone 11 Pro Max doesn't show so much fingerprint grease on the back panel, which many will welcome.
Samsung will always try something new — squeeze the bezels a bit more, change up the camera module location, play with the curvature of the screen edges. The Galaxy S20 Ultra absolutely has a signature Samsung look, but also carries that "future tech" feel with its super-slim bezels around a gargantuan screen. Also, edge screen naysayers will be happy to know that Samsung has chosen to de-emphasize the curve, making the arch much less prominent and intrusive. Essentially, the S20 Ultra almost feels like a flat-screened phone, but retains the high tech looks of an edge display.
I am a bit disappointed in the color choices — the super-expensive Galaxy S20 Ultra is available in vibrant black or refreshing gray. The huge camera module on the back doesn't do it any favors, too. One can certainly learn to like the S20 Ultra, but it's not really the prettiest phone at first glance.
Both of these phones are chunky for sure. The iPhone 11 Pro Max is 0.32 in (8.1 mm) thick and the Galaxy S20 Ultra is 0.35 in (8.8 mm) thick, and both weigh about the same — 7.97 oz (226 g) for the iPhone and 7.83 oz (222 g) for the Galaxy. These are not phones that you just pocket and ignore — they are there for the heavy users that don't mind some added heft in return for big batteries, big screens, and the best in smartphone camera tech.
When it comes to screens, both companies are at the top of their game. Well, to be fair, the iPhone 11 Pro displays are made by Samsung but calibrated to Apple's spec. They are warm and pleasant on the eye with accurate colors and great viewing angles. On the iPhone, you don't get to customize color profiles, but you do get Night Shift, which filters out blues so it's easier on the eyes at night. On Samsung's side, you do get a choice between two color profiles — one with more punchy, OLED-signature vibrant colors, and one that's more down to earth, tamed, and accurate. Sammy has its own Blue light filter on board, too.
Both screens are up there in sharpness. The iPhone 11 Pro Max has a resolution of 1242 x 2688 pixels, which makes for a pixels-per-inch ratio of 456. The Galaxy S20 Ultra cranks that up to 1440 x 3200 pixels with a PPI of 509. Rest assured, both are extremely sharp and detailed.
Of course, Samsung has a new feature up its sleeve — the 120 Hz refresh rate "Motion smoothness" mode, which makes animations su-u-uper slick and smooth. One caveat, though — if you activate Motion smoothness, you need to set the display resolution down to 1080 x 2400. Still not a big deal, but purists won't be happy. Allegedly, Samsung will allow the phone to do 120Hz at QHD resolution with an upcoming patch.
So, who wins? Both designs have their strengths — the iPhone 11 Pro Max looks classy, the S20 Ultra has that "spaceship from the future" vibe. It would've been cool to see more color options on the latter, though. Both phones are a bit chunky, but definitely feel like a premium object in the hand. Both screens are incredible, but the S20 Ultra is slightly larger and gives you that 120 Hz refresh rate, which is honestly addictive.
Camera and audio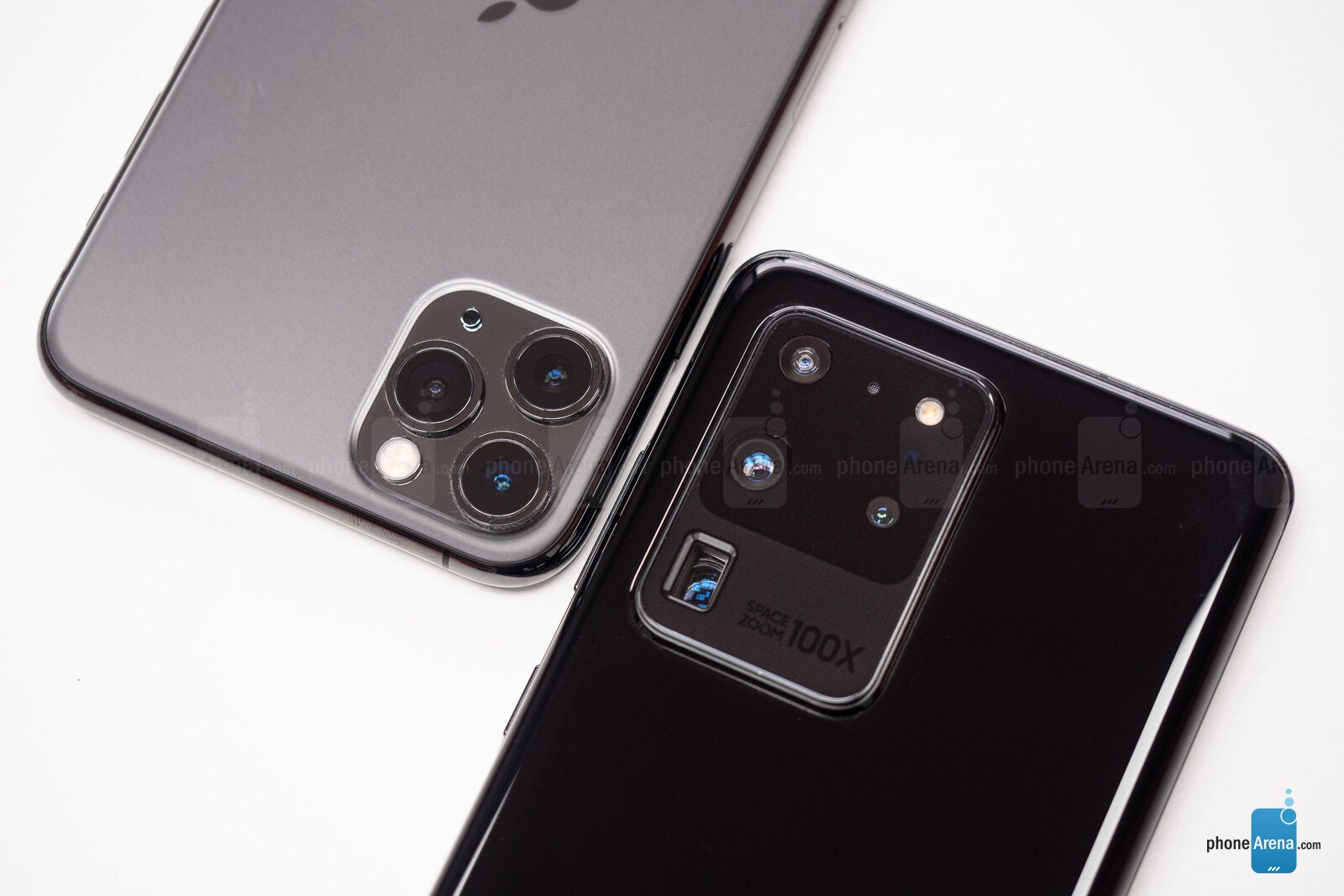 Let's get to the meat of it — these phones were touted and are being sold as incredible, best-in-class cameraphones. And they truly do not disappoint.
The text on the specs sheets say the iPhone 11 Pro Max a trio of 12 MP cameras — a wide-angle, ultra-wide-angle, and a telephoto cam with 2x optical zoom. Capable of recording 4K video at up to 60 FPS or 1080p video at up to 240 FPS.
The Galaxy S20 Ultra, as we all know, goes just a bit over the top with its specs — a 108 MP main wide camera, a 48 MP secondary camera with up to 4x optical zoom (up to 100x digitally), and a 12 MP ultra-wide-angle one. On top of 240 FPS at 1080p and 60 FPS at 4K, this one can record 8K video at the cinematic 24 FPS.
So, how do the cameras compare in actual performance? Here goes:
The iPhone traditionally leans towards warmer white balance and this stands true for the iPhone 11 Pro Max. When looking at the photos side by side, you can sometimes spot that the Galaxy S20 Ultra pictures come out slightly colder. Neither thing is better or worse — it's pretty much personal preference here.
< S20 Ultra
iPhone 11 Pro Max >
The Galaxy S20 Ultra often tries to take bright and well-exposed shots, which makes the pictures easy to view without the need to go into an editor and boost the brightness. The bad side of this is that it may sometimes burn highlights — something you can't fix in post-processing. The iPhone 11 Pro Max keeps exposure down, making shots look more dramatic, with more contrast. On the flipside, this can make some compositions appear dark or dull unless you go in the editor for a quick brilliance boost.
Both phones have crazy advanced HDR algorithms. Sometimes you can get annoying HDR ghosting effects on either one of them. But most of the time, it's just mind-boggling how well both the iPhone and the Galaxy deal with dynamic scenes.
< S20 Ultra
iPhone 11 Pro Max >
The same goes for details — both phones give us some truly detailed shots, where you can pixel-peep to your heart's content. The Galaxy does lean towards oversharpening a bit too much sometimes, but on the other hand, the iPhone 11 Pro Max can sometimes fuzz up or flatten some details. These are just nitpicks, in general, both devices are killing it.
< S20 Ultra
iPhone 11 Pro Max >
When it comes to zooming in, the S20 Ultra is an undisputed king. 4x optical zoom, 10x hybrid zoom, and 100x digital zoom with pretty respectable sharpness. The iPhone can only go up to 10x digital zoom and it already looks more grainy than the Galaxy S20 Ultra's 10x. No contest.
< S20 Ultra 10x zoom
iPhone 11 Pro Max 10x zoom >
The ultra-wide-angle cameras of both phones are tuned to provide the same color balance as their main cameras. They are very fun to play around with — take epic landscape shots or record action videos with lots of movement.
< S20 Ultra
iPhone 11 Pro Max >
Portraits (Portrait Mode or Live Focus) taken with the phones look pretty cool. Both have systems in place to detect object sizes, edges, and depth of field. Hair, fur, glass frames, or vegetation in the background can still sometimes be a challenge. The Galaxy S20 Ultra does slightly better at separating the subject from the background, while the iPhone still tends to "eat away" strands of hair more often than we would like it to.
< S20 Ultra
iPhone 11 Pro Max >
On the video front, we've got slightly differing philosophies again. You will notice that the clips from the Samsung seem to be a bit darker. However, the colors are more accurate — upon reviewing the clips, I'd say the color of the ground and grass looks a lot more realistic on the Samsung videos.
The iPhone's clips are brighter and more pleasant to watch on first viewing. But when put side by side, it looks like the iPhone videos' dynamics are bit squished and the colors are a bit duller. Also, Samsung's Super Steady OIS definitely gave us better-stabilized clips.
Software and performance
We've got two phones that are the absolute cream of the crop. The Galaxy S20 Ultra is powered by the newest, the meanest, the best — Qualcomm Snapdragon 865 ticking at 2.84 GHz. With a minimum of 12 GB of RAM on board, it's super-charged for performance and pushes Android 10 with One UI 2.0 with absolute ease. It's also ready for the hottest games and apps from the Play Store right now.
The iPhone 11 Pro Max is absolutely no slouch either. The widely-praised A13 Bionic processor is an absolute powerhouse and iOS, being optimized to run on Apple hardware, is as smooth as always.
On the hardware front, both phones are titans. So, the main differences will come with software experience and personal preferences.
Android is much more prone to multi-task — whether you want apps to be running in the background or in split-screen. In fact, it loves to fill up the smartphone's available RAM as quick as it can. And Samsung's One UI further emphasizes on multitasking with floating windows, notification bubbles, picture-in-picture, and interactive overlays (Edge panels).
Apple's iPhones have always been about "focusing on one thing". Forget about PiP, forget about split-screen, background apps are usually kept in a frozen state until you swap to them. That's not necessarily bad but is one of the main gripes powerusers have had with the iPhone for a while now. A recent rumor suggested that iOS 14 might finally bring split-screen to the big iPhones (hey, the iPad can do it), but it's still just a rumor.
When it comes to everyday unlocking of the phone, the fingerprint scanner of the Galaxy S20 Ultra is definitely an annoyance to deal with — the ultrasonic tech may be super secure, but it's sometimes not very accurate. Half the time, you need to re-scan your finger, because the phone didn't pick it up the first time. Face ID on the iPhone is extremely fast and accurate.
Of course, there's the eternal question about customization. Android lets you swap themes, icon packs, and arrange your home screen however you please. The iPhone still pretty much only lets you swap a wallpaper.
The walled garden versus the world
Both sides have extremely rich app ecosystems. Samsung benefits from having both the Android Play Store and the Samsung Galaxy Store, though you will very rarely visit the latter. Apple's App Store still benefits from being the primary choice for plenty of developers — very often, you will see a hot game or app hit the App Store first before being ported for Android. Though, this "lag" time is getting shorter and shorter by the year.
iOS is still in the lead when it comes to artists and creatives — there is a ton of musician apps and video editors on the App Store. Yes, Android also has video editors, but they are still not as robust — for example, you can only get one video editor that supports keyframes for Android and that app is a blatant ripoff of Enlight Videoleap for iOS.
But when it comes to document-based productivity, file sharing, or even gaming, the Galaxy S20 Ultra can have an edge thanks to its multitasking and the fact that Android is friendlier towards 3rd party services. For example — GeForce Now.
Yeah, the iPhone does finally have a file system… well, sort of. But it's still notorious for being a pain when it comes to freely sharing files and documents — especially if you are not committed to the Apple ecosystem and are using a Windows PC instead.
So, benefits and drawbacks. Apple's stuff works great with Apple hardware, but you are limited when it comes to going 3rd party. Android is super open, which is cool, but sometimes introduces weird problems because developers and manufacturers can't possibly account for dozens of factors being combined together.
Battery Life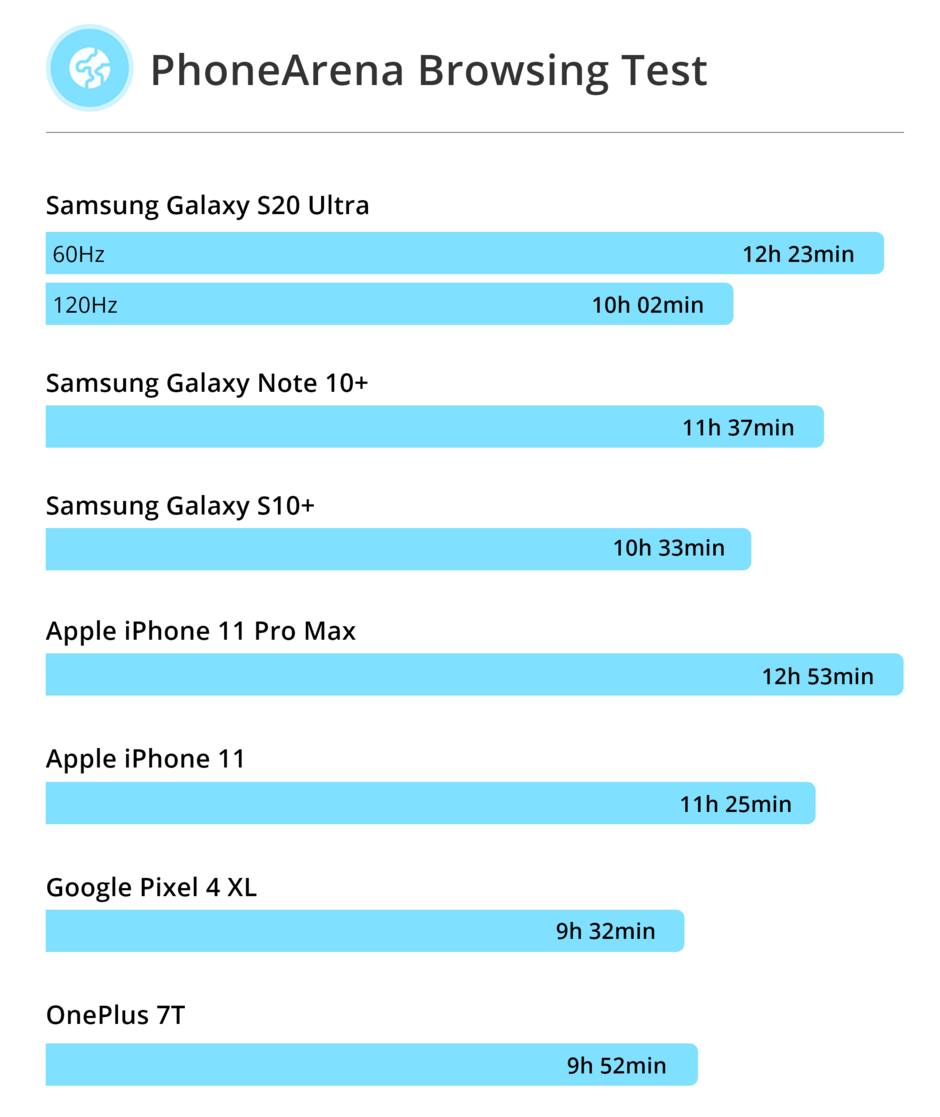 Samsung is known for packing huge batteries in its phones, but the Galaxy S20 Ultra absolutely takes the cake with a huge, 5,000 mAh cell. That's the capacity of a medium-sized powerbank, all crammed into the phone. Rest assured, it can take a poweruser through a day. Plus, it tops up in an hour of charging time.
The iPhone 11 Pro Max also fulfilled users' wishes by packing a big battery. Its 3,969 mAh cell lasted for more than 12 hours in our test. We've found that 3D gaming will still drain the iPhone faster than the Galaxy, though. So, moderate usage of the iPhone 11 Pro Max can still get you 2 days of use, but if you find yourself launching more intense apps often, you will need that daily charge. It takes twice the time for the iPhone 11 Pro Max to charge, though — 2 hours clean.