Samsung Corby S3650 Review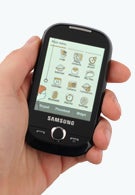 This is a global GSM/EDGE phone. It can be used with AT&T and T-Mobile USA

Introduction and Design:
Tattoo
by ordering unique back panel or as it is in the case of the
Nexus One
, you´re presented with the opportunity to have the back of your new cell phone engraved to your own taste. The handset that we are going to introduce in this review is the forefather of Samsung´s youthful series, the Corby S3650. Regardless of whether or not it´s the replaceable panels or something else that has helped the handset to gain serious popularity, the truth is more than 3 million units have been sold in the first three months on the market.
As a whole, the
Samsung Corby S3650
stakes on motley colours to attract the attention of youngsters, but the box also contains a black
panel
that we happen to like a lot, since it creates an enjoyable colour contrast against the buttons located on either side. Aside from the one that comes boxed, the manufacturer also offers many that
can be additionally purchased
and we have to say some of them are truly spectacular to look at, just keep in mind that the overall appearance of the buttons on either side of the phone cannot be altered, meaning you better take the fact into consideration when picking out a panel to your own liking. While we´re at it, we need to point out the mentioned buttons feature quite a pleasing travel and we didn't encounter any issues with any of them. Unfortunately, the Samsung Corby doesn't come with standard ports and is charged via the manufacturer´s proprietary connector that you can also use to plug in a pair of headphones – the USB cable is conspicuous in its absence, but it´s a good thing the box contains an adapter to 3.5mm jack to help you to easily connect an earphone set.
One of the cool aspects of the Samsung Corby S3650 is the handset integrates
capacitive display
. It measures 2.8 inches, has QVGA native resolution and all told, although it doesn't exactly offer image quality that can be referred to as out of this world, it features truly proper sensitivity, so using it feels really enjoyable. The device is quite compact, albeit not nearly as much as the
LG Pop GD510
.
You can compare the Samsung Corby S3650 with many other phones using our
Size Visualization Tool
.
As a whole, the Samsung Corby S3650 is a likeable and compact model, designed with kids and youngsters in mind. We do like the fact that, while it´s an affordable handset, it doesn't feel cheap in your hand. The option to easily alter its overall look makes for a nice extra feature as well.
Samsung Corby S3650 360 Degrees View: