Plantronics Marque 2 Review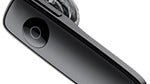 Introduction:
Who wants complication, right? Some people might relish over the comprehensive set of features found with today's modern Bluetooth headsets, but for those looking to get the basics without forking over their life savings, the
Plantronics Marque 2
aims to please the masses with its duty of being an entry-level headset. Brandishing a $59.99 cost, let's hope that this no-fluffs Bluetooth headset doesn't compromise in the quality department.
Design and Comfort:
When you're aiming to target the entry-level segment, design isn't something that's particularly high on the totem pole. Low and behold folks, that's exactly what we see with the Plantronics Marque 2. Going forward with a compact minimalist design with its elongated shape, the headset looks exactly like, you know, a headset! Sorry folks, there's nothing necessarily exciting with this one, but at least it's lightweight thanks to its all-plastic construction. Fortunately, the clean finish of the casing manages to do a wonderful job in repelling fingerprints and smudges – so there's no worry about it getting dirty.
The Plantronics Marque 2 feels extremely comfortable when worn. Indeed, it comes included with a plastic ear hook, but in all honesty, the
flexible silicone eartips
are strong enough to stay firmly in our ear – and that's without feeling too irritating during prolonged usage! Throw in the fact that it's lightweight, we barely notice that we're even wearing it at times. And if you're afraid about this one coming off if you somehow decide to do some head bobbing action at a concert, you won't have to worry one bit since it's pretty much staying put in your ear
On the façade
of the Plantronics Marque 2, there's a recessed multi-function button that allows us to pickup/end calls with a single press, and access voice assistant services by long pressing. Sure it's recessed, but at least the feedback is good when pressed. Nearby, there's also a small LED notification light to indicate it's turned on and connected.
Along one side
of the headset, there's a switch that allows us to easily turn on/off the headset – while on the other, there's a raised button that enables us to cycle through the volume levels. Certainly, we would've preferred separate controls for that, but we can't complain too much about it, since as we know, this is an entry-model we're dealing with. Finally, a microUSB port rests solely by itself on the backside, which allows us to charge its internal battery.
Software Features:
Testing out the Plantronics Marque 2 with a Samsung Galaxy S III, we downloaded the free
Plantronics MyHeadset app
. Now if you happen to use an Android 3.0 & up device, it's nice that the headset's battery life and remaining talk time are displayed in the notifications panel. Interestingly, it also supports the neat feature of allowing us to easily track down the headset if we misplace it somewhere nearby. However, it's accessible by using yet another
app
– the
Plantronics Find MyHeadset
. Seriously, it's nice that we're given all of these tertiary features, but it would've been better if they were all incorporated into one single app, as opposed to two separate ones.
In its quest to provide us with an ample hands-free experience the Plantronics Marque 2 makes it super easy to accept or reject calls. Of course, we can naturally press the multi-function button to execute the task, but even simpler, we can merely say "answer" to pick up the call. A standard in this day and age, it supports multipoint technology to enable two devices to connect to it. Overall, the features set of the headset are nice, but it's nothing too comprehensive.
Recommended Stories