OnePlus 8 Pro vs OnePlus 8
5
We may earn a commission if you make a purchase from the links on this page.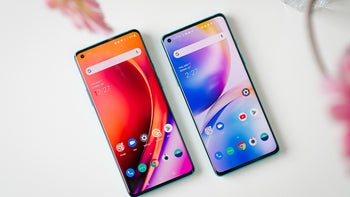 The OnePlus 8 and OnePlus 8 Pro are incredibly similar phones — with beautiful screens, top-tier hardware, and snappy performance. The main difference between the two, apart from the size, is the camera performance. As suggested by the name, the 8 Pro has the better camera and a bigger screen.
But is that worth a $200 premium? That's very much up to the individual. In my humble opinion, one shouldn't gloss over the regular OnePlus 8 and go straight for the Pro. The smaller sibling can definitely stand on its own two feet, despite having some corners cut, and its competitive pricing makes it a very lucrative offer indeed.
Design and display
OK, so the OnePlus 8 Pro has this huge, 6.8-inch AMOLED screen, and a poweruser might go thinking "Yeah, that's what I need!". But, in reality, the regular OnePlus 8's display is only a bit smaller, measuring at 6.5 inches.
Beyond their size, they also differ in how their sides curve towards the bezel. The OnePlus 8 Pro has a very pronounced, dramatic curve, while the OnePlus 8 is only slightly curved. In other words, if you are not a fan of the arched edges, the OnePlus 8 will fit you a bit better.
The screens themselves are equally beautiful — OnePlus didn't skimp on anything here. Both are AMOLED panels with accurate colors and high brightness capabilities. The OnePlus 8 can go up to a 90 Hz refresh rate, while the Pro dials it up to 120 Hz.
If I really squint my eyes and scroll through homescreens repeatedly, I can see a tiny difference between 90 Hz and 120 Hz. But, in all honesty, once you go beyond 60, you get that "buttery smooth" effect, so you will probably be perfectly content with that 90 Hz refresh.
Both displays have a ton of color profiles and sliders to adjust to your liking, but the OnePlus 8 Pro does have one option extra — Comfort Tone. Much like an iPhone's "True Tone", it will analyze your ambient lighting and set the screen's temperature to a more suitable, pleasing level.
The OnePlus 8 Pro has a more sophisticated camera module and a slightly bigger battery. This all results in more bulk and heft in the body — it basically feels more like a "two hand phone" than the OnePlus 8, which lends itself to one-handed usage better.
Display measurements and quality
Camera and audio
The camera specs and performance is where the biggest differences between the two phones lie. The OnePlus 8 Pro has a 48 MP main camera, a 48 MP ultra-wide camera, and an 8 MP 3x telephoto camera, and a weird curveball called a photochrom (or color filter) camera. The OnePlus 8 also has a 48 MP main sensor, but its ultra-wide camera has a 12 MP resolution, and there's no telephoto on board. Instead, we get a 2 MP macro camera.
When it comes to image quality — yes, the OnePlus 8 Pro is generally better. During the day, the regular 8 will sometimes oversaturate colors or skew them off by a little bit. During the night, the OnePlus 8 Pro consistently performs better, hands down.
The telephoto camera on the Pro makes for better portraits — you get that optical zoom to really get in on the subject, there is no lens distortion, and separation is great. It does need some adjustments to contrast and exposure — hopefully, OnePlus keeps updating its camera software. The OnePlus 8 will use a 2x digital zoom for portraits and they turn out pretty average, with skewed colors and not-so-great background separation.
For selfies, however, both phones seem to use the same 16 MP camera. They perform pretty much the same — great, sharp details, great exposure and HDR, but they sometimes miss getting the right skin tone.


In other words, if camera is your main and primary focus, maybe spending the extra $200 for the OnePlus 8 Pro might make sense to you. If you are happy with a "good enough" camera, the OnePlus 8 will do just fine.
Both phones have a stereo speaker setup, utilizing the earpiece and a bottom-firing driver. They sound pretty identical to my ears — they are very loud, very detailed, and don't distort, which is great. I do wish they had just a bit more "meat" around the bass.
Software and performance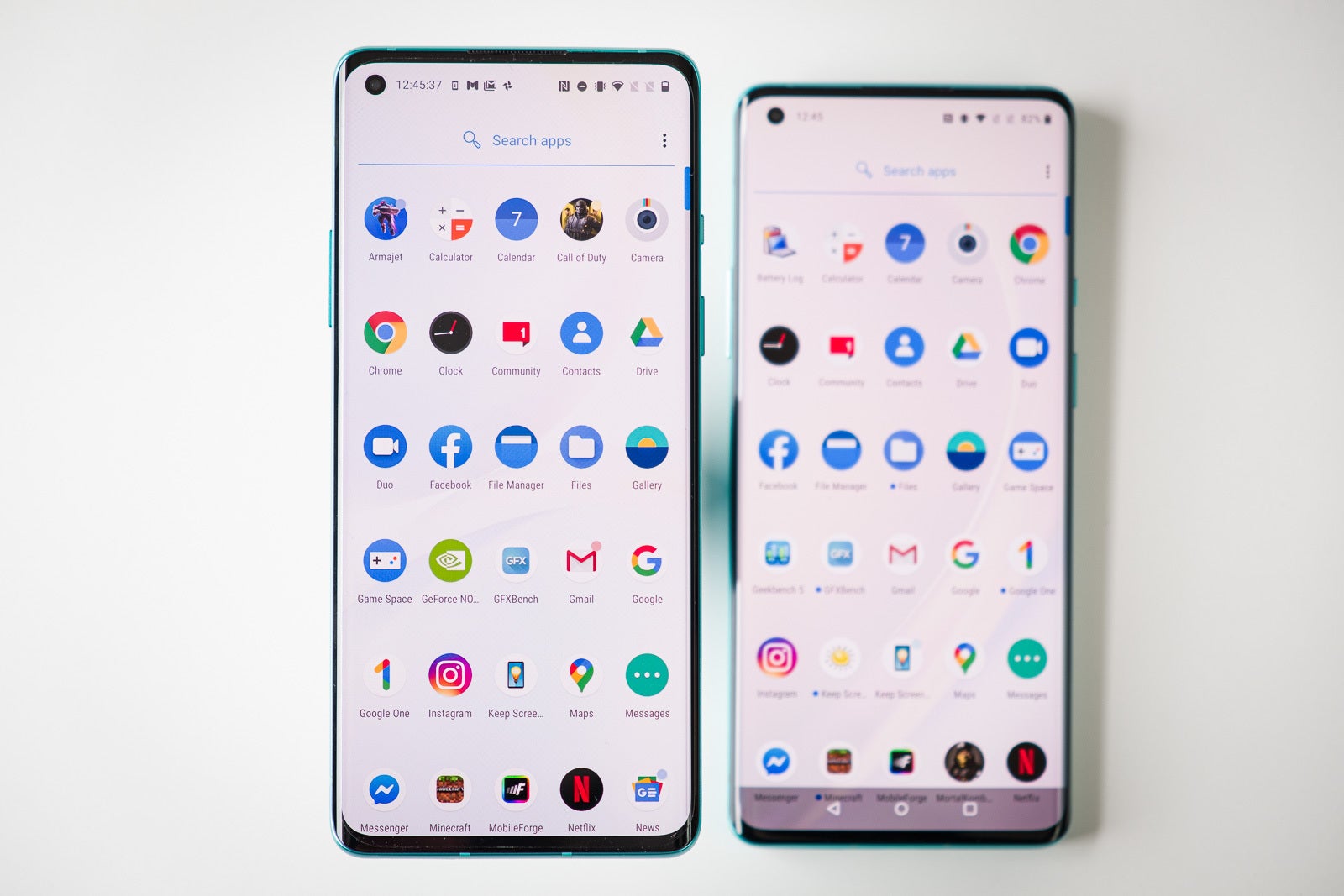 You will get pretty much identical user experience on both phones. They ship with Android 10 with OnePlus' proprietary interface — OxygenOS — on top. It's a very efficient reskin which doesn't add a lot of bloat, runs snappy fast, and is a pleasure to operate.
Both phones are powered by the Snapdragon 865, both start with 8 GB of RAM at their lowest tier. Take note, however, that the OnePlus 8 uses LPDDR4, while the Pro has LPDDR5 chips. In reality, we didn't notice any one phone to be decisively faster.
In-screen fingerprint scanners perform equally fast, software updates get pushed at the same time for both devices, and storage options are the same for both — 128 GB or 256 GB. So, don't worry, the OnePlus 8 hasn't been crippled here in favor of the Pro. OnePlus still wants to proudly put out super-fast phones, even at the lower tier.
And yes, both phones are ready for the 5G era.
Battery life
Even in terms of battery life, the two phones perform similarly. The regular OnePlus 8 has a 4,300 mAh cell and the Pro gets a slightly larger one — 4,510 mAh. However, that bigger battery still needs to power a bigger screen, so in the end — things even out. Through our different tests, the OnePlus 8 would perform better in some tasks like browsing, while the 8 Pro would do better while gaming.
In general, however, don't sweat — you have a full day of usage here. And both phones support Warp Charging, which will give you 40% of battery in 20 minutes or 100% in an hour.
The OnePlus 8 Pro one-ups its smaller sibling here with wireless charging support — put it on any Qi mat to get power. Or get the proprietary OnePlus Warp Charge 30 wireless charger and you can get 50% of power in just half an hour — pretty impressive.
OnePlus 8 Pros
Smaller, lighter, easier to use with one hand
Flatter display curve, less accidental screen taps
OnePlus 8 Pro Pros
Better camera overall
Fast wireless charging