Nokia Steel HR smartwatch Review
9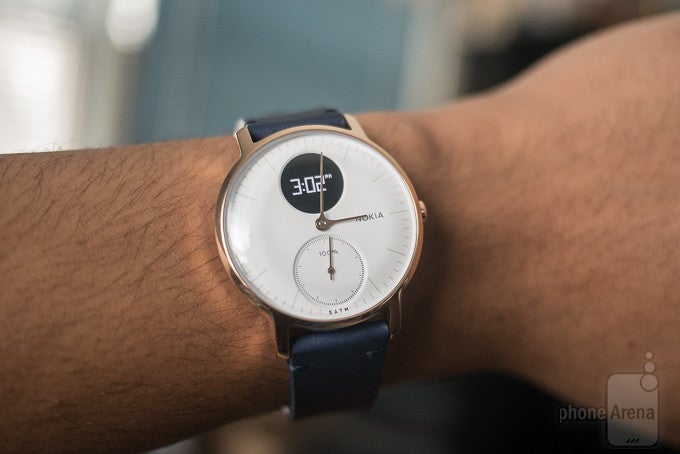 Nokia's been generating a lot of buzz in the past year with the resurgence of their phone brand, helmed by HMD global. Quietly, Nokia Health – still headed by Nokia – has released a small range of health products. Among them is the Nokia Steel HR, a stylish, classy hybrid smartwatch with the ability to track sleep, runs, swims and more. No GPS is on board, but the HR, as the name suggests, has a heart rate monitor, as well as the ability to receive smartphone notifications. We took the Nokia Steel HR on our physical and casual journeys to see if this $180 device nails the hybrid smartwatch with the good looks and functionality Nokia's promised.
Design
Good looks? Check.
The Nokia Steel HR comes in two sizes, 36mm and 40mm. While the watch face itself is identical in size and function on both variants, the larger model has a thicker bezel and thus appears more masculine, while the smaller is more elegant and could be seen as the more feminine option. In any case, Nokia delivers a nice look, no matter what size you select.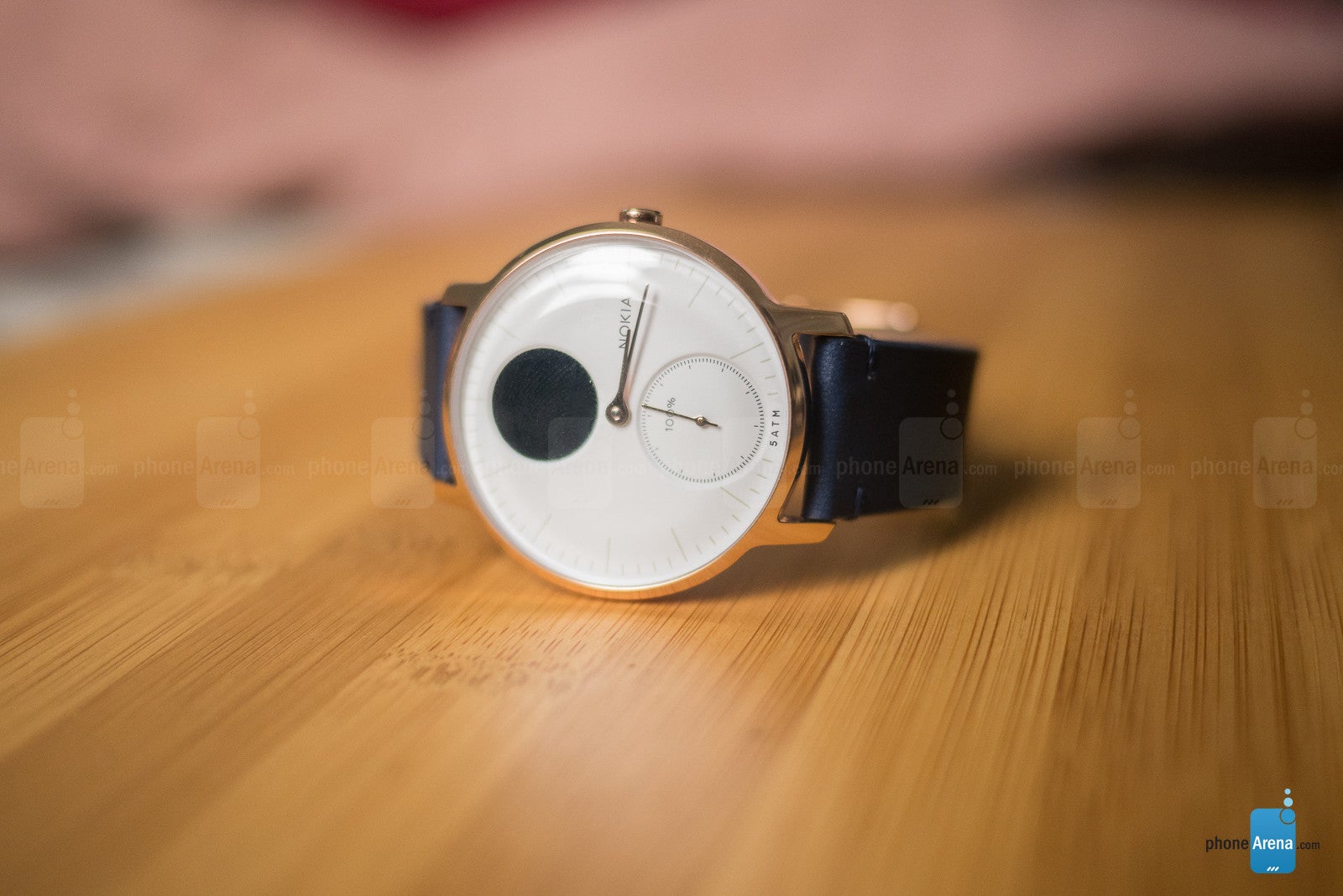 The 40mm model only comes in silver, while the 36mm one can be had in silver or rose gold. Rose gold will cost you an extra $40, though. Both Nokia Steel HR variants give the option for either a white or black watch face, so variety and individuality aren't lacking.
The 36mm and 40mm Steel HR sizes use 18mm and 20mm watch bands, respectively, so finding replacements for either should be no worry. A wider variety of watch bands for the smaller model is available on the Nokia website – options include leather, silicone, and woven straps.
As mentioned, the Steel HR utilizes a hybrid smartwatch design, integrating a small circular OLED screen as though it were a complication in the watch's face. Below it lies a mechanical complication which shows your progress towards the day's step goal. All of this is integrated beautifully, maintaining an elegant watch look, while also throwing in 5 ATM waterproofing to sweeten the deal.
Display and controls
The OLED screen on the Nokia Steel HR will display names for incoming calls, calendar notifications, and reminders in a scrolling fashion. It will also display the sender of an incoming text, though it won't show the text message itself. No other app notifications come through on the Steel HR's display, which some may appreciate as a sort of filter, but may cause others some consternation. In any case, the text you do see is bright, sharp, and easy to read in most any light.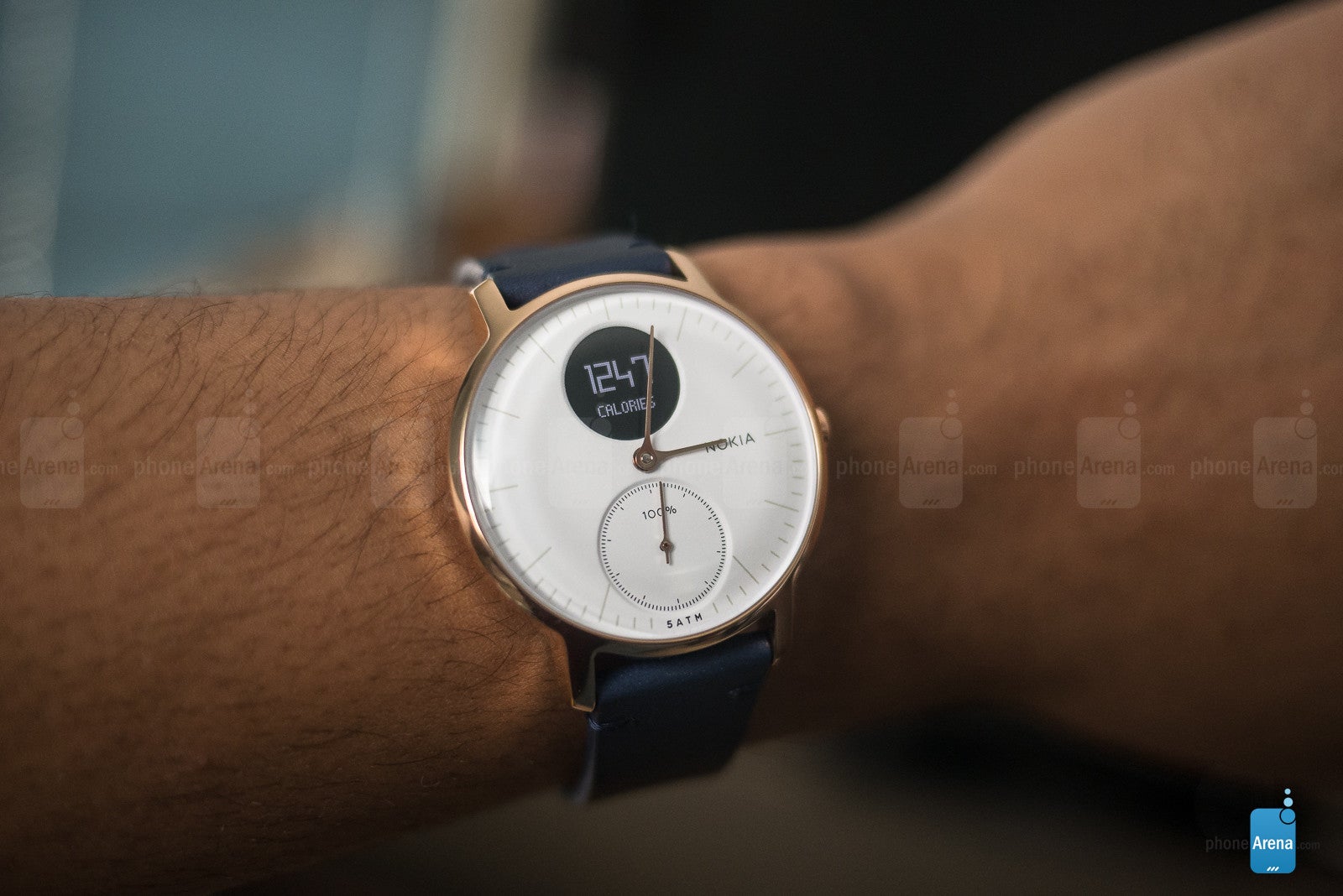 The watch has no controls beyond its "dial" which simply functions as a button to cycle through a handful of quick data bits. These can include the date and time, battery, alarm, calories burned, heart rate, steps, and distance. They can also be chosen and organized within the watches companion app.
Companion App
The Nokia Health app assists in setting up the Nokia Steel HR and is compatible with Android and iOS. After setup, the Health app becomes your main control center and activity tracking dashboard. Being a hybrid smartwatch, control of the Steel HR is limited here as well but provides a way to set the time (which adjusts automatically as you change time zones afterwards), control which notifications are displayed, and set your watches silent alarm.
The Health app, of course, wouldn't be very healthy if it didn't lend insights to your health. On the main screen, you can scroll through a feed which details day-to-day activity of present and past. This includes step count, average heart rate, and sleep data; each of these can be tapped to view deeper information. For instance, tapping on step count will lend you further insight on how many calories you burned, as well as what other activities were tracked, manually or otherwise. All of these are tracked with heart rate data; additional activities, which the watch may have missed, can be added manually, sans heart rate information.
Activity tracking
There are 36 different activities you can manually log into your daily tracking, which is a fact we're quite happy with. Automatic tracking won't guess your activity, though, but rather register and log the increased activity and ask you to specify what it was when completed. These activities can range from surfing and boxing to Zumba and ice skating, and much more – the point of logging being to track calories burned, which the app determines based on the length and intensity of the workout.
Automatic tracking was a bit generous sometimes, though, telling us we'd been extra active when in fact we hadn't. Unfortunately, there's no way to turn off this automatic tracking, but such occurrences are infrequent enough, and deleting them is easy enough that we're not too upset about it. Otherwise, manually logging physical activity and learning an estimation of calories burned is a cinch.
Sleep tracking
Sleep tracking gives you similar insights with the Steel HR's automatic sleep detection. Sessions can't be logged after the fact, but those picked up by your watch will tell you the duration of your sleep, as well as the cycles you went through, but only categorizes them as light sleep, deep sleep, or awake. Unfortunately, no distinction is made identifying REM sleep, specifically.
Of course, your heart rate is tracked during your slumber as well. Unlike other activities, the sleep tracking portion of the app does have some resources for you to learn about getting better sleep, but personalized feedback doesn't exist for any activities, unless you've enrolled in one of the apps health programs. The Health app does email you weekly recaps though, which simply show whether you've been reaching your sleep and activity goals.
Health Programs and App Compatibility
Health programs within the app set days- or weeks-long regimens for you to follow in order improve a certain aspect of your health. These are all free, but most require devices beyond your Nokia Steel HR smartwatch. As one might guess, these are Nokia branded devices like scales and blood pressure monitors. Programs like "Sleep Smarter", fortunately, only require the Steel HR or a similar Nokia wrist tracker. Such programs will help set schedules for you and give insight to your sleeping habits (or other activities, depending on the program) in order to improve your health. Other programs include a pregnancy tracker, one that gets your body in better shape, one designed to improve your heart health, and one named Leaderboard which adds a social challenge aspect to your exercise.
While we love the addition of regimens for better health and tailored advice within, we'd love it even more if there were more than five programs to choose from. Fitness trackers like Fitbit and smartwatches like Samsung's Gear series all offer full-fledged workout programs, some free and some paid, and although we don't expect as comprehensive a library as those found in non-hybrid-smartwatch wearables, we would like to see this section of the Nokia Health app do some expanding.
We are happy to see some data sharing options, though. The Health app can sync information with Apple Healthkit, MyFitnessPal, Nike+, and RunKeeper, helping to keep all your information centralized and up to date.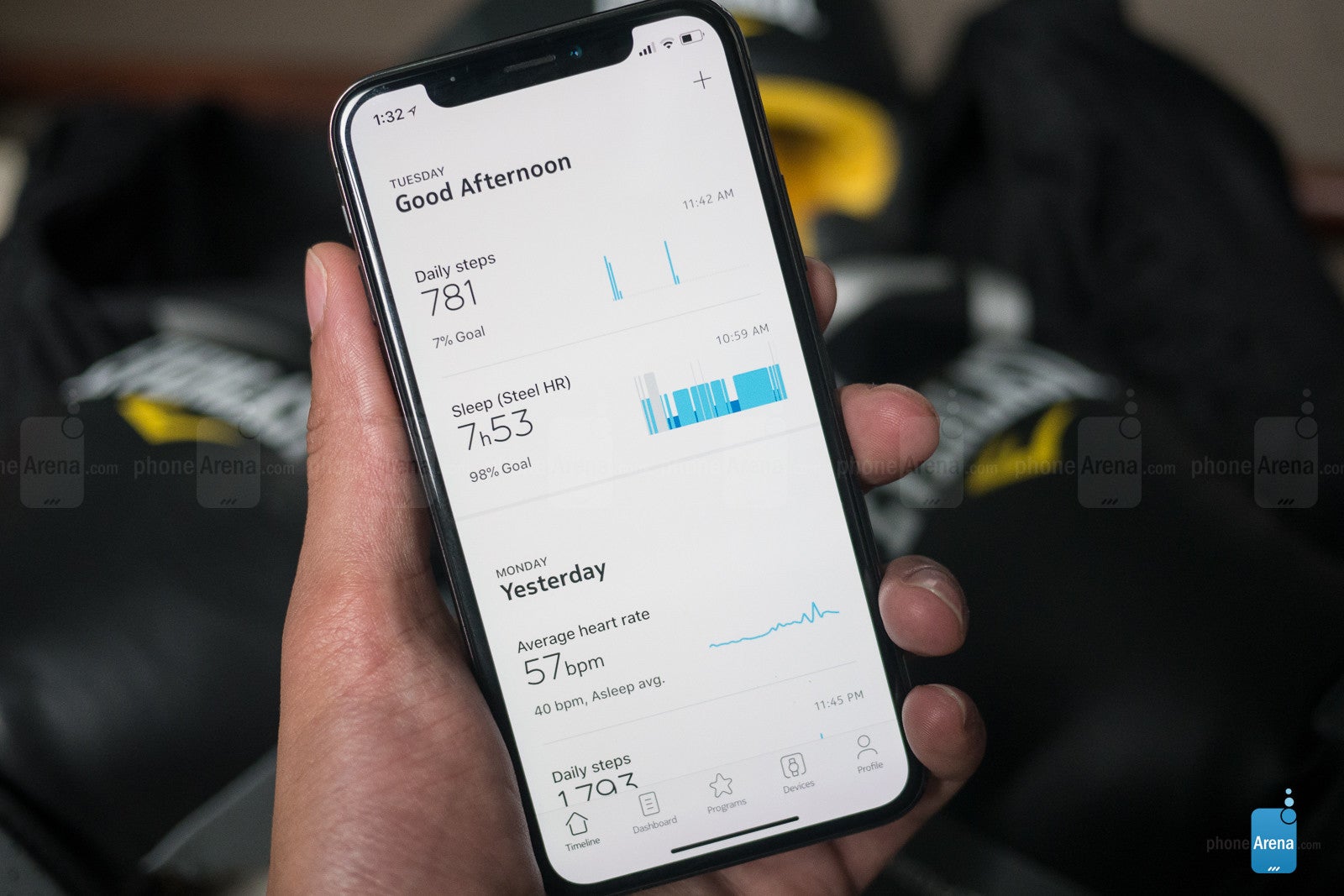 Connectivity
While the Nokia Steel HR does add value with its heart-rate monitor, the addition of a GPS sensor would really step things up for runners, cyclers, and swimmers. As long as it has the 5 ATM waterproofing and tracking ability, why not make it the complete package? We also wish for more phone-related features, a la Skagen's Connected hybrid smartwatch, which can trigger the camera shutter on your phone or pause/play music via the watches dial – the latter being most desirable, especially for exercisers.
Battery Life
Usage times are another plus side to hybrid watches like these, and the Steel HR delivers here as well. Rated for 25 days of normal use, 5 days of workout tracking, and up to 45 days in power reserve mode (with time and activity tracking only), Nokia does its part to let you wear the Steel HR like a normal watch. We easily got 2-3 weeks of mixed usage in our time with the device, and when we did have to charge, it did so quickly.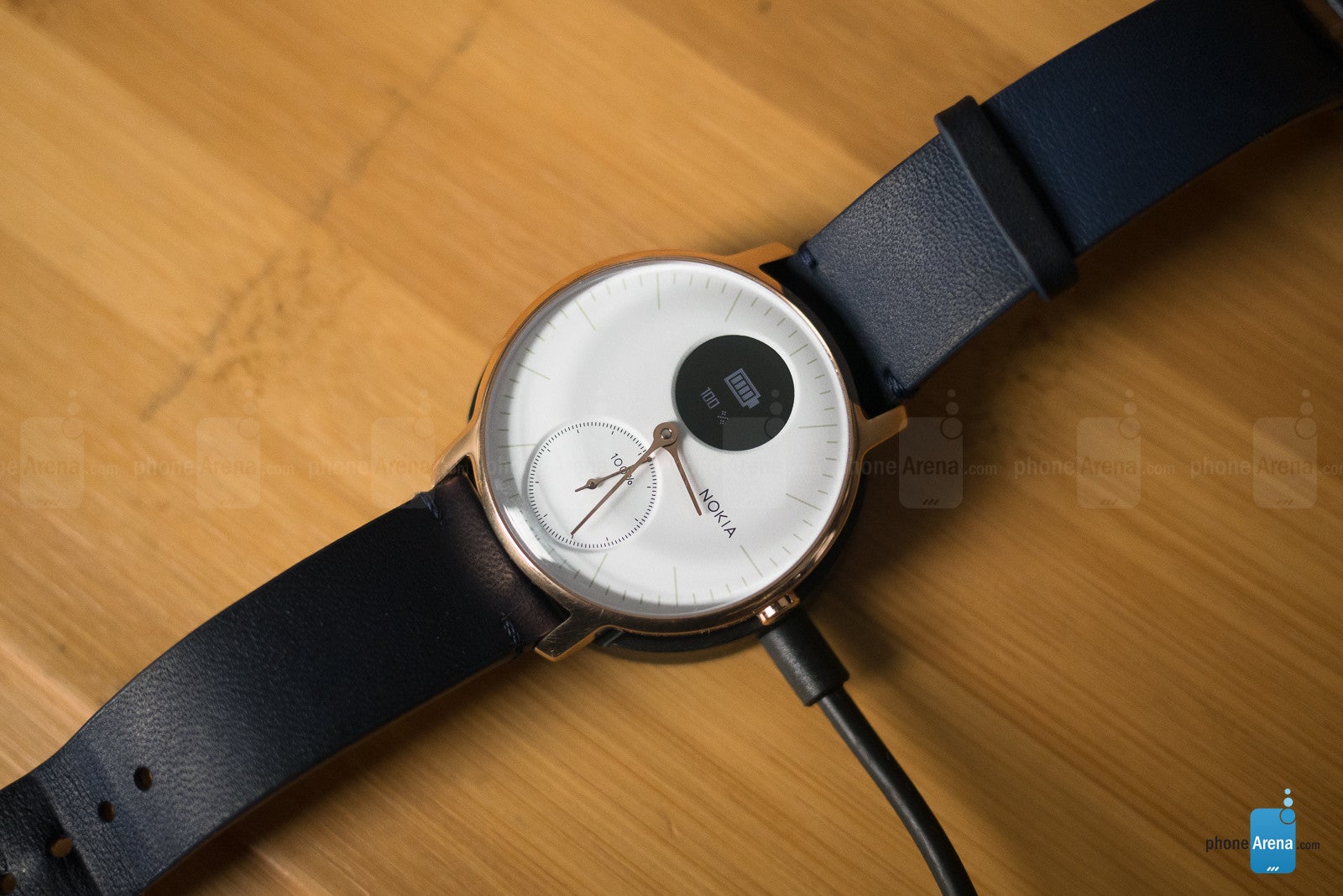 Conclusion
As far as hybrid smartwatches go, not a whole lot has traditionally been expected out of them. Smartphone notifications are a given, and unlike other hybrids we've seen, the Nokia Steel HR has these covered – at least partially – by displaying them on its OLED screen.
Activity tracking is another requisite feature on which the Steel HR improves slightly compared to other hybrids by expanding what it can track or at least log. Still though, health programs, insights, and resources could use some work to really step up the HR's value.
All in all, the Nokia Steel HR does its job well and is competitively priced as far as hybrids go, selling for between $180 and $220. But it does little to move the hybrid watch field forward, and if you require extras like GPS tracking or contactless payments, then you'd probably be better off with a full-blown smartwatch.