Nokia Lumia 900 vs Samsung Galaxy Note LTE
17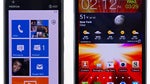 Introduction:
Somehow, if you managed to watch a tiny bit of television of late, we're pretty certain that you've come across the commercial spot for the
Samsung Galaxy Note LTE
for AT&T. Right now, there's no arguing the fact that it's simply the best Android smartphone on AT&T's lineup. However, the
Nokia Lumia 900
is being positioned as an equal offering from the Windows Phone camp. With that in mind, it's only fitting that we pit the very best from each respective platform against one another, to find out which one exactly has the guts and glory to come away as the champion.
Design:
Needless to say, these two smartphones couldn't be any more different from one another in the design department. Between the two, we have to admit that the Nokia Lumia 900 has the slight advantage with its fresh
appearance
– especially when US consumers haven't been exposed to a device like it before. Additionally, the Lumia 900 sports a sturdier feel in the hand thanks to its unibody polycarbonate exterior. On the other hand, besides its ridiculously large footprint, there's nothing compelling with the design of the Samsung Galaxy Note LTE. In fact, it seemingly looks like any other Samsung made smartphone before it. However, its size is what makes the Galaxy Note LTE so fascinating – and essentially, it's what makes the Note so unique from most things.
Mainly because they're raised more, we prefer the
volume control and power button
found on the Galaxy Note LTE, even more when the buttons on the Lumia 900 are flat to the touch. Conversely, since the Galaxy Note LTE's Android capacitive
buttons
are closer to one another, we find ourselves pressing them by accident more than the trio of Windows buttons on the Lumia 900.
Around the edges
of both handsets, we find commonalities such as their 3.5mm headset jacks, noise cancellation microphones, and microUSB ports. With the latter, the Samsung Galaxy Note LTE also offers video-out functionality with the aid of an optional MHL adapter, which is something that's not available with the Nokia Lumia 900.
Certainly, these two are great candidates to replace your point and shoot
camera
, since they both size up with 8-megapixel auto-focus cameras. Interestingly, that's where the similarities end as the Nokia Lumia 900 features an F2.2 aperture lens, dual-LED flash, 720p video recording, and a front facing 1.3-megapixel camera. Meanwhile, the Samsung Galaxy Note LTE offers a single LED flash, 1080p video recording, and a 2-megapixel front facing camera.
With its unibody construction, there's no way of easily replacing the Lumia 900's internal battery – while also having no way of increasing its internal storage as well. On the flip side, the Galaxy Note LTE has a replaceable battery and an unoccupied microSD card slot to supplement its internal memory.
Display:
Taking into account that it's bigger, badder, and more detailed, we prefer the 5.3" WXGA (800 x 1280) Super AMOLED display of the Samsung Galaxy Note LTE. Besides its full 1-inch advantage in the size department, its resolution enables us to even distinguish fine text within the web browser with no problems at all. And to solidify its superiority, its color production is remarkably more saturated in tone to catch our attention. In comparison, the 4.3" WVGA (480 x 800) ClearBlack AMOLED display of the Nokia Lumia 900 is still sharp looking, but it lacks the sheer wow factor accompanying the Galaxy Note LTE. Moreover, its resolution isn't something that's perceived to be ground breaking in this day and age – so yeah, it's not as captivating as its rival.
Nokia Lumia 900 360-degrees View:
Samsung GALAXY Note LTE 360-degrees View:
Recommended Stories