Nokia Lumia 1520 vs Google Nexus 5
24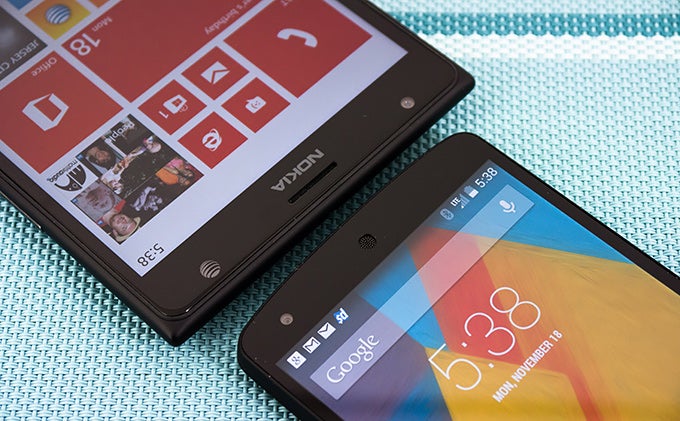 Introduction
Cheap is the new expensive. Crazy to believe it, but it's true as we uncover some of the recent devices to enter the market. For the longest of time now, high-end smartphones tend to fall within that golden price point of $200 with a 2-year contract. In this day and age, two companies come to mind in recent memory that have been known to push the boundaries with smartphone pricing – Google and Nokia. With the former, they've established their presence in the outright/off-contract realm with last year's
Google Nexus 4
, which wowed many for its unprecedented $300 no frills costs. Meanwhile, it might be harder to remember, but Nokia has also been an aggressive company as well – evidenced by last year's $100 on-contract
Nokia Lumia 920
.
Currently, they both have newcomers in the space this holiday season that continue the trend. It's the battle of the affordables: The
Nokia Lumia 1520
versus the
Google Nexus 5
. Not only do they entice consumers with their hard-to-resist pricing, but they're stuffed with all of the gear befitting of any high-end device. Which one will prove to give consumers the most bang for the buck?
Design
This one is an easy call, mainly because the Google Nexus 5 has a modest approach with its design – to the point that it can be argued that it's a bit on the conventional side. Bearing that in mind, it's the reason why we prefer the design of the Lumia 1520. For starters, its tapered design lends to give it a very stylish edge, while the availability of color options is an added benefit for consumers who are looking for variety. And even though they're constructed out of the plastic, there's more sturdiness with the unibody construction of Nokia's phablet.
Needless to say, there's a considerable size disparity between these two, as the Lumia 1520 easily dwarfs the Nexus 5. Holding the two, it's evident that our hands prefer the more comforting confines of the Nexus 5, seeing that we don't need to stretch them as much in order to properly grasp. In contrast, the wide figure, heavier weight, and pointy corners don't make the Lumia 1520 the most comfortable smartphone to hold.
Checking out the set of physical buttons on each device, their power and volume controls, we prefer the set on the Nexus 5 because they're slightly raised, ensuring that they're easier to feel out – while also exhibiting the springier response. Also, it's worth pointing out that the LED notification light below the Nexus 5's display is an appreciated addition. Around their trims, they pack along nearly all the same set of ports – like their 3.5mm headset jacks, various microphones, microUSB ports for charging/data connectivity, and speaker grills.
Flipping to the rear of both smartphones, it's plainly obvious that the Lumia 1520 means business with its camera – a hump protruding out from the surrounding area. Within that hump lies a monster sized 20-megapixel PureView camera, which features a large sensor than its rival, a Zeiss lens with an aperture of f2.4, optical image stabilization, BSI, dual-LED flash, and 1080p video recording at 24, 25, and 30 FPS. Although it's outmuscled on paper, the 8-megapixel snapper of the Nexus 5 bears many of the same elements – like its f2.4 aperture lens, OSI, and BSI sensor. For those curious about their front-facing cameras, it's a 1.2-megapixel one in the Lumia 1520, and a larger 1.3-megapixel one in the Nexus 5.
Display
Let's get the details out of the way. Both employ IPS-LCD technology with their displays, which means that they offer great outdoor visibility – though, colors tend to be warmer with the Nexus 5, and colder with the Lumia 1520. At first glance, their viewing angles seem to be on par with one another, but we notice just a little bit of hazy distortion going on with the Nexus 5 at wider angles. It's not a problem, since most people will hardly take notice of it.
In addition, they also feature 1080p resolution, which is something we come to expect with any high-end smartphone, but of course, seeing that their sizes are different, they compile different pixel density figures. Due to its smaller 5-inch display, the Nexus 5 coughs up the higher pixel density count of 445 ppi – a tally that trumps the 368 ppi count put out by the Lumia 1520's larger 6-inch panel. Knowing that, Google's offering wins on paper when it comes to detail superiority, but honestly, it's almost hard to tell which of them is sharper from a normal viewing distance, producing similar level of sharpness and clarity.
Ultimately though, it's simply a matter of preference – size specifically in this case. They're sharp, detailed, colorful, and outstanding in almost every way, which are all the elements we'd want to find on any high-end display. Rather, it's just their size that differentiates them greatly.
Nokia Lumia 1520 360-Degrees View
Google Nexus 5 360-Degrees View
Recommended Stories