Nokia Lumia 1020 vs Samsung Galaxy S4
75
Introduction:
Windows Phone still has a lot to overcome if it ever wants to get close to what Android is doing in the space, but in the platform's quest to spread to the masses, it has one new polarizing figure in the arena that's making some buzz – the
Nokia Lumia 1020
. Armed with that monstrous 41-megapixel PureView camera, it's no doubt bringing the heat to the competition. As always, though, the
Samsung Galaxy S4
continues to be one of the shining flagships for Android that not only managed to compel us a few months ago, but it continues to do so without much effort. Does the Nokia Lumia 1020 have enough gas in the tank to keep up with Sammy's flagship?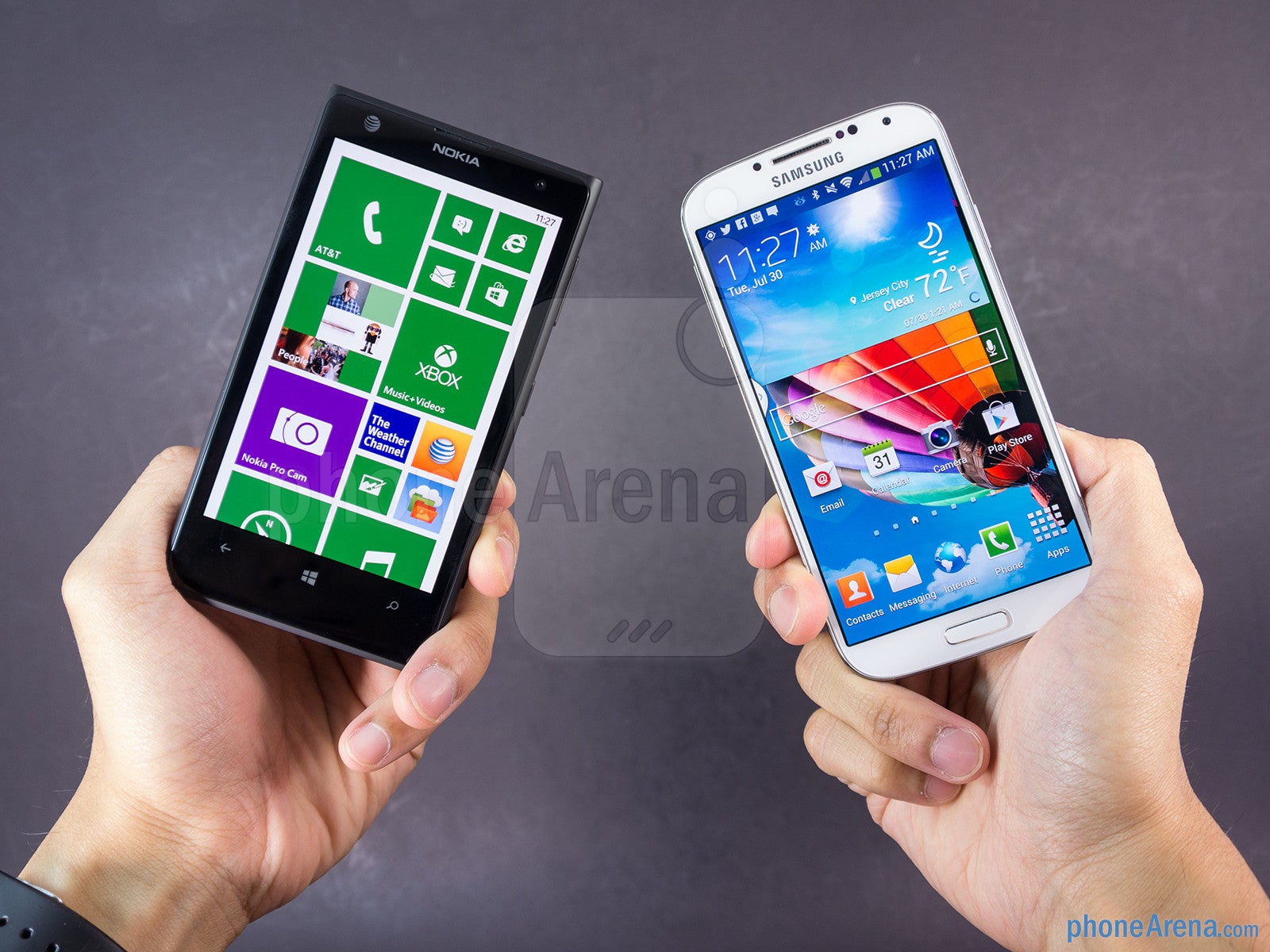 Frankly, these two are beasts in terms of their sizes, as
they can overwhelm anyone with smaller sized hands
, but if we have to pick, we find the
Galaxy S4 to be the easier device to handle
, since it's lighter and thinner than the Lumia 1020. Regardless of that, we'll mention that Nokia's beauty has the more attractive design and sturdier construction, as its curved sides, subtle tapered corners, and unibody polycarbonate frame all come together so seamlessly. Although the Galaxy S4 shares the same choice of materials, polycarbonate, it just seems a bit more brittle than the tough exterior of its rival.
We'll flat out say it! The Samsung Galaxy S4 has the more impressive display, mainly due to the fact that its
5-inch Super AMOLED
display is sporting the higher resolution of 1080 x 1920 pixels. In contrast, the
Lumia 1020's 4.5-inch PureMotion HD+ display
with ClearBlack AMOLED is still an attractive one, but doesn't quite have the same level of clarity and sharpness with its 768 x 1280 resolution. Indeed, the two displays are AMOLED based, which boasts the same saturated colors and wide viewing angles, but we do notice that the Lumia 1020's display is slightly brighter with its output – albeit, we still find ourselves shielding the two when we're outdoors. At the end of the day, there's no denying the showroom wow factor that they exhibit, but the higher resolution display on the Galaxy S4 is hard not to notice.
Display measurements and quality
Recommended Stories