NextLink Bluespoon AX Bluetooth headset review
NextLink, a Denmark based company, known for manufacturing/selling quality Bluetooth® merchandise, has yet again, produced another excellent product. The Danish company's pride and joy, the Bluespoon™ AX, is their newest, lightest, and smallest head set in the world. As for this moment, this statement is true until the coming months. In which case this or another company designs another compact head set into an even tinier design. But for the sake of this review, lets just assume that for right now, it this is the smallest head set in the world.
Most people who reviewed bluetooth® head sets such as this one, tested it mostly on their bluetooth® enabled cell phone or PDA. I on the other hand, took a different approach. Upon testing this unit, I used this device mostly on my computer (for listening MP3s, DVDs, TV shows, radio, etc.). Because of this, I can roam around my house without being tied to my keyboard and mouse. As a result, this review will be slightly different than of others whom also reviewed this item. Hopefully, to whomever is reading this review, will find the following assessment useful.
Sale packet contents:
Bluespoon™ AX headset (Clear edition)
User's guide and documentation (in Verbatim CD)
USB-mini USB charging cable
Neck carrying strap
1 Lithium ION (Li-ION) rechargeable coin cell battery
2 ergonomic soft-tip ear buds (1 large, 1 small)
Factory Specifications:
Type: Wireless analogue headset using Bluetooth® technology.

Frequency: 2.4 GHz

Audio profiles: Bluetooth® Headset and Hands free.

Compatibility:

Bluetooth® enabled devices, e.g. mobile phones, PDA's and computers.
L/W/D:42 x 25 x 27mm.

Talk time:

4

to 6 hours.

Standby time: More than 300 to 1200 hours

Memory: CSR Bluecore 02(Flash and ROM)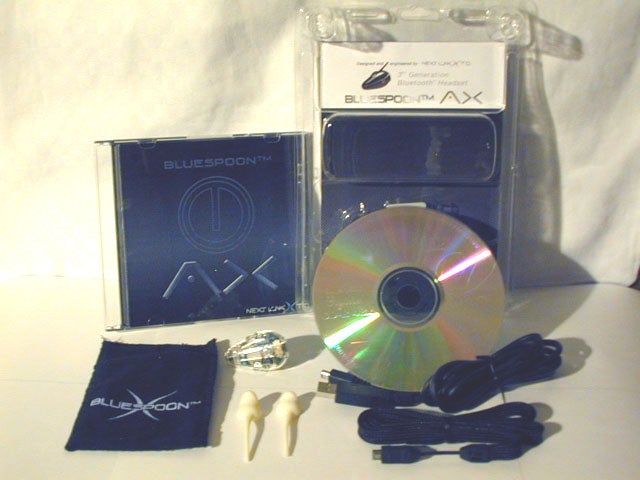 Sale Package