Motorola Moto X vs Nokia Lumia 1020
32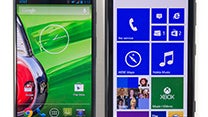 Introduction
Flagship smartphones are in abundance as we speak, as the first half of the year saw some noteworthy models that still continue to turn heads, but the second half is already in full swing with an equally stellar lineup on tap. The
Nokia Lumia 1020
has shown us that it's THE Windows Phone 8 to go to, especially with its impressive 41-megapixel PureView camera in tow. Although the
Moto X
has yet to arrive officially onto the scene, it's no doubt already stirring up plenty noise for a device that's redefining the notion of a flagship device with its simplistic Android experience. Two great smartphones in the landscape no doubt, but it's going to come down to which one has the greater drawing factor to win the hearts and minds of consumers all around.
Design
Without touching them, our eyes continue to fancy the design of the Lumia 1020 – it's just not your average looking device, which helps it to tower over the Moto X. Then again, the customizable aspect of the Moto X's design with Moto Maker will undoubtedly attract those who have a flavor for being different. However, as we grasp the two, it's instantly recognizable that we favor the Moto X, as its compact size, curved rear casing, and soft touch coating provides the goods to make it more comfortable and natural to hold in the hand. In contrast, the Lumia 1020 is just bulky and top heavy by today's flagship standards – albeit, it's sturdier with its unibody matte polycarbonate body.
Display
For flagship devices, some people would think that these are behind the times, especially when they don't pack that imposing 1080p resolution with their displays. To be frank, there's not one that's more than attractive than the other, as they boast all the same qualities. Specifically, it's a 4.7-inch 720 x 1280 AMOLED display on the Moto X, and a 4.5-inch 768 x 1280 PureMotion HD+ with ClearBlack AMOLED panel on the Lumia 1020. Somewhat notable to mention, the slim bezels on the left/right sides of the Moto X's display help to make it stand out more, since it helps in contributing to a smaller overall size than the Lumia 1020. Beyond that, everything else seems to be identical with one another – like their wide viewing angles, over-saturated color reproduction, and iridescent glow.
Motorola Moto X 360-Degrees View
Nokia Lumia 1020 360-Degrees View
Recommended Stories