Motorola Moto G9 Play Review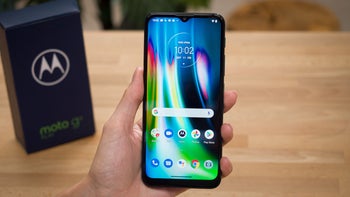 Disclaimer: We expect the Moto G9 Play to eventually be released as the Moto G9 in the US.
Motorola has a prominent presence in the entry-level and mid-range markets, where the variety of One and G-series devices can suit every taste and satisfy almost any need. True to this mantra, Motorola once again nailed it with the Moto G9 Play. The new entry-level champ in Moto's roster is excellent value for money and has all the essential elements of a noteworthy affordable phone: it has excellent battery life, big display, good camera, and most importantly, killer price.
Yet, there's a big "gotcha!" moment with the US pricing and availability. However, with international prices ranging from $159 to $210, there's a high chance the Moto G9 may cost way less than $200 in the US provided it gets released here.
Design
Make no mistake, the all-plastic Motorola G9 Play is one big and heavy phone, but weirdly, I don't find its heft unpleasant. Quite the contrary: there's something reassuring with the overall presence of the Moto G9 Play. The pronounced edges of the phone help achieve a better grip and the lack of a curved back is a welcome change. Entry-level phone darlings like a 3.5mm headphone jack and a physical fingerprint scanner underneath the rear Moto batwing logo are present on the phone. The Moto G9 Play also has a basic water repellent coating, but don't rely on it and dunk the phone in the pool.
One design feature that stands out is the dedicated Google Assistant button right above the volume rocker. That's generally a great idea, but the implementation leaves something to be desired as the button sits too high and is pretty hard to reach with a single hand, which certainly defeats its intended purpose. It would have been better if Motorola had positioned it lower.
Display
As expected on an entry-level device, Moto G9's display is not very good. The 6.5-inch LCD screen is sufficiently large, but its resolution of 720 by 1600 pixels is not that great to begin with. Color reproduction is the biggest offender here: it's a lifeless, cold screen with only a few hints of vividness when using the dedicated Boosted display mode.
Display measurements and quality
Camera
The main camera of the Moto G9 Play is a 48MP wide-angle unit, with dedicated 2MP macro and depth sensors surrounding it. The main camera is the one you'd be using 99% of the time, and fortunately, it's not half bad. Surely, a secondary telephoto or ultra wide-angle camera would have been a better option for the device, and I'd gladly trade the useless macro camera for either.
Images turn out very detailed, with acceptable dynamic range and color reproduction, though the latter is leaning towards the cooler side and images turn out bluish. Vivid colors appear less vivid than in real life, which is a problem for the dedicated macro camera: no matter how beautiful the flower is, your photo will hardly be as impressive. What's more, the autofocus struggles and the macro image will almost always turn out blurry. Low-light images turn out good, but only when you use the dedicated Night Vision camera mode.
The 8MP selfie camera produces good selfies that are well-detailed and very likely to get you at least a dozen likes on social media.
Software
Just like any Motorola phone, the G9 Play runs a nearly stock version of Android with just a few bespoke alterations that add up to the user experience. In this particular case, Android 10 has been engoodened by Moto's own gestures, which let you easily take a screenshot or enable the flashlight with a wrist twist. There are a few other useful features, like Peek display, which is an interesting take on the always-on display functionality, and Attentive display, which keeps the screen on as long as you're looking at it.
Hardware and performance
In terms of raw power, the Moto G9 Play doesn't surprise. It comes with a mid-range Snapdragon 662 processor which performs okay and doesn't really show it's true colors unless you try to play a heavy 3D game. When you're using the device more sparingly, for example to browse the web, watch YouTube videos, or check your work assignments in Google Sheets, it performs more than okay. Switching your apps in a quick and fluid manner is ensured by the 4GB of RAM on board, which is adequate for the price range of the phone.
There's 64GB of internal storage on the Moto G9 Play, which is more than enough for such a device, but those in need of more storage can always pop up a microSD card slot in the hybrid SIM tray and enjoy more space for their content.
Battery life
Now, the battery on the Moto G9 Play is the true star of the show and easily it's best feature. Its capacity of 5,000mAh inspired me with confidence that the phone would last well more than a day on a single charge, and I'm happy to report that it easily met my expectations. I had to charge it once every other day, with an average screen-on time of more than 8 hours, which is a great result. I could have probably achieved an even better result if I hadn't used the phone so much, but those are the risks of the trade.
In our custom battery test, the Moto G9 Play also achieved impressive results. A smidgen over 10 hours in our custom browsing test, around 11 hours in our YouTube video test, and nearly 6 hours and a half in our 3D gaming test. Impressive results, though the same can't be said about the charging speed: you can get the phone from 0 to 100 in 2 hours and a half, which is an adequate result for an entry-level device like the Moto G9 Play.