Motorola Edge 20 Review: raising the bar
7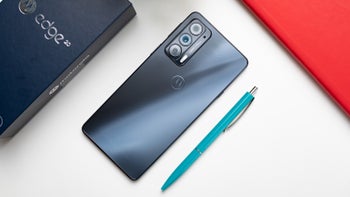 After a long wait for a successor to the original Edge, Motorola finally gave us one. The recently released Motorola Edge 20 combines modern design, quality materials, and a big, gorgeous display at a very reasonable price. The new phone positions itself among well-known devices like the Galaxy A52 5G and the OnePlus Nord 2. But is it any competition?
Well, the Motorola Edge 20 has a powerful Snapdragon 778G processor coupled with 8GB of RAM and a 108MP main camera. These are pretty solid specs for a phone that only costs €499. But this phone isn't only good on paper. The Edge 20 impressed me with its smooth and non-problematic performance, great main camera, amazing display, and fresh design. All of this fulfills the recipe for the successful 2021 mid-range smartphone.
Of course, in order for this phone to hit its €499 price point, some sacrifices had to be made. But trust me, these sacrifices are nothing to be concerned about.
Design and feel
The first thing that you notice about the Motorola Edge 20 when you hold it is how light it feels, especially considering this is a pretty big phone. It weighs just 163g. The phone's back is made out of plastic, which is probably one of the main reasons the phone is so light. But this choice of material is nothing to worry about. The Edge 20 feels well built out of quality materials. Its back provides very little grip, which makes the phone slippery, but Motorola has included a case in the package, which helps with that.
The Motorola Edge 20 has an aluminum frame. This frame has a matte finish and reminds me of the iPhone 12 series with how flat it is. And while this does make the phone really edgy, it also adds to how slippery it is. Even with the case, this isn't a very comfortable device to hold. But all of that is forgiven, as I think that this phone really stands out from the rest of its class, and I appreciate Motorola's bold design choices. This phone also comes with great color options to choose from.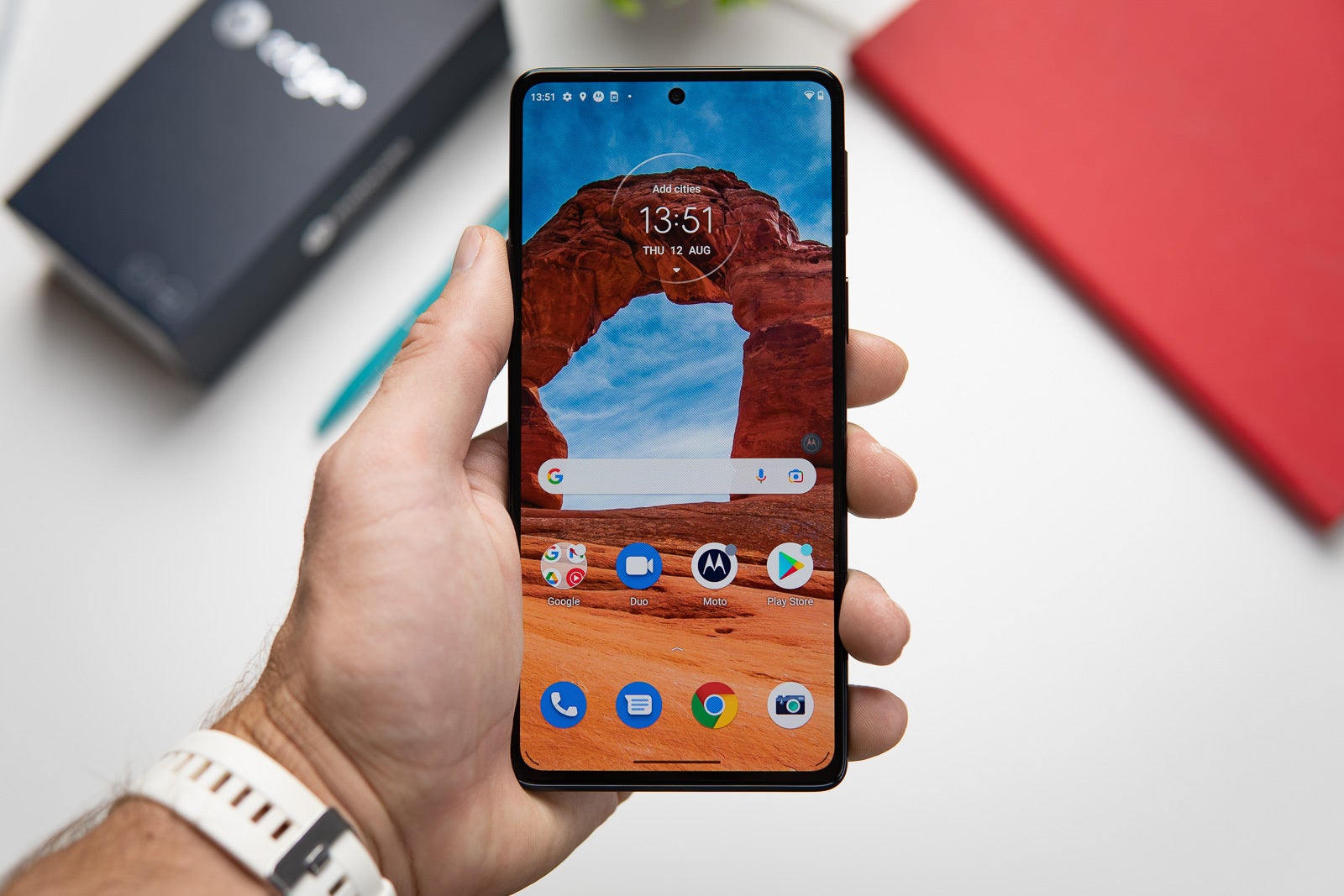 As for the back, this is where you'll find the triple-camera system with its big protruding camera module. Not only does the module protrude from the body of the phone, but the cameras protrude from the module itself too. I understand that this big protrusion is due to the phone's very slim 6.99mm body. Personally, I love slim phones, as I think they feel more premium, so I didn't mind the big camera bump.
Moving to the front of the phone, the Motorola Edge 20's big display has very thin bezels, which is also appreciated. I like that the company has ditched the curved display design, as it would've made the phone even less comfortable.
You should keep in mind that the phone's Gorilla Glass 3 covered front is very reflective. It isn't so bad to the point that it is distracting, but adding a less reflective glass protector might be a smart choice. The 32MP punch-hole camera is located in the middle. On top is a rather wide cutout for the earpiece, especially considering it doesn't act as a second speaker, unfortunately.
The Motorola Edge 20 has a single bottom-firing speaker. And the speaker itself isn't something impressive, as I found it lacks depth and it sounds a bit squeaky at high volumes. This is probably the only thing I didn't like about this phone's design. This phone also has only an IP52 water repellent rating, so you better be careful not to drop it in water.
This phone's fingerprint scanner is implemented in its power button. At first, it was hard for me to stop unlocking it by accident, but after a while, you get used to it. The scanner itself is very fast, so nothing to worry there. All of the buttons, which are four in total, offer plenty of feedback and travel. I only wish they were positioned a bit lower, as I found reaching the volume keys especially challenging.
Display
The best part of this phone is its display. The Motorola Edge 20 has a beautiful 6.7-inch OLED display with an FHD+ resolution (2400 x 1080). By far the best thing about it is its 144Hz refresh rate, which is adjustable in the settings. Combined with the 576Hz touch sampling rate, this phone feels amazingly smooth and fast when navigating through the interface. The bump in refresh rate in comparison to the Edge 20's predecessor is also noticeable when browsing and gaming.
This display is easily readable in direct sunlight, even though its cover glass is on the reflective side. The colors are punchy and well saturated. Another thing that I like about the display is its tall aspect ratio (19.5:9). It reminds me of Sony's Xperia phones, and I found this aspect ratio very useful, especially when browsing.
The only thing I noticed is that its FHD+ resolution might not cut it in next year's Edge phones. Sometimes I notice a pixel here and there, especially while displaying whites, but even so, for this price, this might be the best screen out there.
Display measurements and quality
Performance and storage
The Motorola Edge 20 is a great performer for its class. It uses a Snapdragon 778G processor, which offers plenty of punch for gaming and pushing this phone's high refresh rate. It is also a very power-efficient chip. On the Edge 20, it is coupled with either 8GB of RAM. I had no issues with multitasking, as this phone kept five relatively heavy apps loaded in the background like it's no biggie. This phone does not heat up easily, even with heavy tasks.
5G support is present with this phone, and I found no issues with network reception. Wi-Fi 6 is also supported, making this phone even more future-proof, as it is the newest Wi-Fi standard.
As for storage, there are two versions of the phone offered: one with 128GB and one with 256. The storage isn't expandable, so you better choose wisely. My review unit was the 128GB version, which for me personally is plenty of storage. Here are some benchmark comparisons of the phone for you to check out:
Software and features
Motorola's Edge 20 runs Android 11 out of the box. The company guarantees at least two major software updates in the future, which is good news for consumers. The software on my unit was stable and fluid. Initially, it had some glitches, but just a day after I got it I received an update that eliminated those.
As for the software itself, it is clear of bloatware, with only Motorola's services preinstalled. These services offer pretty useful features. The chopping motions to turn the flashlight on and the double twist of the phone to open the camera are my favorites. Of course, these functions aren't exclusive to the Edge 20 and can be found in the rest of the Motorola models. Overall, the interface is clear and smooth, lacking unnecessary features, which is very welcome.
The Motorola Edge 20 comes with the company's Ready For software platform. This platform can transform a TV or an external display into an Android-powered desktop computer. You can connect your phone wirelessly to a screen, with it acting as the trackpad, or connect it via its USB-C port. Ready For lets you run your favorite Android apps and games on a bigger screen. You can also connect a wireless keyboard and a mouse to the phone, which is really convenient.
The platform is also available for Windows 10 PCs. This way it is very easy to interact with both your phone and your computer's files from your desktop computer. The Ready For software platform ran smoothly and without any issues even in wireless mode, although for it to work this way, your internet connection should be strong.
Camera
A triple-camera system is present on the Motorola Edge 20. This system has a dual-LED flash and a dedicated third microphone. This microphone allows for what Motorola calls Audio Zoom. Audio Zoom is a video recording feature that amplifies the sound from the object you zoom at while removing other noises, including the ones you may make during filming. The feature works as intended, and I think it will be really useful at a concert or sports event.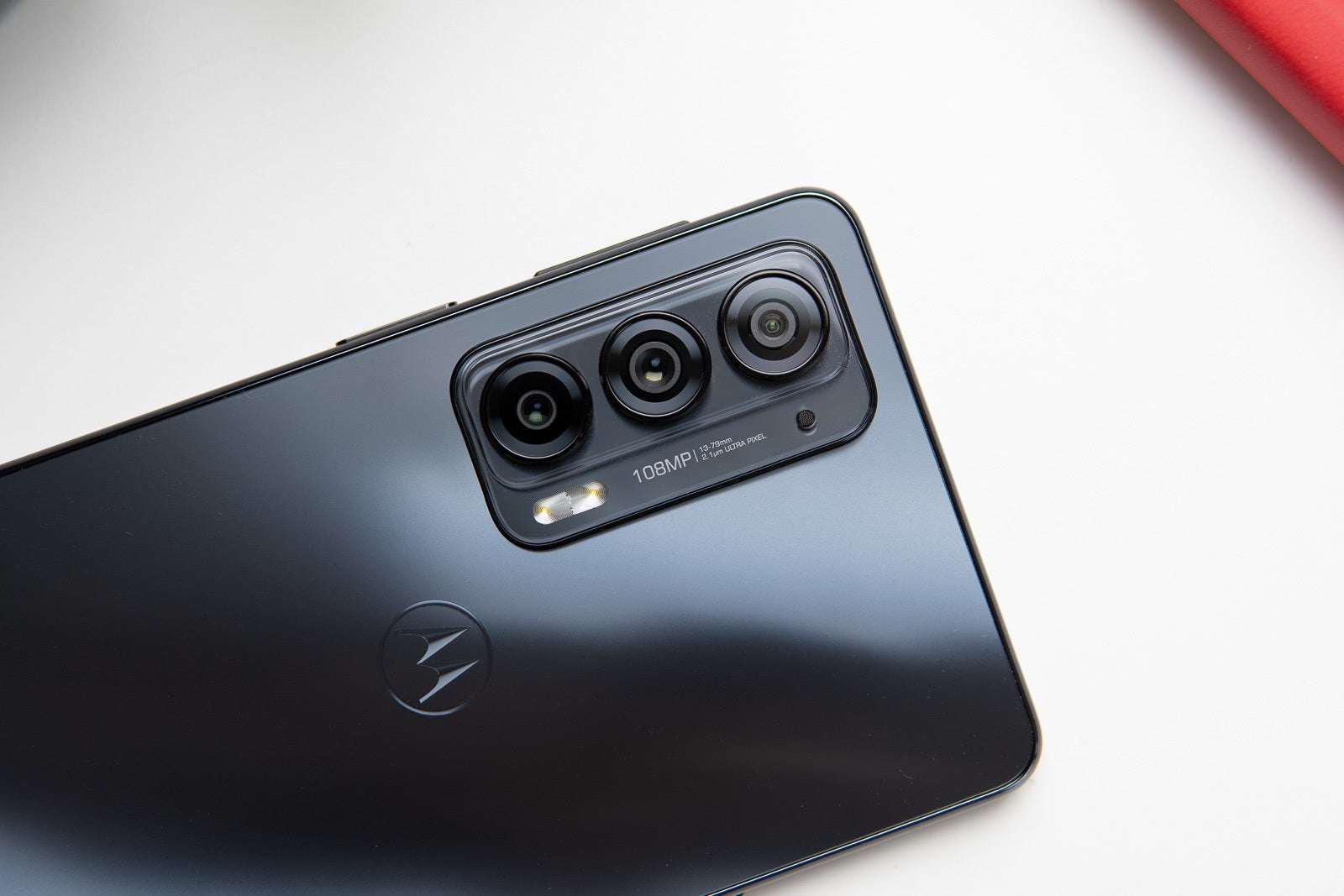 The main camera of the Edge 20 has a 108MP sensor with an f/1.9 aperture and Ultra Pixel technology. The Ultra Pixel technology combines nine pixels into one larger pixel, thus producing a 12MP photo in the end with improved low light performance.
As far as the images themselves are concerned, these look great. Photos taken with the Motorola Edge 20 in daylight offer plenty of details, sharp focus, and accurate exposure. The only thing that is valid for all three cameras is that I wish the end images were a little more saturated, as I found them less colorful for my liking. Of course, you can easily adjust that with a bit of editing.
The second and third cameras produce great results in daylight. The phone's ultrawide camera offers plenty of detail and has a wide enough field of view. This one also supports Macro Vision, which allows you to shoot at a close distance. Macro shots were also satisfactory, although in order to focus properly, you may need the phone's position a couple of times. The 3x zoom telephoto lens does its job well, although its 8MP resolution isn't enough to produce a sharp enough image, but at least it is stable due to it having OIS.
Motorola's Night Vision mode is only available with the Ultra Pixel technology, which means that you cannot capture in 108MP with the mode on. Photos captured by the main camera with Night Vision offer good detail and exposure. The 16MP ultrawide camera also supports Night Vision, and the results with it are satisfactory, especially considering the Edge 20's price tag. The 3x zoom telephoto sensor produces good night photos too.
As far as portrait photography goes, the Motorola Edge 20 allows you to choose between its main and telephoto cameras. Portraits shot with the main camera offer plenty of detail, nice and accurate bokeh effect, and good exposure and saturation. Faces look natural and not oversharpened. Taking portrait photos with the telephoto camera also produces good results, although they are a bit on the undersaturated side and lack the detail the main camera produces. It is a similar story with night portrait shots. The main camera produces good portraits in low light scenarios, while the telephoto camera lacks detail and struggles with focusing.
The front camera is a 32MP unit with Quad Pixel technology. This technology is similar to the one of the main camera, combining four pixels into one larger pixel for better low light performance. You can also choose to shoot in 32MP in the settings. Selfies taken during the day with the Quad Pixel technology on look a bit oversharpened, which is most noticeable with beards. If you go for the 32MP resolution, you will see less oversharpening, but no more detail. You can also take portrait selfies, which look nice, although sometimes the bokeh isn't the most accurate. An option to adjust the level of bokeh manually is present as well.
During the night, the selfie camera supports Night Vision, and if you give it some light, it produces good pictures. I noticed that processing while shooting with Night Vision takes a lot of time, and if you move your Edge 20 immediately after it has supposedly taken the picture, you may end up with a result that is out of focus, or even worse, with one of your eyes closed.
The front camera can also produce 4K 30fps videos. While these look great in terms of detail, the stabilization isn't the greatest, and the microphone seems to struggle with eliminating outside noise.
As far as video recording with the back cameras is concerned, the Motorola Edge 20 produces fine results. The maximum video resolution is 4K 30fps, and it produces good and steady results with plenty of detail. Audio zoom works with all resolutions.
The other two resolutions options on the Edge 20 are 1080p 30fps and 1080p 60fps. The 30fps resolution is the only one in which you can switch between all three cameras. Videos look good, although the downgrade in resolution is noticeable on big screens. Stabilization is great, and the OIS on the 3x zoom telephoto lens does a great job of focusing and following distant objects. I can't recommend the 1080p 60fps resolution, as it really lacks in detail and it looks very oversharpened. It also doesn't support the ultrawide and telephoto cameras. Macro Vision is present for all 1080p resolutions.
This phone also lets you shoot in Full HD 120fps or HD 240fps slow motion. Motorola has included what they call Super Slow Motion, which lets you record a short video in 920fps. While I must admit that these sounded impressive, the quality of the videos is average at best, with the phone struggling to capture enough detail.
During the night, the Edge 20 struggles with video shooting. On all resolutions, the camera struggles to focus and adjust the exposure, which is very noticeable with the results. Stabilization is good though, and the ultrawide and 3x zoom cameras do their job fine. Considering its price, the phone produces good enough night videos, but nothing spectacular.
Battery life
The Motorola Edge 20 has a 4,000mAh battery. This battery got me through the day with 30 to 40% left, with the high-refresh setting on auto. I imagine if you stick the setting to 60Hz only, you can get at least half a day more. If you choose your phone to be always at 144Hz, you should be prepared to charge the Edge 20 before the day has passed.
This phone's rather modest battery size is due to the fact that it is only 6.99mm thick, and a sacrifice had to be made. But even so, I think most people will still be satisfied with this phone's battery life. The Motorola Edge 20 only supports 30W fast wired charging. Even though there are many faster-charging phones out there, I was able to recharge it from 20 to 80% in about 35 minutes. This is because of the phone's relatively small battery size. I think this is good enough for most people, especially considering the fact that the fast charger is included in the Edge 20's package. This phone lacks wireless charging capabilities, which is understandable for its price point, and I didn't miss it.