Moto G4 and G4 Plus Review
36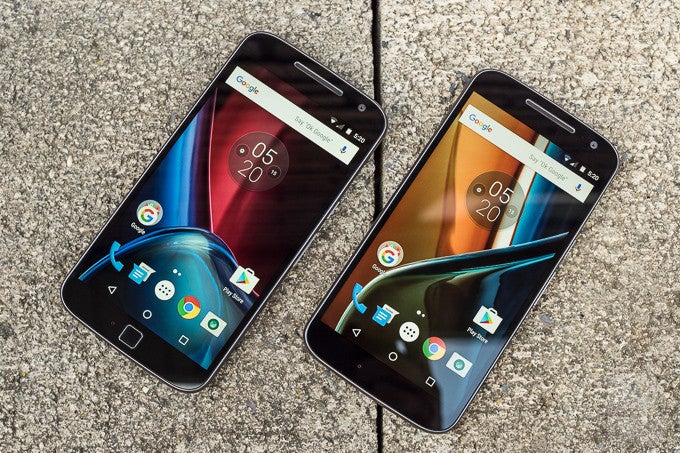 Moto G4 Plus (left) and Moto G4 (right)
Update

: You can now read our Moto G4 Play review!

Introduction
Three years ago, Motorola gave smartphone shoppers an affordable new budget option in the form of the first-gen
Moto G
. In the years since, we've seen the Moto G really grow up, in more ways than one. Not only has the Moto G grown from a 4.5-incher to its current 5.5-inch screen size, but it's also become a more and more capable handset, and one delivering an ever-growing number of configuration options.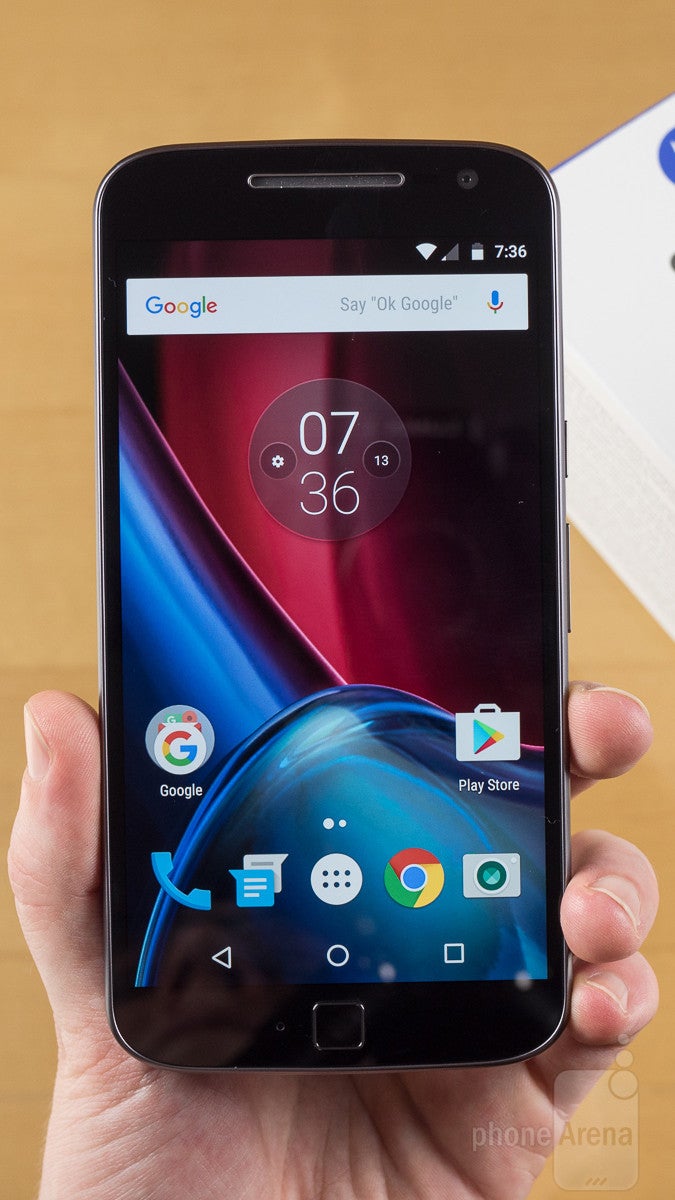 Moto G4 Plus
That's more true than ever in 2016 with the arrival of the Moto G4 family, offering three distinct base models, including the
Moto G4 Plus
, which pushes the limit with some flagship-caliber specs like 4GB of RAM, 64GB of storage, laser-assisted auto-focus, and a fingerprint scanner. While it's always nice to see a manufacturer making its phones more capable, has the Moto G lost some of its mid-range underdog charm along the way?
We've been spending some time with two of the three new Moto G4 models, the standard
Moto G4
itself and the higher-end Moto G4 Plus, in the interest of finding out. Is this family still a smart choice for smartphone shoppers looking to keep costs low? Is it worth splurging on the Plus model's upgrades? Read on to find out.
In the box:
Moto G4 (Plus)
Micro USB cable
TurboPower charging adapter
Introductory guide
Safety notice
Design
Another year, another even bigger Moto G
The Moto G4 and Moto G4 Plus are two phones cut from the same cloth, with nearly identical appearance. Both phones represent a significant departure from last year's Moto G design, dropping the speaker underneath the display and instead moving it up top to the earpiece, and revamping the rear dimple/camera layout: while the iconic Motorola dimple is back, this time it's a part of the removable back panel itself, and lives separate from the camera assembly above it.
That removable back panel may allow for some after-market Moto G4 customization, but the real action takes place before you even get the phone out of its box. Motorola's Moto Maker online tool allows shoppers to personalize their handsets with options for alternate front bezel colors, camera accents, and yes – even the back panel (which you can also get engraved with a short message). It would have been nice for those back panels to feature a range of material options in addition to the all colors currently available, but for a budget phone the variety available isn't bad at all.
While the Moto G4 is far from alone in the 5.5-inch space, there's something about Motorola's design that makes these handsets feel slightly larger than most – and if we were forced to try and pin that down, the big, round curves around the handsets' edge may have a lot to do with that. Despite their size, these phones feel seriously light, and we almost wish they came in a little more substantial than they do with their shared 155g mass.
Motorola's clear that neither G4 is waterproof nor intended to be submerged, but the phones still get a water-repellant nano-coating to help keep them functional through the occasional light splash – just don't go nuts.
Display
Big, bright, and the highest-res for the series to date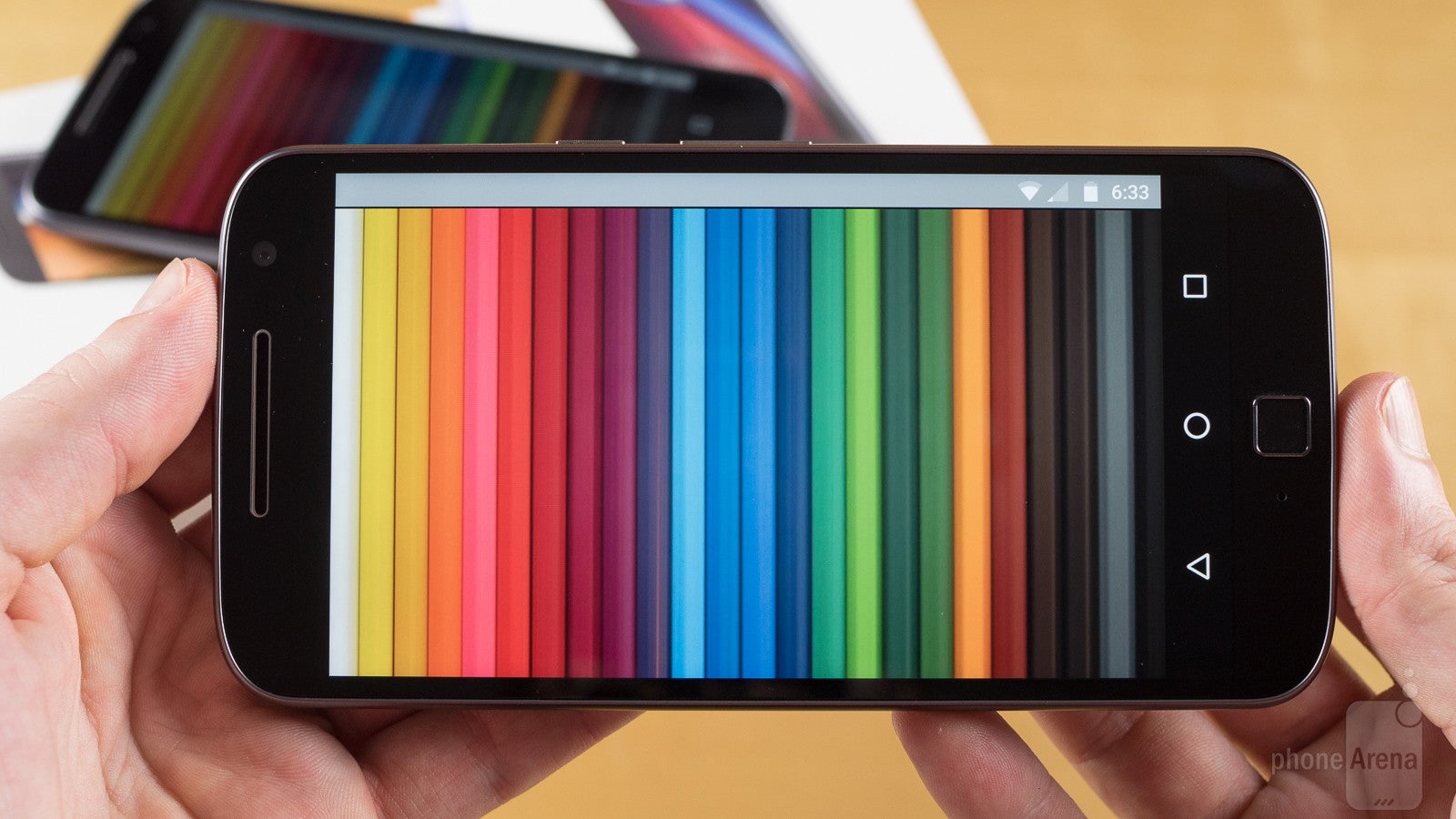 Moto G4 Plus
As we mentioned earlier, the Moto G has soundly shaken its old reputation as a pint-sized phone, and it seems like each year it arrives just a little bit larger (indicative of market trends, perhaps?). While last year that brought us a phone with a 5.0-inch 720p display, this year we get an upgrade in terms of both size and resolution, with both the G4 and G4 Plus scoring a 5.5-inch 1080 x 1920 panel.
While such a screen is nothing fancy in this day and age, it's still nice to see those specs on a budget handset, and the display Motorola uses is a pretty high-quality one: brightness is among the highest we've seen from any smartphone in a while, and viewing angles are excellent. One oddity we did note is that the screens on each of these units appeared to have a slightly different color temperature to them; with the same hardware, and configured the same in software, that shouldn't be. Perhaps it's just a small (in)consistency issue, but both panels did look quite nice.
With all this screen real estate to use, we only wish the phone came configured to take better advantage of it all. The default five-icon-wide launcher appeared a bit huge to our eyes, but that's largely a matter of taste; some users will absolutely dig a phablet whose screen feels like a blown-up version of a smaller phone.
Both handsets support the display of at-a-glance notifications when the phone's otherwise asleep, with a variety of options for setting both the hours during which this mode is engaged, and what specific content it includes.
Display measurements and quality