Microsoft Lumia 650 Review
24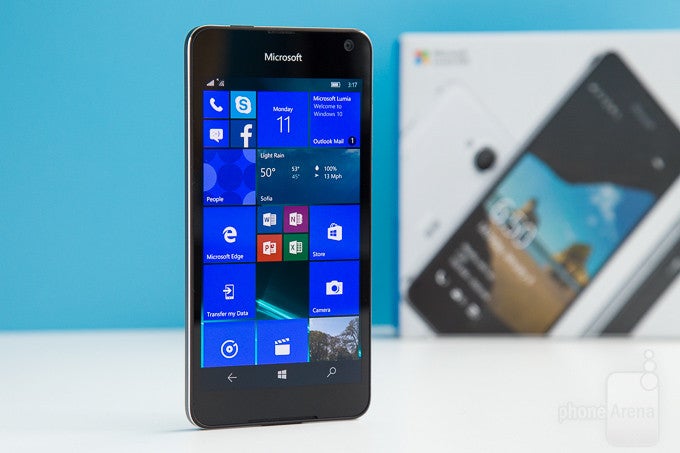 Introduction
Last November, Microsoft launched the
Lumia 950
and
950 XL
to debut Windows 10 on smartphones. With muscular spec sheets, the duo took aim at the higher-end price segment, leaving Windows 10 out of reach for budget-minded buyers. Six months later, Redmond introduced an affordable option, the Lumia 650. Featuring a slim design and markedly lean hardware, we're intrigued whether the handset is compromised in any way, punches above its weight, or simply delivers the essentials and nothing more. The answer might surprise you.
Design
A simple, understated Lumia phone that's a bit taller than needed.
The Lumia 650 has borrowed understated, rectangular-shaped DNA strands from the design gene pool. Its unassuming looks aren't ones to fall head over heels with, but they don't irritate with any excess, annoyances, or baffling choices. It features a glass front, a metal frame, and a removable plastic back plate.
Removing and re-attaching the back panel is easy and secure, providing access to the battery, nanoSIM tray, and microSD card slot. The metal frame is sturdy and it won't torment your palms with sharp edges. The phone itself isn't feather-light, but its weight is evenly distributed. It handles fairly well for a 5-incher, although the top and bottom bezels are long-ish, making the handset taller than desirable. The power and volume keys are placed on the right and respond tightly, without wobbling or mushing it up.
As a whole, build quality is solid on the Lumia 650, although the utilitarian look won't win fashion awards.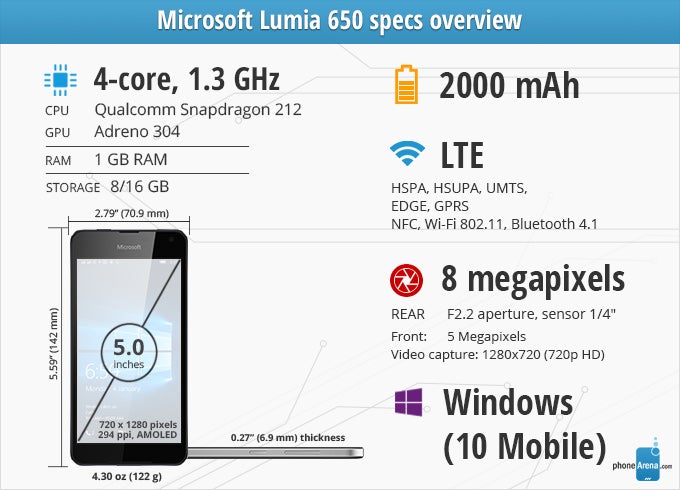 Display
A strong, though not exceptional showcase of what an AMOLED screen can do in an affordable device.
The Lumia 650 presents a 5-inch AMOLED screen with a 720 x 1280 resolution that falls short in some aspects. Images look crisp and colors are reasonably accurate right off the bat, save for the seriously skewed greens. Thankfully, the phone lets you tune the display's color temperature and color saturation to your liking, so tweak at will! The peak brightness output of 340 nits isn't anything to write home about, but using the Lumia 650 under bright light poses no issue. The minimum brightness of 5 nits is okay for not searing your retinas during bed reading. Viewing angles are fine, with no noticeable color, brightness, or contrast distortions. There's also an 'Always-On' feature that shows you the current time, date, and event notifications. As a whole, the display is of good quality.
Display measurements and quality
Recommended Stories
FCC OKs Cingular\'s purchase of AT&T Wireless