Latte Boom Review
3

Introduction:
Apart from Slim11b, Latte have sent us the other model they have launched on the market, the Boom. This is a phone with an interesting design, emphasizing on the listening-to-music feature with the idea of replacing completely your pocket music player. Its main advantage, compared to the other music players, is that it has inbuilt stereo speakers which can play loud music so that the people around you can also hear the music you are listening to.
The set includes, apart form charger and a computer connection cable, also headphones that make a musical claim: they are noise cancelling and their design is almost identical with that of the SonyEricsson headphones of the Walkman phones; they are practically an adapter with a 3.5 mm jack to which you can connect any kind of headphones, the only difference being that they are white and, compared to the SonyEricsson headphones, the material they are made of much inferior quality.
Design:
Boom calls immediately to mind a few Samsung models that look similarly: a narrow slider with a small display and round shapes around it. However, unlike Samsung X830, there are two round features on the front panel here: two loudspeakers, rather than the navigation button. Those loudspeakers can very well compete with the pocket stereo systems, intended for connecting with phones / pocket players.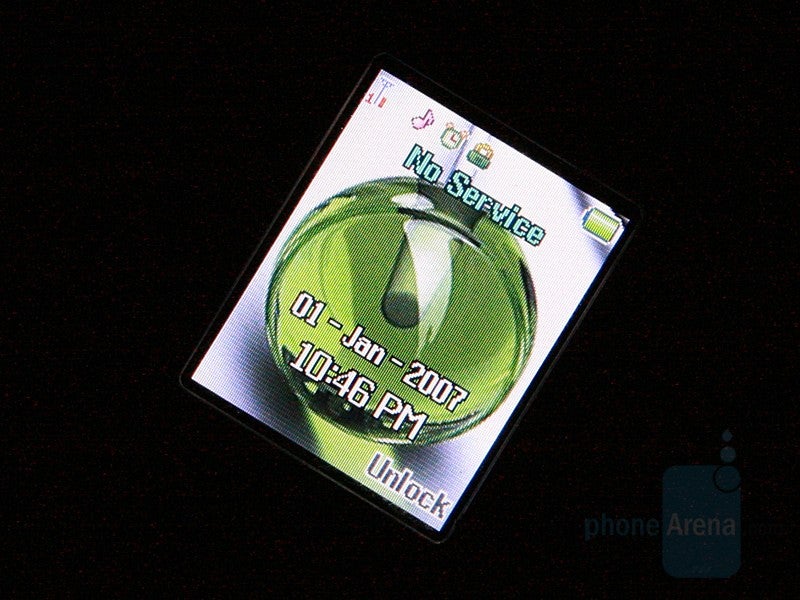 1.5 inch Display
The 1.5 inch display
with a resolution of 176x220 pixels, is very suitable for watching videos and its small sizes seems to be its only shortcoming. It can visualize up to 65 thousand colors but it is definitely not the most important part of the phone.
The keyboard
is on the lower slider; just like the display, it is rather small. It is predictably arranged in 3x4, so that all the keys are in their usual places; however, the small key sizes could result in you pressing the wrong button.
The navigation buttons
are on both sides: the mp3 shortcut, which serves as a left software button and the green receiver are on the left, as well as the headphones / charger connector and the microSD memory slot, covered with rubber protectors. On the right are the red receiver, the camera shortcut (it is the right-hand software button) and the volume slider, which can also be pressed, and can be used for navigation. The biggest inconvenience during navigation is that the two software buttons are not at the same height and therefore you can be confused. The slider can be conveniently used only with one's right hand.
Latte Boom is a comparatively short and a VERY narrow phone; it is, however, thick, so that everything can be fitted in. With its 22.9mm it is twice thicker than Slim11b and four times thicker that the ultra slim Samsung U100 Ultra 5.9. Anyway, it fits easily in your pocket and its weight of .... ensure that you (do not) feel it.
Recommended Stories