LG G Flex Review
22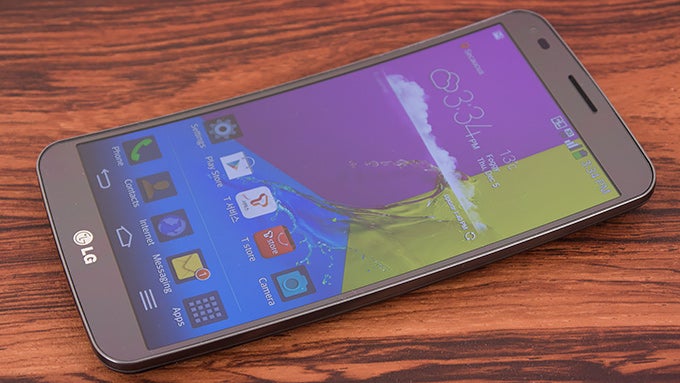 Introduction
Note: Before you proceed, please keep in mind that the LG G Flex is still avaiable in select Asian regions only. The sheer fact that LG has come to the US to showcase the smartphone for us, however, can be seen as an indication that a wider availability may be right around the corner.
Flexible displays seem to be the future, something that's particularly evident as we look at what's going on with the next-generation of high-definition televisions. Well, it's also extends into the smartphone kingdom as well, seeing that it's a good starting point to showcase the new up and coming technology. Some might be skeptical about the advantages that flexible displays will offer, while others are adamant that this is the sure proof way of gaining innovation in the space.
One of the trailblazers right now is Korean based LG, a company that's been on the cusp of cutting-edge thanks to its flagship device in the
LG G2
. Now, they're hoping to get people buzzing about flexible displays, amongst other things, as the
LG G Flex
comes to the scene packing some new technology that we haven't seen before. Indeed, it's a super spec'd "phablet" of sorts, but it's packing several other notable new features – like its unique concaved curved design, stacked battery technology, and self-healing coating.
Is it different? Absolutely! More importantly though, is whether having all of these new features will translate to offering consumers with a practical smartphone – one that gets the job done.
The package contains:
Wall charge
microUSB cable
Stereo headphones w/additional tips
SIM removal tool
Get started guide
Design
If you look at the phone directly from the front or back, you wouldn't be impressed much by its design, just because we've seen it before – the LG G2 to be exact, though bigger in size obviously. Essentially, its size alone places it into the "phablet" category, which makes it rather cumbersome to hold or handle with a single hand. Tilting it to check out its profile, that's when it hits us – there's a very distinct curve with its design. Aside from giving it an aesthetic value over other smartphones, the curve in itself proves to provide better ergonomics, such as in the case of holding it against our face for phone calls.
Typical of being an LG-made device, the G Flex is constructed from the same plastics used by other phones in its lineup. It's a fitting choice to go with, mainly because it's more pliable than something like metal – allowing the phone to absorb pressure, to the point of making it flat, without causing the case to crack or break. Unlike other plastic constructed phones, though, there's a self-healing coating on the back cover. Yes, it gives the phone a glossy look, but it's not as susceptible to fingerprints or smudges. When it does accumulate them, they're easily wiped away thanks to that self-healing coating.
Frankly, it's the Wolverine phone. Yes, the beloved character from the X-Men universe, whose mutant power consists of having accelerated healing abilities. Just like the lovable mutant, the G Flex's self-healing property is very uncanny – uncommon in the smartphone universe. Instead of employing a UV hard coating, the G Flex instead utilizes a soft resin element that allows the phone to fill in scratches that occur through every day wear and tear. However, the self-healing process takes some time to happen, one that's better achieved under warmer temperatures. In our test, we gave it a surface level scratch with a sharp knife. Plainly visible at first glance, but after a few minutes spent in our pocket, where it absorbs our warm body temperature, the width of the scratch is reduced greatly. However, it's not entirely eliminated. At certain angles, it looks like the scratch never happened, but at others, it's still noticeable.
Overall, the design is innovative on many fronts, something that not only catches us for its size and curved shape, but for all the tech that's involved with its design. First, it's super durable to withstand being flattened as we sit on a chair – all the while it's in our back pocket. Secondly, the self-healing properties seem tangible enough to keep it clean looking for those minor incidents. However, we wouldn't go as far to say that it'll "heal" very deep scratches. And finally, the curved nature of the handset is very ergonomic – especially when using it for phone calls.
Keeping a close knit tie to LG's current flagship smartphone, the G2, the G Flex also has its power button and volume controls placed on the back of the phone. Again, most people will find it alien at first, but LG slightly improved the set with this model, as the power button as a more pronounced/raised feel – while these square dots in the volume controls jut out just a tiny bit to also give it a pronounced feel. The power button itself incorporates an LED notification light, which we can customize to display various notifications.
Around its trim, we have the usual assortment of ports – these include the microUSB 3.0 port for charging/data connectivity, various microphones, 3.5mm headset jack, antenna (for use with Korea's TV service), and microSIM slot. In the rear, LG blesses this phablet with a 13-megapixel auto-focus camera, which is surrounded by its LED flash and IR blaster. With the latter, it transforms the phone into a useful universal remote. Meanwhile, the speakerphone grill is positioned towards the bottom right corner of the rear casing.
Display
The design of the G Flex is curved, so that means that its display needs to accommodate all of that flexing. Before we get into the tech behind it all, this phablet is graced with a monster sized 6-inch 720p P-OLED panel with real RGB stripe pixel structure. Now we know what some of you are thinking, why 720p resolution as opposed to 1080p? Well, it's probably due to pricing concerns or supply limitations – so it's been decided that 720p would most benefit the handset. It's sharp looking from a normal viewing distance, but after scoping out 1080p displays everywhere else, we begin to realize that upon closer inspection, it lacks the razor sharp visuals of its 1080p rivals.
Now let's talk briefly about how they've been able to achieve the "flex" with its display. Going with a P-OLED display, where the "P" stands for plastic, the panel itself is built on plastic substrates instead of glass. Using this particular model, the display is able to achieve outstanding flexing properties and an ultra-thin thickness of less than 1mm. At the same time, it's more durable than your traditional glass layer – ensuring that it's not easily breakable.
Seeing that the display is still OLED, we notice that it has a distinctive overly saturated color reproduction – more on the cooler side actually, which tends to give a bluish hue to the color white. Thankfully, we can modify the color output of the display in the display settings, where we're given preset options for Standard, Vivid, or Natural. Even though it produces a nice glow at the highest brightness setting, it's still prone to being washed out when it's viewed outdoors with the sun present – and that's despite having fantastic viewing angles.
For all of the cool things going on with the display, we have one major distraction that's most evident when the brightness is set around the 50% mark. Specifically, the display has this odd banding and color distortion, almost giving the entire panel a splotchy look at times.
LG G Flex 360-Degrees View
Recommended Stories