Jaja Pressure Sensitive Stylus Review
2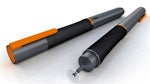 Introduction:
By now, Samsung's Galaxy Note line has established itself as the paper & pen alternative, seeing that the unique S-Pen stylus has clearly defined itself as a sensitive piece of equipment capable of registering the most subtle of pressure. Well, if you're rocking some other device, whether it's iOS or another Android (as long as they have a microphone), there's some luck if you want a similar solution. Enter HEX3's versatile pressure sensitive stylus in the
Jaja
, which offers some of the cool features and functions associated with the S-Pen. Interestingly enough, it doesn't interact with devices via Bluetooth, but rather, it relies on high frequency sound that's picked up by a device's microphone.
Design:
So what's there to say about the design of the Jaja? It looks like a fancy schmancy pen in fact, but of course, the orange accents littered around give off a somewhat toyish look. Nevertheless, the gunmetal metallic body exudes a nice premium finish – while the rubbery grip area is a tasteful complement. Holding it in the hand, though, it's noticeably back heavy, since the battery compartment is located there. However, it evens out as we grasp the Jaja along its rubbery middle body, which then balances things out as we begin to jot down something with it.
At the tip of the Jaja
, we're faced with something a bit unfamiliar, as most styli have a nub to act as their pointer. With this, however, it's sporting a
clear disc
that's attached to ball hinged socket, which packs a robotic sensor pin. Surely it's something that'll come off as being foreign to most individuals, but we're able to quickly adjust to its feel and movement. One of the problems of this, is the fact that it's more prone to being lost – and with that, it's not going to be a quick replacement. Granted, the Jaja comes included with a spare precision tip in the packaging.
Along the rubbery grip barrel area
, there are
two small buttons
that offer different functions based on what particular app you're using (such as redo/undo), but long pressing the one that's closest to the center of the Jaja turns it on. Finally, the
back portion
of the Jaja is where you can rest the stylus cover – while twisting off the end of the barrel grants us access to its battery compartment, which requires only a single AAA battery to function.
Recommended Stories