Jabra BT200 Freespeek Bluetooth Headset review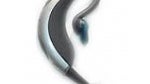 My Jabra BT200 review is long overdue, but due to the fact that I've spent most of my time working on the new PhoneArena.com I hope that I'll be excused. It should be ready in the next 15-20 days.
Jabra has been long known for excellent corded headsets, featuring EarGel technology. Like many other companies, Jabra jumped on the Bluetooth bandwagon with the introduction of their first Bluetooth headset - the BT100. Basically, it was a modified Motorola unit. Their first own design is the BT200 Freespeak headset. Introduced in 2002, it is one of the most talked about gadgets.