Huawei Watch GT Review
4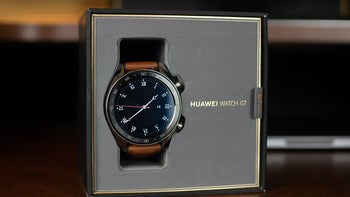 The Huawei Watch GT is a refreshing device; it looks like a classic smart watch but it's by no means trying to replace your phone. Instead, it aims to be a complement, with a focus primarily on fitness tracking. Sure, it can receive notifications from Android or iOS devices, but that's about all the phone functionality you'll find – interacting with these would just obfuscate your fitness goals as the Huawei Watch GT would see it.
Running its own proprietary OS makes sure the focus stays on fitness and battery life, but does this leave users wanting for more or does it strike the proper balance many have been searching for?
In the box:
Huawei Watch GT
USB-C Cable with Magnetic Charging Cradle
User's Guide
Design
The construction of the Huawei Watch GT is a solid one – at least when it comes to the watch case. The 5-ATM water-resistant, stainless-steel body comes in either silver or black with an accent of either color surrounding the watch face. This shiny, two-tone casing looks premium while the feel of it, and the sturdy click on the buttons, make it feel as well-made as it looks – the plastic undercarriage which houses the optical heart rate monitor aside. There is also the matter of the watch band, which is comprised mostly of silicone with what feels like a very thin strip of leather on the outside. It's not a very classy feel, but it is a fitness tracker more than anything else, and the 22mm band is easily replaced.
It's a chunkier watch, though, with a 46.5-mm casing and a 1.39-inch screen that are best suited to larger wrists. The AMOLED display is bright enough to read easily in the sun light and dims well in darker situations, while the 326 ppi density does its part to making reading the watch a generally effortless affair.
Interface

and Functionality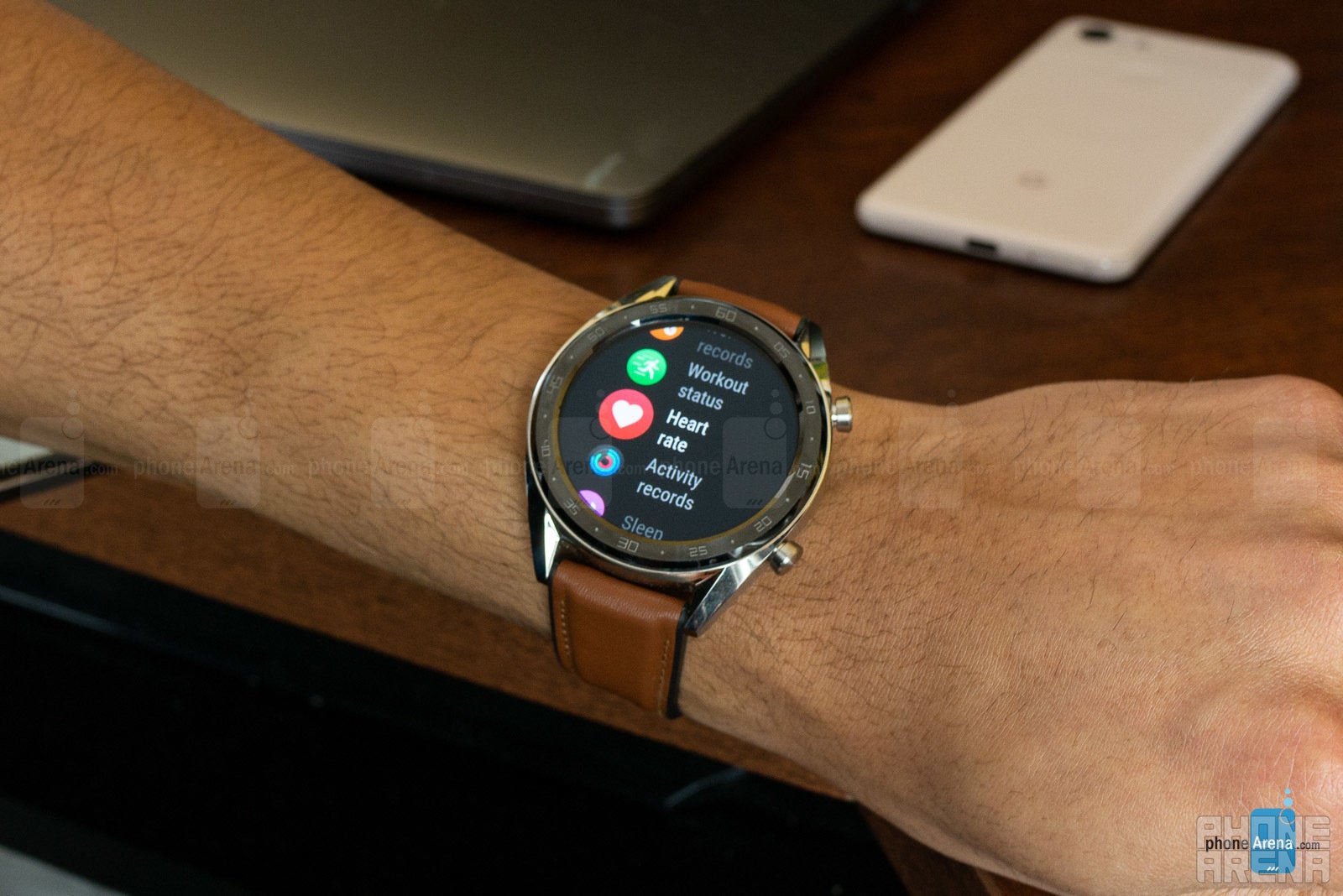 Running LiteOS, Huawei's propriety platform – not Google's Android Wear software – there's not much to the Huawei Watch GT's interface, and, for the most part, we like that. Sure a dedicated back button – physical or software-based – would be nice to have to complement the mostly-present "swipe back" function (sometimes it's just not an option), a way to clear single notifications would be appreciated, and it would be nice to be able to look at more information from the cards presented to you – tapping the weather card to see a 7-day forecast comes to mind – but alas, this is a fitness tracker meant to provide quick bits of current information.
Want to see how many steps you've walked? There it is – right next to your active time for the day, and how many times you've stood up. Wondering about your heart rate? Here's your current rate, peak, and lowest for the day, as well as a graph detailing the past 24 hours. What about the weather? Right now? Cloudy, 46 degrees, high of 48 predicted and a low of 30. No further information is available on the watch for any of these, and, with the exception of weather, we're quite alright with that. It's easy, useful, and doesn't bombard you with information and menus. How much tapping, scrolling, and digging do you really want to do on a 1.4-inch screen anyway? If the answer is "a lot more" then there's smart watches for that, but as far as a fitness tracker is concerned the Watch GT gets the basics covered well.
The GT does offer an app menu, though, which is summoned by clicking the top right physical button. The list consists mostly of apps made for viewing your exercise and sleep stats, as well as initiating various workouts through the "exercise" app; hiking, indoor and outdoor running, walking, cycling (indoor or out), and swimming in a pool or open water are options to track, as well as an "other" category for anything not listed. There are also a couple extras like a barometer, a flashlight, stopwatch, alarm clock, and compass. The secondary button unfortunately is just a shortcut to the "exercise" app – a rather redundant and effectively wasted button. We'd much prefer if it had a "back" functionality or could even be used as a shortcut to start a specific exercise session or app, or really anything but a shortcut to the first app on the list that shows up when you click the other button.
In terms of exercise and sleep stats, you can see pretty much all relevant information on the watch. This includes duration, calories burned, heart rate peak, average, and lowest rate recorded, recovery time, a score on your aerobic effectiveness, and finally, heart rate zones, which show the levels of cardiovascular intensity through which you've gone, detailing how much time was spent in each zone. You can even pick one of the four built-in running courses to follow, aimed at improving your performance in specific ways.
In our exercise and sleep with the Watch GT, we found it to be within the ballpark when it came to accuracy. Calories burned were about what we anticipated from the exercises we knew well. Running with the GPS also showed accurate data capture, and plenty of easy-to-access, relevant information during and after the run.
Sleep-tracking seemed to be accurate enough; we know we're not great sleepers, and the Watch did nothing to hide that fact. Even better, tons of tips and insight to improve our sleep were offered in the companion app.
Huawei

Health Companion App

With all this information easily accessed on the watch, you're probably wondering what you need the Huawei Health companion app for. Well, besides setup, it basically shows you the same information the watch does but on a bigger screen, making it easier to view longer trends over time, as well as pinpoint finer details, and see maps of your runs, walks, and cycles.

The app can also share information with Google Fit, Apple Health, and MyFitnessPal to keep these apps properly informed, but doesn't share data with any others, which means no support for popular running apps like MapMyRun and Strava.

Aside from all this the app has the lion's share of settings for the Huawei Watch GT where you can enable continuous heart rate tracking, notifications, raise-to-wake, and a handful of other options not found on the watch itself. Much like the Huawei Watch GT itself, we found the Huawei companion app to be simple, straightforward, and useful with no glaring omissions for functionality.
Performance

and Battery Life

While we enjoy the simplicity of the Huawei Watch GT, we wish this also came with smoother performance. Animations in the OS are anything but smooth, and response to input is rather sluggish. We didn't encounter any freezing or long hangs otherwise, though.



With this simplicity does come some commendable battery life. Huawei boasts 2-week battery life on the Watch GT with mixed usage and 90 minutes of tracked exercise per week; we'd say that's right about in line with our experiences. On our heaviest usage days, which included setup, multiple updates, lots of flicking around the OS, and an hour of exercise, we shaved off around 20% battery, but on more typical days we'd be more in the 5%-10% range. If you're the type that exercises 5 days a week for around an hour a day you might fall closer to the 8 to 10-day range, but compared to most other watch accessories which usually last closer to a day, we'd say the stuttery animations are a worthy trade-off for smartwatch looks with replete fitness tracker functionality.
Conclusion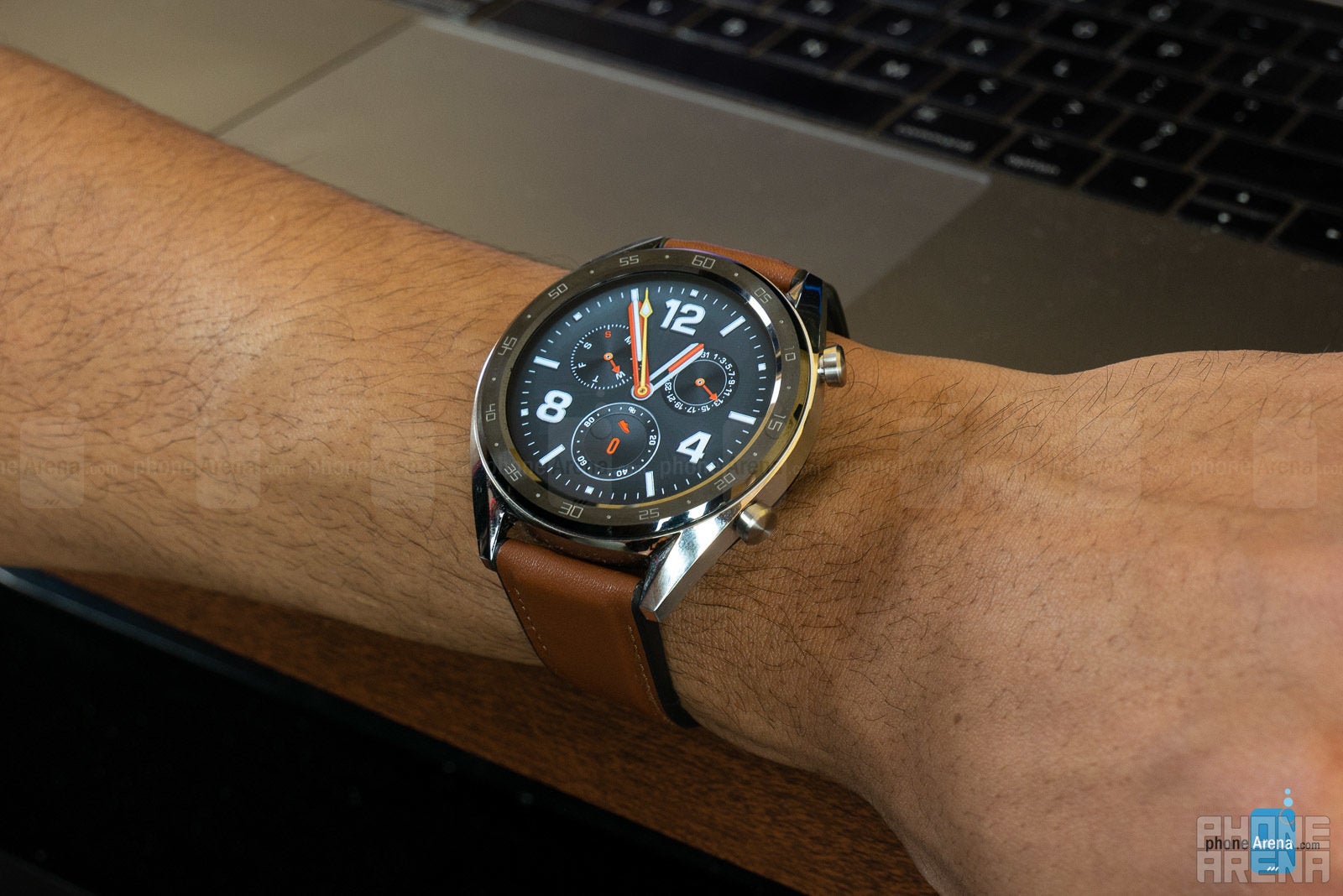 The Huawei Watch GT knows what it is and knows what it isn't and does well not to step outside of itself. Focusing on fitness first, Huawei's decision to use its own proprietary OS allows the Watch GT to do right by fitness fans with streamlined, yet complete information readily available and battery life that ensures the Watch GT is always up for the task. It's not the fanciest or flashiest – the stuttering OS will tell you that – but it looks good and tracks fitness well.
Unfortunately, its $200 price tag puts it right at the current price of a third-generation Apple Watch with GPS. Of course, you'll come out with much better battery life and cross-platform capability on the GT, but right now that's still a bit of a hard sell.
Recommended Stories